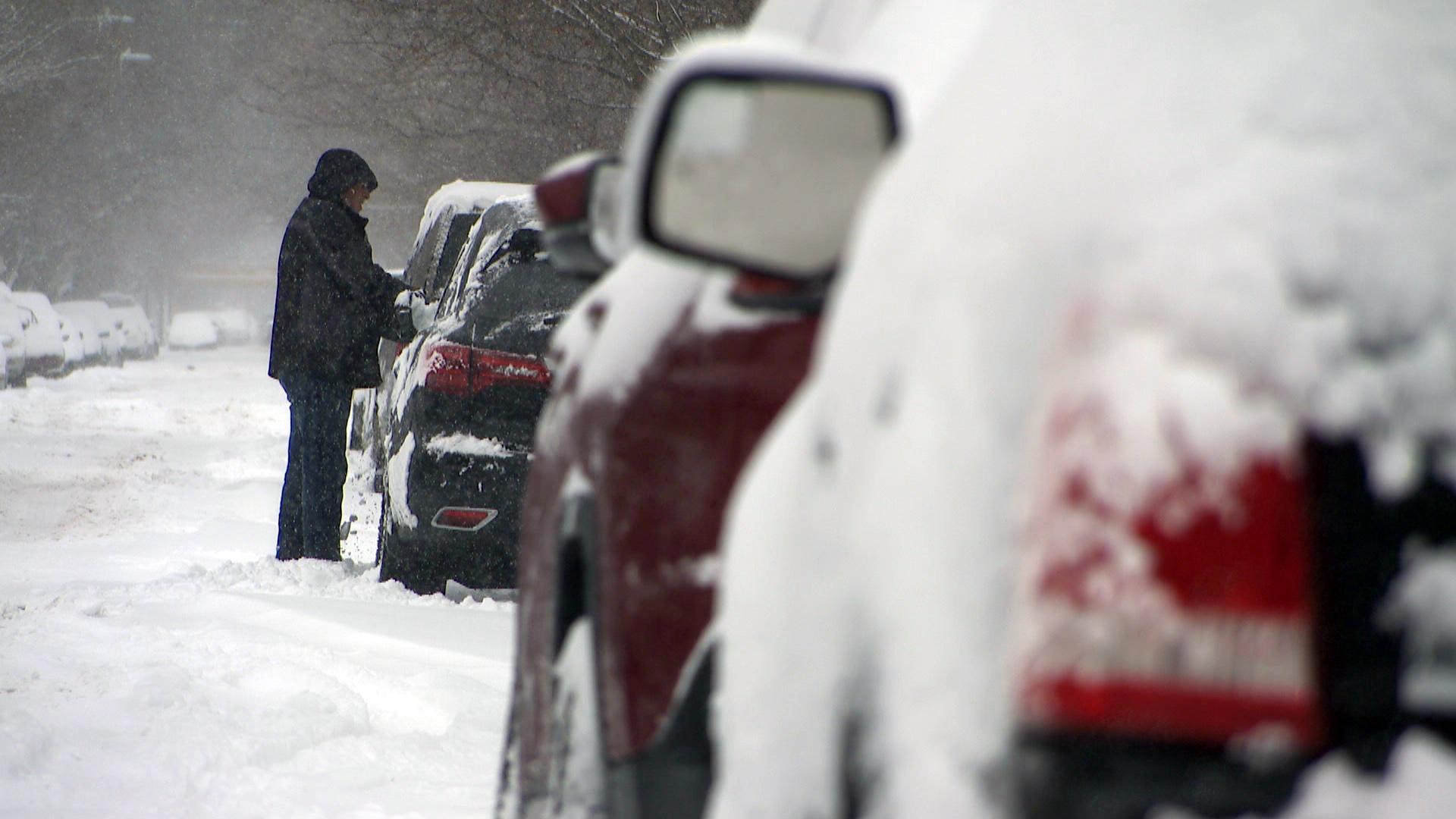 Chicago experienced its first major snowstorm of the season on Tuesday, Jan. 26, 2021. (WTTW News)
For the second time in a week, Chicago is digging out after a massive snowfall.
A weather system that moved into the Chicago area Saturday afternoon resulted in heavy, wet snowfall between 8 p.m. and 3 a.m. Sunday, according to the National Weather Service, with rates of 1 inch per hour or more during that timeframe.
As of Sunday morning, the NWS had recorded snowfall totals ranging from roughly 6 inches (Loop) to 8 inches (Lincoln Park) to more than 9.5 inches (Avondale, Bridgeport).
Another 1-3 inches of snowfall is expected Sunday, according to the NWS, with heavier patches near the lake. Wind gusts of 25-30 mps are expected.
A winter storm warning is in effect until 6 p.m.
City officials sought to reassure Chicagoans on Saturday they were prepared for the storm, and announced plans to deploy approximately 300 snow plows and salt trucks starting at 2 p.m. Saturday, with the fleet increasing overnight.
Rich Guidice, the executive director of the city's Office of Emergency Management and Communications, said the storm could make travel "very difficult."
"Take it slow," Guidice said at a Saturday morning news conference, urging Chicagoans to exercise caution when driving or shoveling the dense snow.
City officials are monitoring for flooding along the lakefront, where lake levels are already high. Vehicles parked along the lakefront should be moved, Guidice said.
The storm hit Chicago one day before the 10th anniversary of the so-called Groundhog Day blizzard, which dumped more than 20 inches of heavy, wet snow on the city starting on Jan. 31, 2011 — shutting down Lake Shore Drive and shutting schools for two days.
Earlier this week, the Chicago area finally got its first true snowstorm of the season — about two to four weeks behind schedule — with 4-7 inches of snow.
---
Around 300 salt spreaders and plows are clearing and salting our main roads for motorists, buses, and emergency vehicles. Once our main roads are clear, they'll be moving to residential streets. You can see their locations in real-time ➡️ https://t.co/D8L1bQCMGp pic.twitter.com/GDk2A0GRrc

— Chicago (@chicago) January 31, 2021
---
[12:20 PM 1/31/2021] Here's a look at the updated storm total snowfall reports from some of our main climate sites in our area. The next official tallying takes place at 6 PM. #ILwx #INwx pic.twitter.com/zChLe6Qkf3

— NWS Chicago (@NWSChicago) January 31, 2021
---
[11:55 AM Update] Snow will continue this afternoon, with localized heavier rates persisting near the lake where sharply reduced visibilities are ongoing. Main roads are generally wet, but less-traveled and elevated streets remain snow-covered and slick. #ILwx #INwx pic.twitter.com/Yb4DV5oRcT

— NWS Chicago (@NWSChicago) January 31, 2021
---