Cars drive on cleared roads in Chicago on Tuesday, Jan. 26, 2021 after the season's first big snowfall. The city is gearing up for another major storm on Saturday, Jan. 30. (WTTW News)
City officials sought to reassure Chicagoans on Saturday they were prepared for a major winter storm to hit the city, which could dump between 5 inches and 9 inches of heavy, wet snow through Sunday.
Rich Guidice, the executive director of the city's Office of Emergency Management and Communications, said the storm could include heavy snow at times as well as wind gusts of up to 35 mph that could make travel "very difficult."
"Take it slow," Guidice said at a Saturday morning news conference, urging Chicagoans to exercise caution when driving or shoveling the dense snow.
Chicagoans should stay home, if possible, until the storm passes, Guidice said. Those who must travel should be prepared for an emergency with a flashlight and snacks in case of an emergency, Guidice said.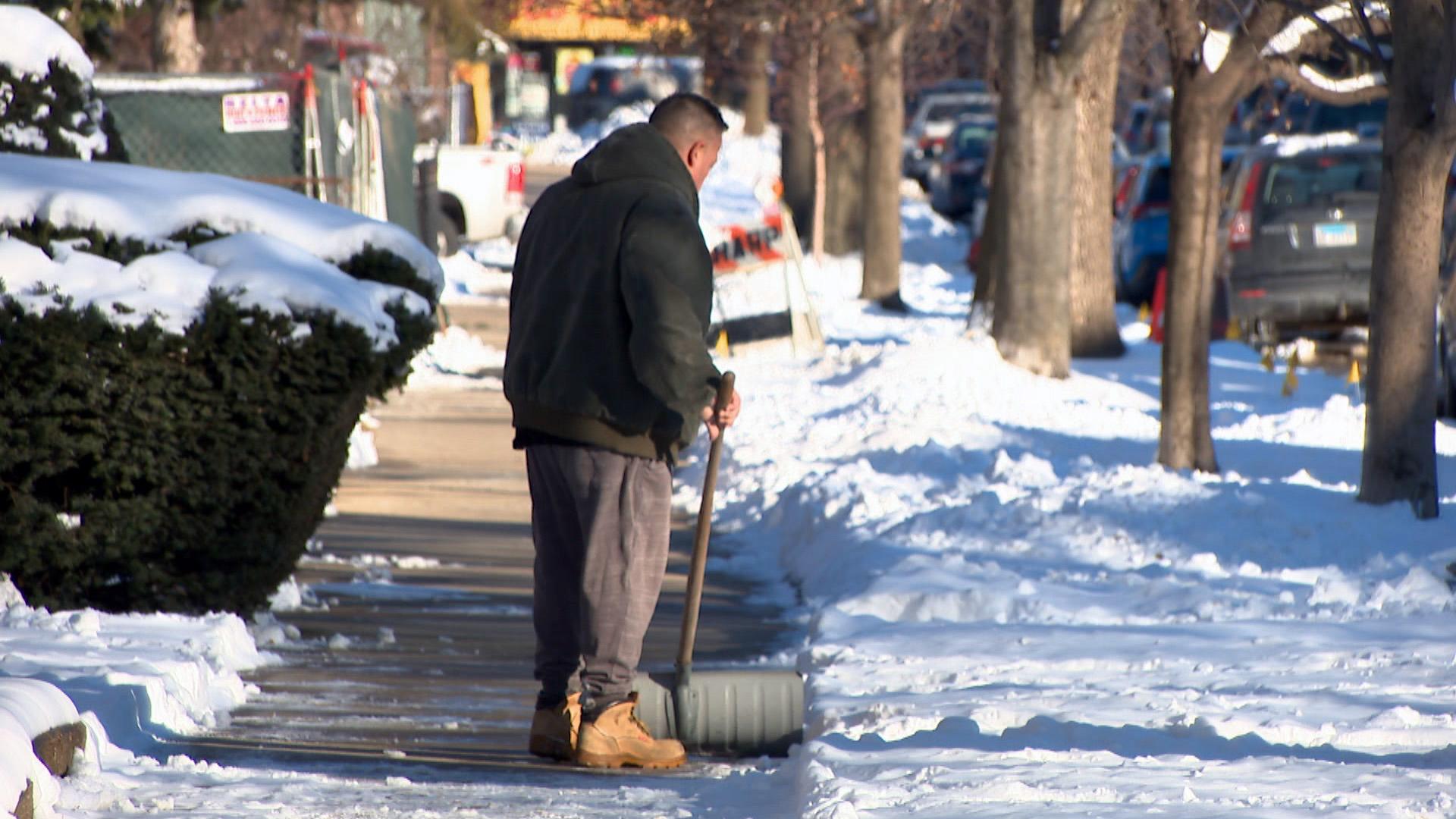 A man shovels the sidewalk in Chicago's Jefferson Park neighborhood on Thursday, Jan. 28, 2021. (WTTW News)
City officials were also monitoring for flooding along the lakefront, where lake levels are already high. Vehicles parked along the lakefront should be moved, Guidice said.
The city plans to deploy approximately 300 snow plows and salt trucks starting at 2 p.m. Saturday when the snow is expected to start, with the fleet increasing overnight, when the snow is expected to intensify, said Department of Streets and Sanitation Deputy Commissioner Cole Stallard.
The storm is expected to hit Chicago one day before the 10th anniversary of the so-called Groundhog Day blizzard, which dumped more than 20 inches of heavy, wet snow on the city — shutting down Lake Shore Drive and shutting schools for two days.
Crews will be monitoring Lake Shore Drive very closely during the storm, especially because of the threat of flooding, Guidice said. 
A winter storm warning from the National Weather Service is in effect in Illinois until 6 p.m. Sunday.
Contact Heather Cherone: @HeatherCherone | (773) 569-1863 | [email protected]
---