The Chicago area finally got its first true snowstorm of the season — about two to four weeks behind schedule.
But Trent Lord said in other ways, the storm that blanketed northern Illinois is a textbook example of the range of precipitation a major winter weather event can produce.
As Illinois' state climatologist and a climate science professor, Lord would know.
The type of precipitation varies "depending on where you are, where the low pressure center is of the system – where that passes through, and where the warm air coming up versus the cold air coming down meet together," he said.
Hence, northern Illinois saw 4 to 7 inches of snow.
"Whereas you go down further south, towards here in Champaign, we got a little bit of snow, a little bit or rain and a decent amount of ice which forms from freezing rain — the liquid precipitation hits the surface and freezes immediately – as well as a little bit of sleet," Lord said. "You go further down, south of Springfield and I-70, was mostly rainfall."
Still further south, on Monday night a tornado hit Birmingham, Alabama.
Even with the snow dump in Chicago and the collar counties, Lord expects northern Illinois will continue to lag in the overall amount of snowfall for the season.
But, he says, that's something that's more variable; with a couple of bigger snowfalls in a season, that quickly changes.
"At O'Hare, going back to the 1940s, the top three snowfall days in the entire winter season account for about 40% of the entire season's snowfall," Lord said.
A more marked trend is that Chicago has largely experienced more mild winters, temperature-wise. (Yes, we all remember the record chills of the polar vortex a year ago.)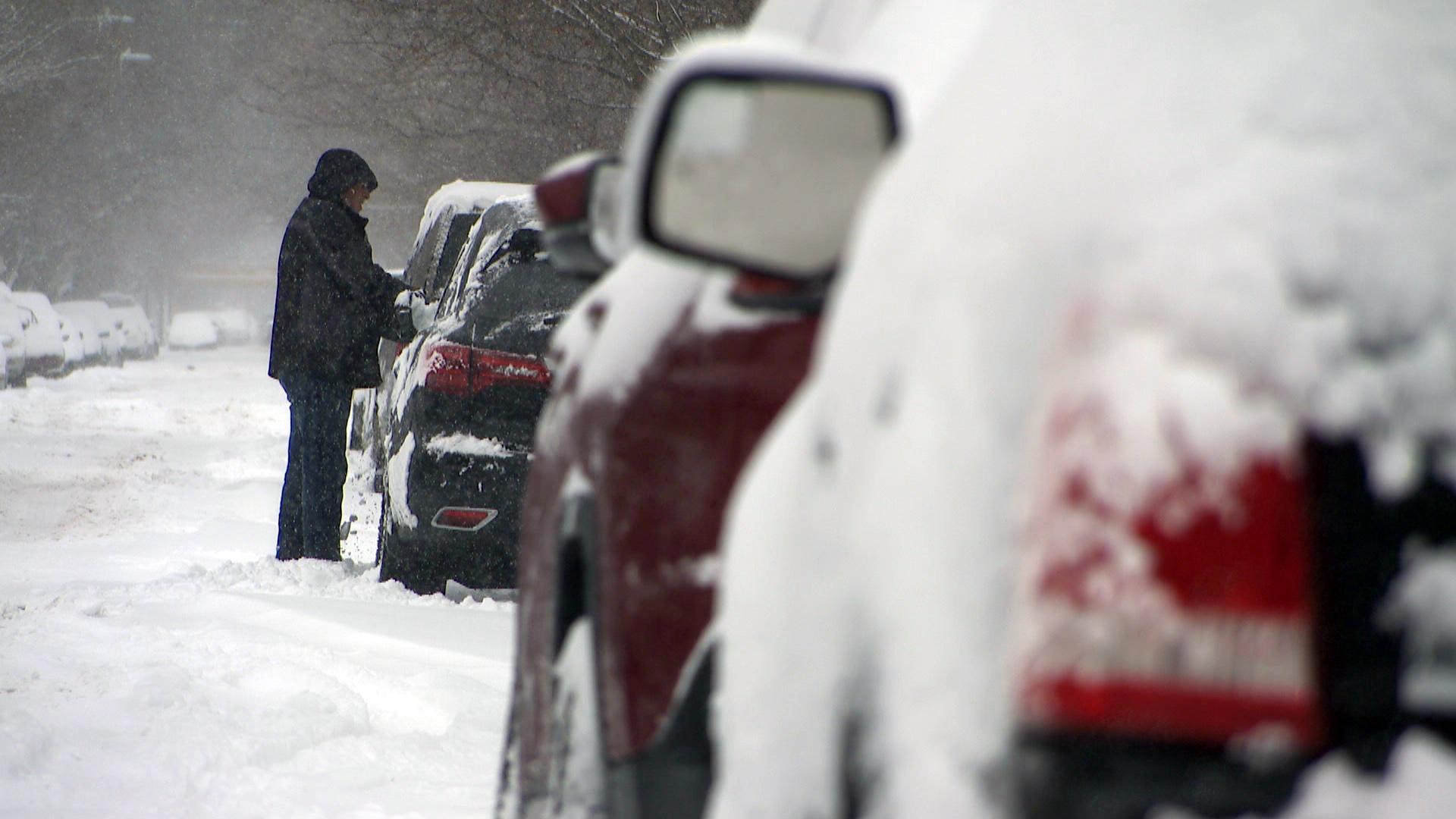 Chicago experienced its first major snowstorm of the season on Tuesday, Jan. 26, 2021. (WTTW News)
Part of climate change is a rise is temperature, and that rate of rise is larger in the winter than for other seasons, Lord said.
"We can still get those cold air outbreaks, those are still possible as we saw in January 2019. But it's less likely that we'll have an entire month of well below average temperatures because of that background warming," he said. "It's still cold. It's still winter. We still have an energy deficit and temperatures are still going to be cold. It's just that they're warming."
As that warming continues, he said projections are that future snowstorms will yield less snow.
"It's likely that if winter temperatures continue to warm at the rate they have over the last 30, 50 years, we will begin to see a snowfall decrease," he said. "They physics tell us that the more time our temperatures spend above freezing, the less snowfall we're going to yield."
But it's too early, he said, to see that as a trend now.
The change in temperature may not feel like much when you're bundling up in a coat, hat and gloves or waiting for a bus to come by — or for your car engine to get warm.
Lord said annual average temperatures in Illinois have increased by 1 to 1.2 degrees Fahrenheit over the last 100 years; winter makes up about a third of that.
"So anywhere from a third of a degree Fahrenheit to maybe half degree or maybe three-quarters of a degree Fahrenheit, over the last 100 years. So a small amount, indeed. However, we have to think about how numbers work. That's an overall change in the entire distribution, or the average of the distribution, of winter temperatures," he said. "So if we shift that distribution warm, shift it cold (in our case we're shifting it warm) it makes it much more likely we're going to get temperatures on the warm end of that distribution than on the cooler end."
Peer through this week's frosty window panes for a glimpse at climate change at the global level, with the increase in average temperatures worldwide.
"Even a small change relative to background weather variability can make an incredible impact as far as climate change is concerned," Lord said.
For those left out in the cold, there are more immediate concerns.
Typically, Jeremy Nicholls and others at Cornerstone Community Outreach will hit the streets when the temperatures drop and the snow falls, to invite individuals living under viaducts and in tent cities in Uptown to their Edgewater shelter.
Cornerstone will make space for homeless individuals by converting the kitchen into a warming center where they can stay whenever temperatures duck below 32 degrees.
"We would go and search around the neighborhood for those who are particularly vulnerable," Nicholls said.
Nicholls said it's saved some digits over the years, as people came in with freezing hands and feet.
But this year that's not an option because of COVID-19.
There's a fear that someone coming into the shelter may have the coronavirus, and that it could cause an outbreak among the program's residents, many of whom are at least 55 years old and who are immunocompromised.
"If we bring in a lot of people, like we've done in the past, that do have COVID, then we could possibly put everybody else at risk," Nichollas said.
It's a fine balance, and something the shelter has been navigating year-round, but it's tougher in the winter, knowing that it means people could be getting frostbite or hypothermia.
"It's like an eternal battle that we do have," he said.
Still, they are doing outreach, and delivering coats, blankets and other necessities to help keep those living outside as warm and safe as possible.
Nicholls said Cornerstone is always taking donations; the need for socks is particularly acute as it's impossible to get warm with feet wet from the snow and slush.
Director of the Chicago Coalition for the Homeless Doug Schenkelberg said Chicago has made strides throughout the pandemic toward getting individuals in need somewhere to stay.
"So it's not so much a concern about whether shelters have sufficient beds" during snowstorms the one this week, Schenkelberg said. "It's the factor of folks who are unsheltered oftentimes don't want to go into a shelter system — not because they don't need housing but because they don't feel safe in that shelter system, and that's particularly heightened during the age of COVID."
But he said it demonstrates the need for more permanent affordable housing.
Next week Chicago will begin to give the coronavirus vaccine to individuals living and working in homeless shelters, given that they're congregate settings, Schenkelberg said.
Prioritizing those in congregate settings makes sense, he said.
But he said many unsheltered individuals are immunocompromised; unless they're seniors over age 65 or otherwise eligible, they are not among those currently eligible for the coronavirus vaccine.
Making sure they soon have access should be a priority, Schenkelberg said.
Follow Amanda Vinicky on Twitter: @AmandaVinicky
---