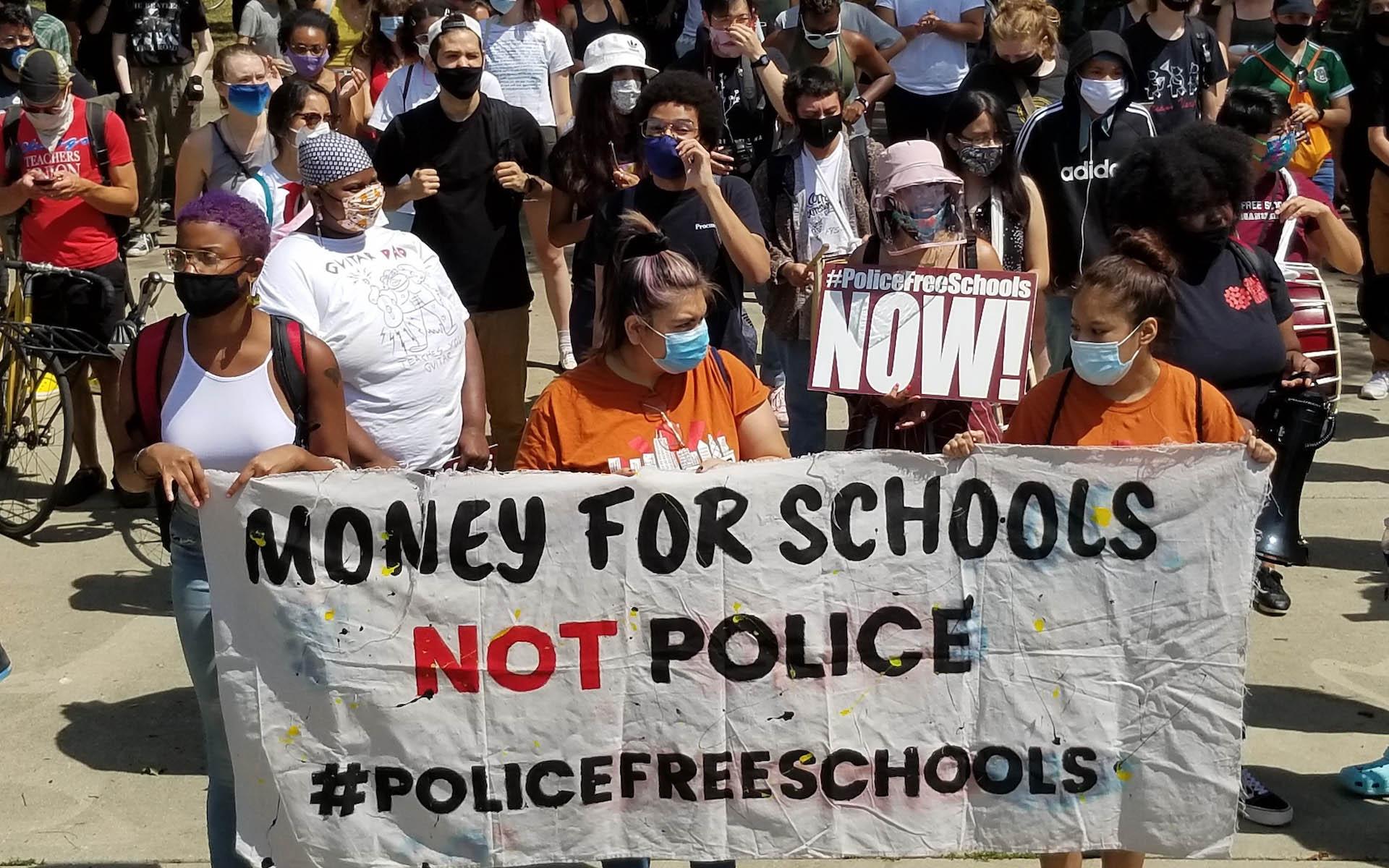 Youth activists organized a peaceful march to Mayor Lori Lightfoot's home on Aug. 13, 2020 to demand the removal of resource officers from Chicago Public Schools. (Matt Masterson / WTTW News)
Chicago Public Schools says it is partnering with local community groups to develop "trauma-informed safety approaches" following the widespread pushback against its school resource officer program last year.
The district on Tuesday announced it had entered into partnerships with five community organizations to "reimagine" school safety strategies as new alternatives to the existing school resource officer (SRO) program.
"We have made it a priority to empower schools to determine if school resources officers should be in their buildings," CPS CEO Janice Jackson said in a statement, "and now we are taking the next step by developing a new set of alternative trauma-informed approaches for schools to consider."
The police killing of George Floyd in Minneapolis last year sparked a push to reform policing across the country, including in Chicago, where youth led several protests calling on CPS to terminate its existing contract with the Chicago Police Department to provide school resource officers.
Jackson and Mayor Lori Lightfoot opposed that move, saying they instead wanted to maintain local control over the SRO programs at the school level and let local school councils decide if they wanted to maintain their individual resource officer programs.
In the end, 55 LSCs voted to keep their officers, while 17 others ended their SRO programs, and in August, the Board of Education approved a one-year, $12 million intergovernmental agreement with the CPD to continue providing police in schools.
At that same meeting, the board also passed a resolution requiring CPS to work with stakeholders on developing alternative school safety plans without SROs, which led to Tuesday's announcement.
CPS said it sought out community-based organizations to partner with through a selection committee that included students, a teacher, a parent, an LSC chair, a principal and a CPS chief safety and security officer.
That committee chose five groups out of 15 applicants: Voices of Youth in Chicago Education, Mikva Challenge, Community Organizing and Family Issues, The Ark of St. Sabina and BUILD Inc.
Each of those organizations will receive a $30,000 stipend, which CPS said was funded by philanthropic organizations.
"Now is the time," Voices of Youth in Chicago Education youth leader Meyiya Coleman said in a statement. "We are in a moment to do something transformational. This is about trusting the community to help tackle this challenge. The district needs it. Students need it."
The groups and CPS will form what's being called the Whole School Safety Steering Committee, and the district said its work will occur in two phases.
First, they'll work with an independent consulting firm, Embark Strategies, to design a process that each organization will use to gather input from students, families, educators, and the community on school safety needs and their vision for SRO alternatives.
Those recommendations will then be presented to school administrators, LSCs and school communities, who will work to reimagine safety options for their schools through the committee's recommendations.
The steering committee will host 10 community engagement sessions next month, gathering community feedback and turning that into recommendations for CPS to consider. Updates on that process and the scheduled meetings can be found at bit.ly/WholeSchoolSafety.
"The end goal is to make system-wide changes that stop the criminalization of students," said Verneé Green, executive director of Mikva Challenge Illinois. "Students deserve safe spaces in which to learn and grow, and it is crucial to engage and listen to student and community voices to improve student safety in schools."
Contact Matt Masterson: @ByMattMasterson | [email protected] | (773) 509-5431
---