Mayor Lori Lightfoot announced Monday that all of the officers involved in the February 2019 raid that left a Chicago woman handcuffed and naked have been placed on desk duty.
Lightfoot said Chicago Police Department Superintendent David Brown stripped those officers of their police powers at her request as an investigation by the Civilian Office of Police Accountability has yet to be completed 22 months after the raid.
Video obtained by CBS2-TV of the raid shows Anjanette Young, a social worker, telling seven male police officers 43 times they were in the wrong home and begging them to let her get dressed.
Those officers need to be "off the street," Lightfoot said.
"I believe in the value that justice delayed is justice denied," Lightfoot said. "Frankly, there is no excuse that this matter has languished for a year without any significant movement on the part of COPA."
Twelve officers have been placed on desk duty, said Don Terry, a spokesperson for the Chicago Police Department.
The disciplinary action against the officers is the latest fallout from the furor over the raid that threatens Lightfoot's political future by raising questions about her ability and determination to root out corruption at City Hall and reform the beleaguered police department. 
"Trust with our city, our Police Department, and the Law Department, and most of all trust in me has been questioned" by revelation of the raid, Lightfoot said.
Lightfoot said she would seek to protect Chicagoans from "any kind of" abuse, especially in their own homes, and ensure that City Hall operates transparently.
"I feel more motivated than ever," Lightfoot said. "Now is the time for action."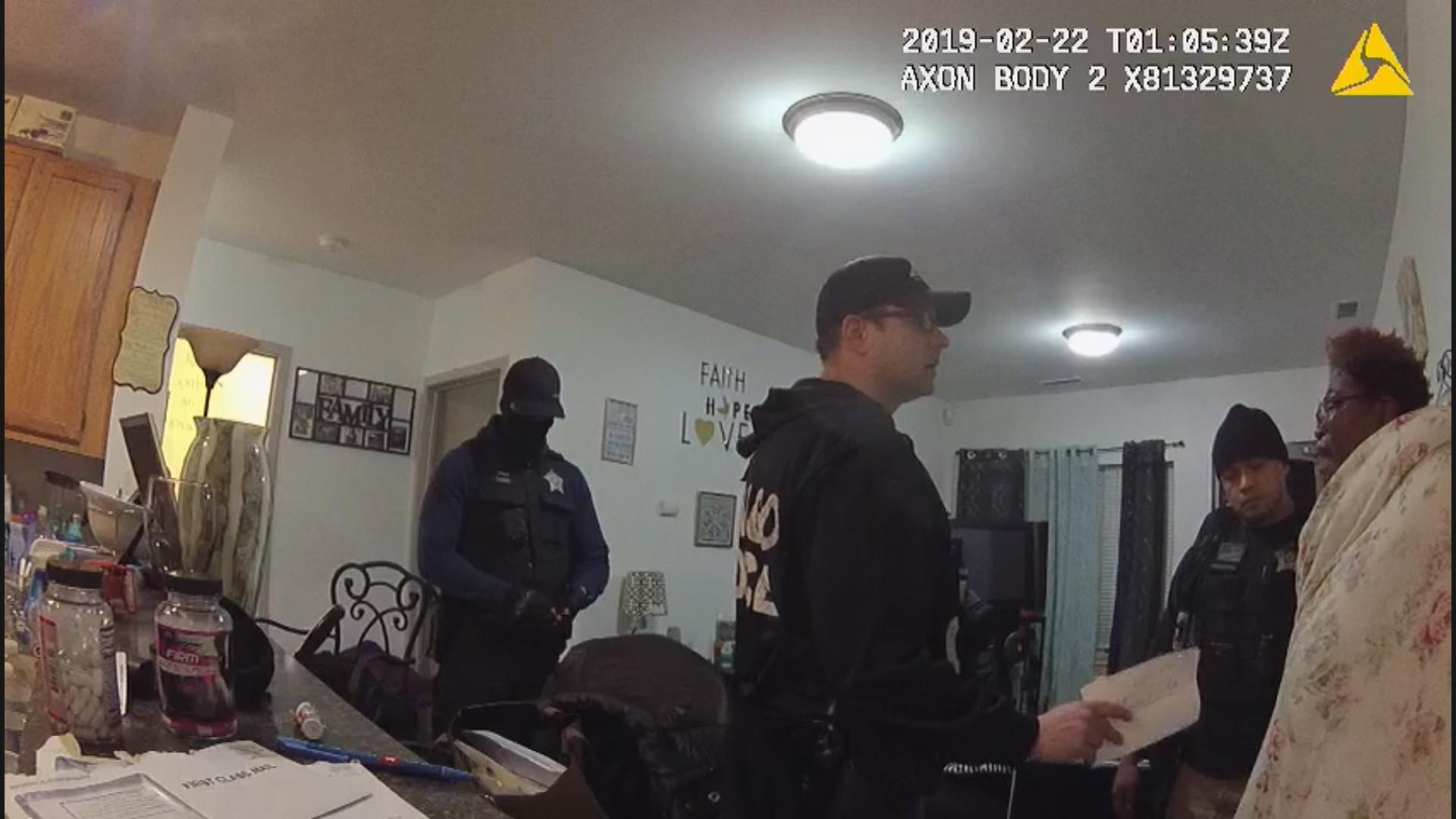 A still image from a Chicago Police Department body camera video shows a police raid at the home of Anjanette Young in February 2019. (WTTW News via Ja'Mal Green)
Lightfoot said she demanded the resignation of Corporation Counsel Mark Flessner in person on Sunday, calling it a difficult but necessary step.
Flessner will be replaced on an interim basis by Celia Meza, who has served as Lightfoot's counsel and senior ethics advisor in a role created by the mayor when she took office in May 2019.
Lightfoot said she has known Meza, who served as a former federal prosecutor with her, for 25 years and praised her as a lawyer with impeccable integrity.
Lightfoot once again said she would have stopped city lawyers, who reported to Flessner, from asking a judge to block CBS2 from airing the video had she known about the request. The First Amendment prohibits courts in nearly every situation from preventing news organizations from publishing lawfully obtained, newsworthy information.
"Never should have happened, and will never happen again," Lighfoot said, praising CBS2 for bringing the conduct of the raid to light.
The mayor's office announced late Monday that two more Law Department employees were no longer employed with the city in connection with the raid on Young's home.
Deputy Corporation Counsel Caryn Jacobs and Law Department Director of Public Affairs Kathleen Fieweger are no longer employed by the city of Chicago, said Jordan Troy, a spokesperson for Lightfoot.
In addition, Lightfoot said again it was improper for city officials to require Young to file a Freedom of Information Act request to obtain video of the raid. In the future, Lightfoot said city officials would be instructed to quickly turn over footage that features individuals requesting the video.
"Where there are wrongs, they must be righted," Lightfoot said.
Lightfoot said she first learned of the raid in November 2019, and vowed again Monday to release the emails about the issue that she received and sent on the issue. However, Lightfoot said she did not see the video until Tuesday morning. The video "has shaken and unnerved me," Lightfoot said.
Flanked by Ald. Chris Taliaferro (29th Ward) and Ald. Jason Ervin (27th Ward), Lightfoot endorsed a plan for a City Council hearing set to take place at 11 a.m. Tuesday. However, she said she would not appear at the session, as requested by six aldermen from the City Council's Progressive Caucus and Ald. Raymond Lopez (15th Ward).
Taliaferro, a former Chicago police sergeant and the chair of the Public Safety Committee, will lead the hearing on the rules governing the Chicago Police Department's use of search warrants.  
Ervin said a comprehensive review was needed to ensure similar raids do not take place again.
Contact Heather Cherone: @HeatherCherone | (773) 569-1863 | [email protected]
---