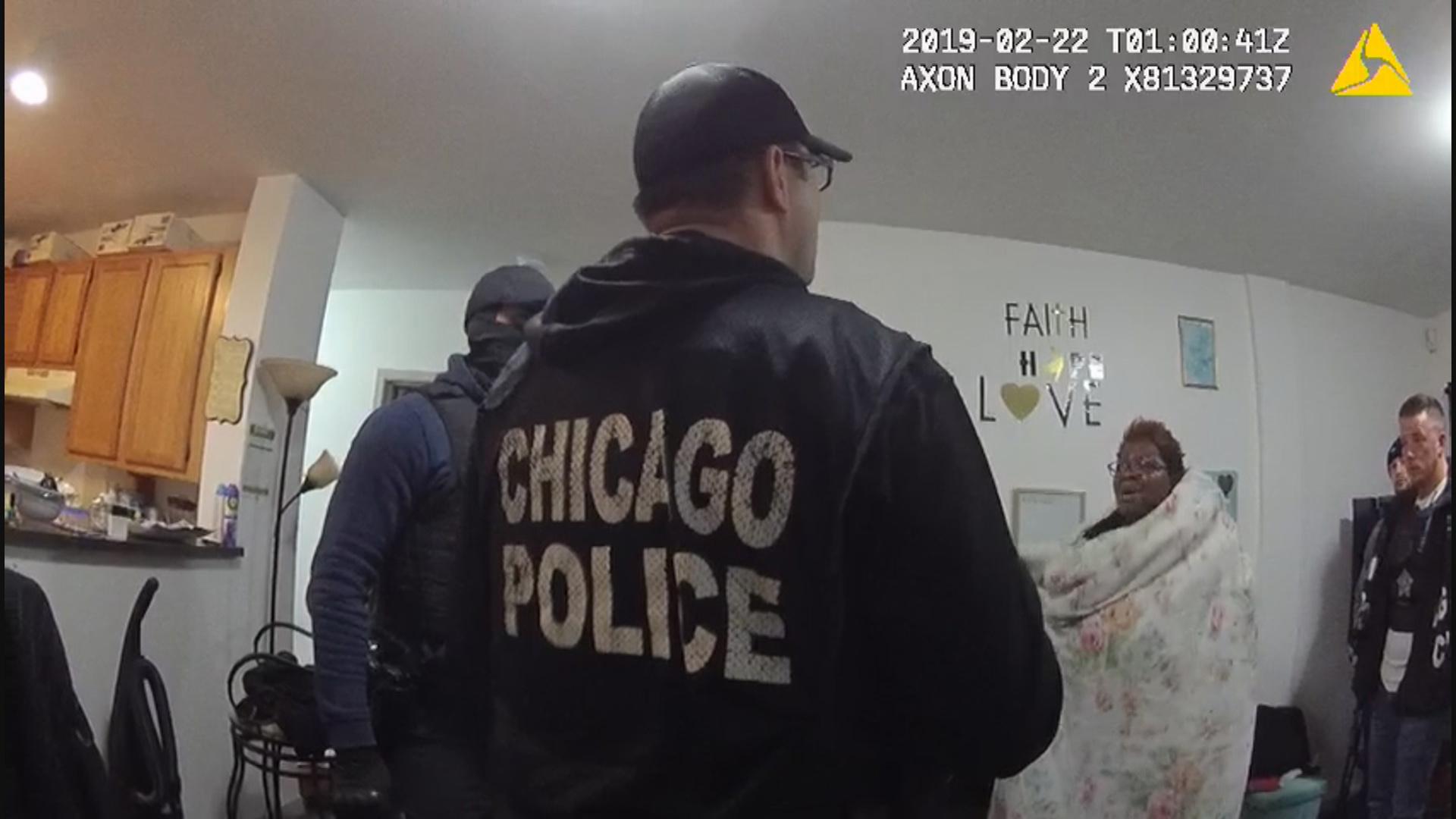 A still image from a Chicago Police Department body camera video shows a police raid at the home of Anjanette Young in February 2019. (WTTW News via Ja'Mal Green)
Mayor Lori Lightfoot on Thursday acknowledged that she has known since November 2019 that Chicago police officers handcuffed a naked woman during a mistaken raid of her home in February 2019.
Lightfoot told reporters Wednesday that the first she learned about the raid was Tuesday morning, after CBS2-TV aired video of the raid on Monday night, creating a national firestorm. During the raid, Anjanette Young, a social worker, tells seven male police officers 43 times that they are in the wrong home and begged them to let her get dressed.
Lightfoot said she had no "specific recollection" of being told about the raid on Young's home. However, emails sent to her and that she responded to show she knew about the issue of botched raids, which CBS2-TV had been reporting on for months.
Those emails will be made public, Lightfoot said, who added that she did not see the video of the raid until Tuesday morning. The mayor called that footage "painful" on Thursday, and struggled to keep her composure while acknowledging that it could have happened to her, or any other Black woman.
Lightfoot acknowledged that the raid — and efforts by city lawyers to prevent Young from getting a copy of the video and to stop CBS2-TV from publishing the video — had damaged her efforts to reform the Chicago Police Department.
"We will do better, and we will win back the trust that we have lost this week," Lightfoot said. "I have a responsibility to build back that trust."
Lightfoot also acknowledged on Thursday that she was incorrect when she angrily told reporters on Wednesday that Young had not filed a Freedom of Information Act request for the footage of the raid and that the city had not sought to block access to the video.
In fact, Young did request the video and her request was denied, Lightfoot said.
Lightfoot said that was improper, and that she would instruct city officials to quickly turn over footage that features individuals requesting the video.
The city will work to expand the type of footage captured by police officers' body-worn cameras that it routinely releases, which requires a change in state law, Lightfoot said.
In addition, Chicago Police Superintendent David Brown said his department was conducting a review of all search warrants executed in 2020 to determine how many had been served incorrectly.
Brown said the video of the raid "was hard to watch" and said officers must treat those they encounter with respect.
Officers will now need a top department official to sign off on a no-knock warrant, Brown said. Those warrants will only be approved in cases where there is an imminent risk to someone's health and safety, Brown said.
Lightfoot on Wednesday said she would not suspend the practice of no-knock warrants, which allow officers to enter a home without announcing themselves, like the one that occurred in Young's home.
The raid on Young's home was similar to the one in Louisville, Kentucky, that ended with the death of Breonna Taylor. Taylor's death became a flashpoint in the anti-police brutality protests that swept the United States this summer after George Floyd died in Minneapolis Police custody.
Lightfoot stopped short of promising to fire those responsible for what she called the "colossal mess" created by the city's handling of the raid and its aftermath, saying a review was ongoing.
The mayor declined to discuss the future of Corporation Counsel Mark Flessner, the city's top lawyer, whose department asked a judge to block CBS2 from airing the video, even though the First Amendment prohibits courts in nearly every situation from preventing news organizations from publishing lawfully obtained newsworthy information.
The City Council's Progressive Caucus has called for hearings to be held on the incident.
Contact Heather Cherone: @HeatherCherone | (773) 569-1863 | [email protected]
---