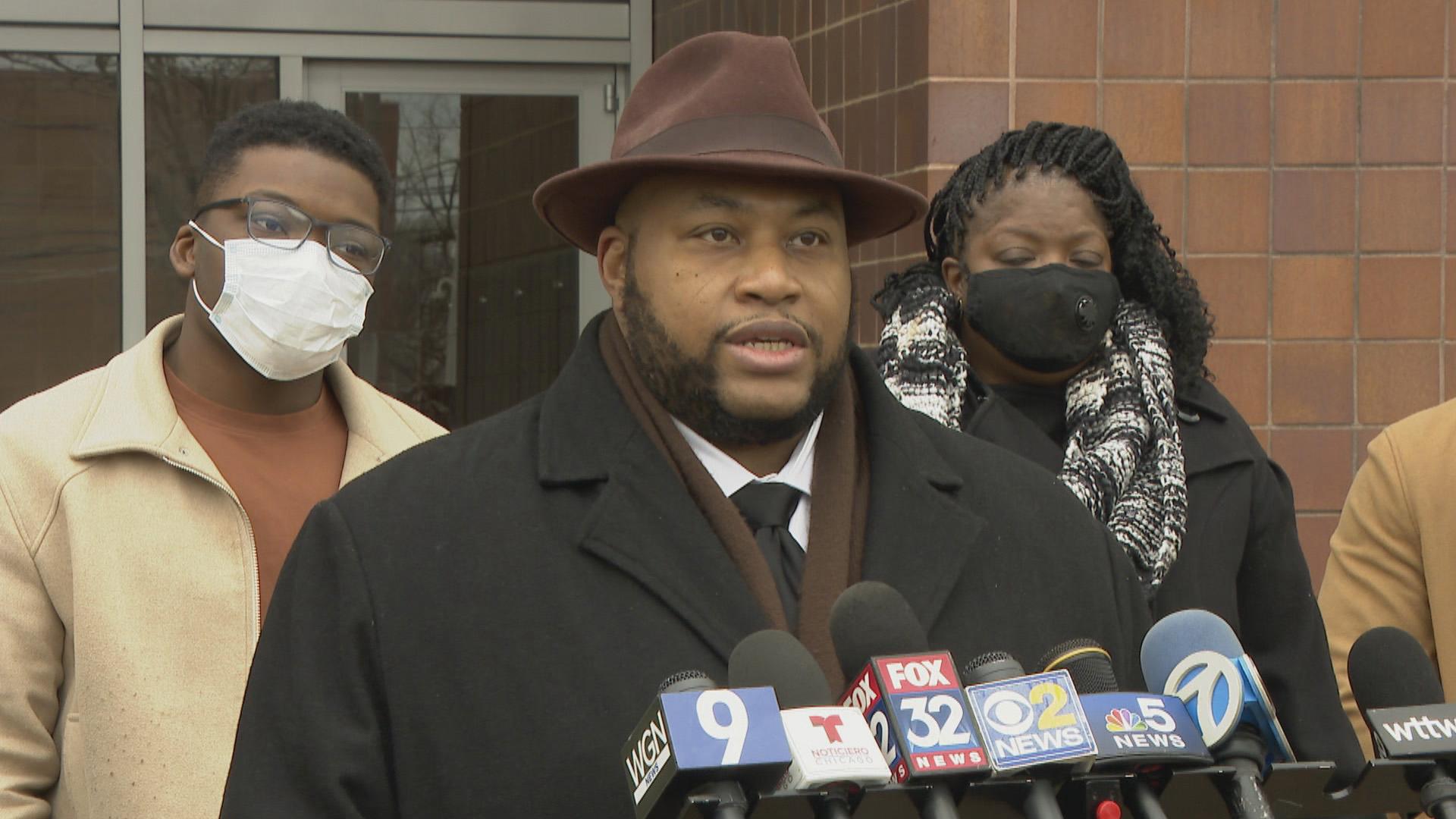 Keenan Saulter, the lawyer representing Anjanette Young, speaks during a press conference Wednesday, Dec. 16, 2020. (WTTW News)
Despite Mayor Lori Lightfoot and city attorneys backing off their request for sanctions, the lawyer representing Anjanette Young may still find himself in hot water with a federal judge for violating an order that barred the release of police video from the mistaken raid on Young's home.
U.S. District Court Judge John Tharp Jr. on Tuesday gave attorney Keenan Saulter until early next month to file a written response explaining why he should not be sanctioned for releasing the video, which has sparked backlash against the Chicago Police Department and Lightfoot's administration.
"There may be equitable reasons, there may be legal reasons, there may be factual reasons (why) that should not be the case," Tharp said. "Ultimately the issue is whether that conduct should be subject to a sanction, and if so, what sanctions would be appropriate."
The video, first aired last week by CBS2-TV, shows Young handcuffed and naked as CPD officers search her home in February 2019. Young, a social worker, told seven male police officers 43 times that they were in the wrong home and begged them to let her get dressed.
In the days since the video's release, the city's corporation counsel Mark Flessner has resigned and each of the officers involved in the search has been stripped of their police powers during an ongoing investigation by the Civilian Office of Police Accountability.
During the hearing Tuesday, Saulter apologized for releasing the video — which remained subject to a protective order issued during a civil lawsuit Young brought last year — and acknowledged he should have handled the situation differently.
The city had sought sanctions against Saulter, but Lightfoot ordered Flessner to withdraw that request prior to his resignation last week.
The city in a motion said that Saulter should be given the benefit of the doubt that he "did not appreciate that the court's confidentiality order continued in full force and effect" even after the civil case was voluntarily dismissed in March.
But Tharp said he needs more information from Saulter before he can make a decision on any potential punishment.
"I'm still left with (a) fundamental question," he said, "about how an experienced lawyer who was involved in the discussion in court that led to the proposed protective order and the entry of that protective order could have concluded that disclosure of those videos was either permitted by or not barred by the terms of that protective order."
It's not yet clear what punishment Saulter could face. He has until Jan. 8 to submit a written response to the judge further explaining his position.
"I express again my apologies to your honor for my actions," Saulter said. "We will further address these issues in writing."
Contact Matt Masterson: @ByMattMasterson | [email protected] | (773) 509-5431
---