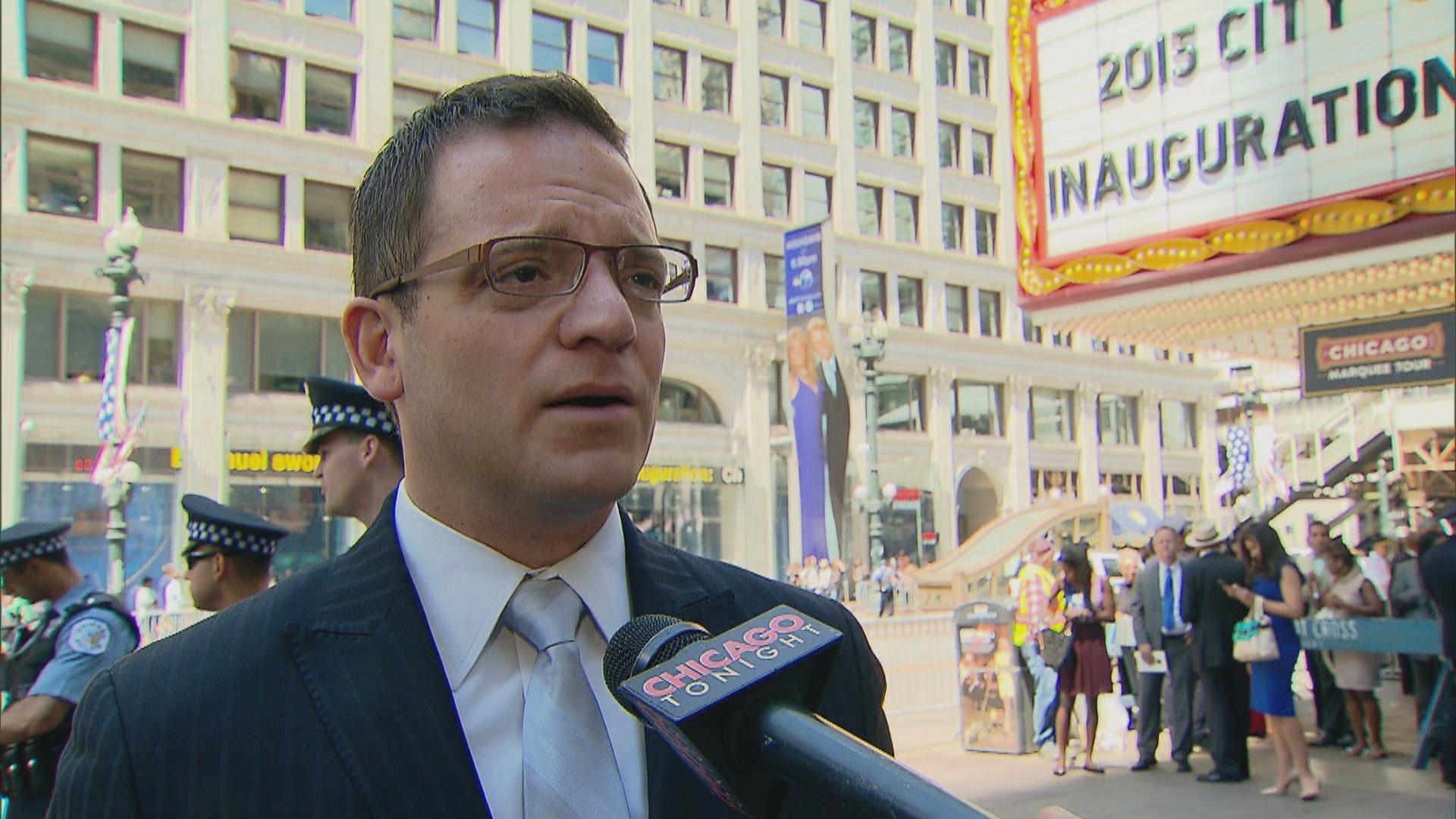 In this file photo, Ald. Proco "Joe" Moreno speaks with WTTW News.
Former 1st Ward Ald. Proco Joe Moreno was charged with drunken driving in connection with a string of crashes that damaged at least eight cars parked along a Gold Coast street late Sunday, Chicago police announced Monday.
Moreno, 48, was charged with driving under the influence of alcohol and having a blood alcohol level greater than 0.08, the legal limit, according to charges announced Monday afternoon by the Chicago Police Department. Moreno is also charged with reckless driving and faces five counts of leaving the scene of an accident that caused damage to an unattended vehicle. All of the charges are misdemeanors. 
The spate of crashes took place around 9:30 p.m. in the 1200, 1300 and 1500 blocks of north Astor Street, according to police. Moreno was taken to Northwestern Memorial Hospital in good condition after the car he was driving smashed into a tree, police said.
Neither Moreno, nor his attorney Ald. Howard Brookins (21st Ward), could be reached for comment by WTTW News
No cars belonging to Gov. J.B. Pritzker, who lives in the 1400 block of Astor Street, were damaged during the incident, said his spokeswoman Jordan Abudayyeh.
The car involved in the incident was a 2017 Audi A6, sources said.
Moreno is awaiting trial on felony charges of obstruction of justice and insurance fraud stemming from a separate case that began nearly two years ago.
Cook County prosecutors allege Moreno falsely claimed both to Chicago police and his insurance agency State Farm that his 2016 Audi A6 had been stolen out of his garage sometime before Jan. 4, 2019. However, Moreno allegedly turned the vehicle and its keys over willingly only hours earlier to a woman he had previously dated.
Moreno has pleaded not guilty in that case. 
First appointed by former Mayor Richard M. Daley, Moreno served on the City Council from 2010-19. He was defeated by Ald. Daniel La Spata (1st Ward).
Earlier this month, the Chicago Board of Ethics fined Brookins $5,000 for violating the city's Governmental Ethics Ordinance by defending clients — including Moreno — in criminal cases involving the Chicago Police Department.
The Ethics Board ruled in September 2019 that aldermen face "diverging interests" when they represent a client charged with a crime based on evidence developed by Chicago police officers.
Aldermen "owe 100 percent of their allegiance to the city and its taxpayers," according to the board's opinion.
Contact Heather Cherone: @HeatherCherone | (773) 569-1863 | [email protected]
---