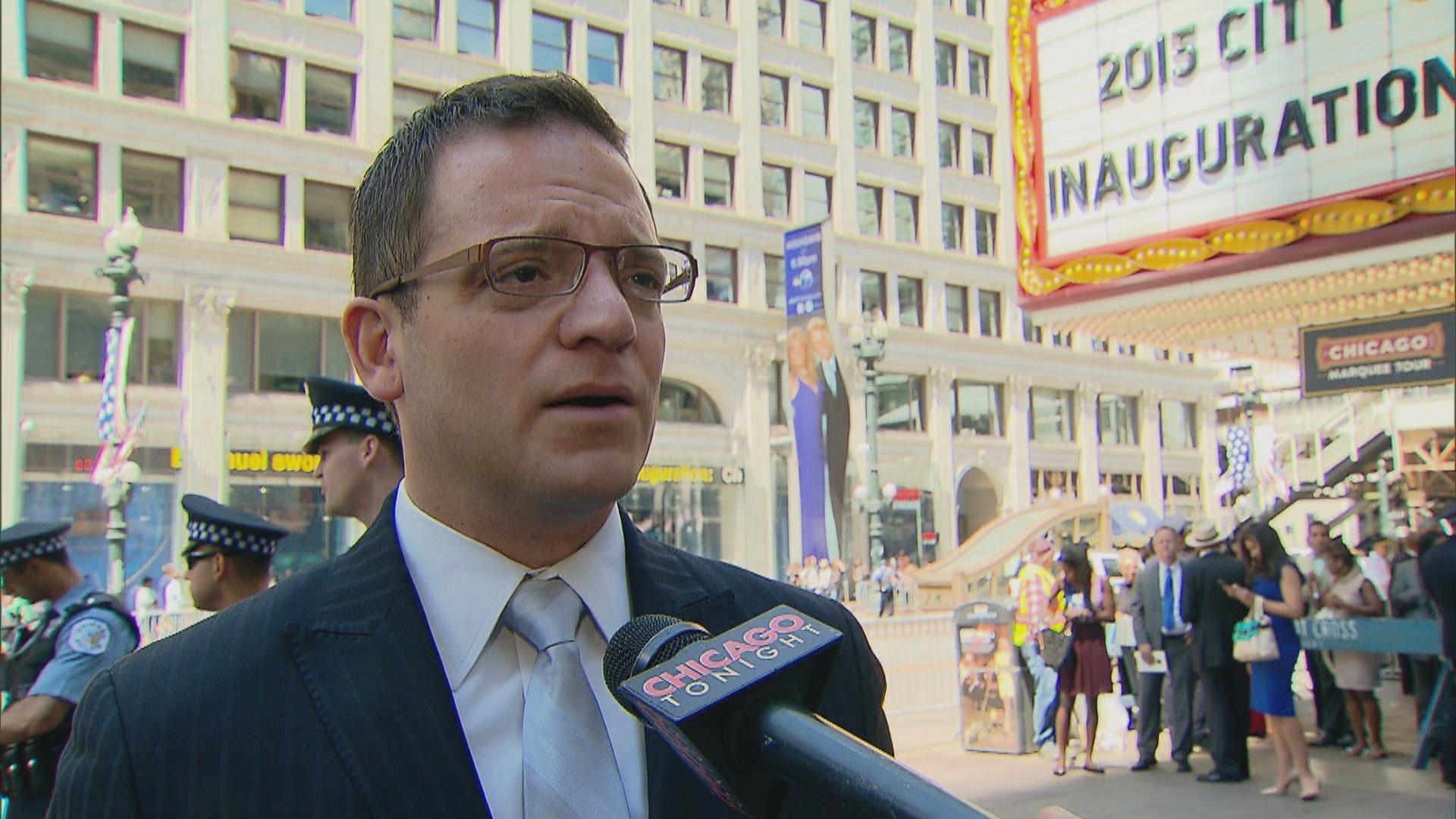 In this file photo, Ald. Proco "Joe" Moreno speaks with WTTW News.
A Cook County judge has ordered former Chicago Ald. Proco "Joe" Moreno to be held without bail and report to jail, calling him "a danger to the community" after he allegedly drove drunk last month and damaged more than a half dozen vehicles.
Judge William Hooks ordered the ex-1st Ward alderman to report to the Cook County Jail by 3 p.m. Thursday, less than two weeks after Moreno was charged with driving under the influence of alcohol, reckless driving and leaving the scene of multiple accidents.
"Anyone who is operating a motor vehicle and hits eight other cars in a three city block area and the car comes to rest on a tree is by definition a danger to the community," Hooks said. "Do not mess with me with respect to this matter sir."
Moreno had previously been issued bond on charges of insurance fraud and obstruction of justice stemming from a highly-publicized 2019 incident and Cook County prosecutors had sought on Thursday to amend that bond following the latest allegations.
But rather than amending it, Hooks revoked that bond, going beyond what the prosecutors had sought.
"I am not satisfied with this situation in any way whatsoever," the judge said.
Cook County Assistant State's Attorney Thomas Simpson detailed the incident Thursday, alleging Moreno struck eight vehicles before his Audi A6 came to rest after hitting a tree in the Gold Coast. His vehicle was still accelerating into the tree, Simpson said, until officers arrived and removed him from the vehicle.
Simpson claimed that not only was Moreno's blood alcohol level above the .08 legal limit, but it exceeded that limit "by at least a factor of three." Pieces of Moreno's Audi were found under at least one other vehicle that was struck, Simpson said, and the damages caused are expected to cost thousands of dollars.
Moreno's attorney Travis Richardson said Moreno has no previous criminal convictions and has entered himself into an "intensive outpatient program" at the Betty Ford Foundation.
"I think he recognizes there's some issues he needs to address," Richardson told the court.
Richardson also noted that the latest charges involve only property damage and no injuries, though Hooks was not swayed by that argument. The judge said the only reason there were no injuries was because no one happened to be in front of Moreno's vehicle as he was allegedly driving drunk.
"The point that he had not injured anyone is a weak, weak point," Hooks said.
First appointed by former Mayor Richard M. Daley, Moreno served on the City Council from 2010-19. He was defeated by Ald. Daniel La Spata (1st Ward) in 2019.
Moreno is awaiting trial on felony charges of obstruction of justice and insurance fraud stemming from a separate case that began nearly two years ago. 
In that case, Moreno falsely claimed both to Chicago police and his insurance agency that the same Audi A6 had been stolen out of his garage sometime before Jan. 4, 2019, according to prosecutors. However, Moreno had allegedly turned the vehicle and its keys over willingly only hours earlier to a woman he had previously dated.
Moreno turned himself in at the Leighton Criminal Court Building shortly before 3 p.m., according to the Chicago Tribune. He is due back in court for a hearing Jan. 15.
Contact Matt Masterson: @ByMattMasterson | [email protected] | (773) 509-5431
---