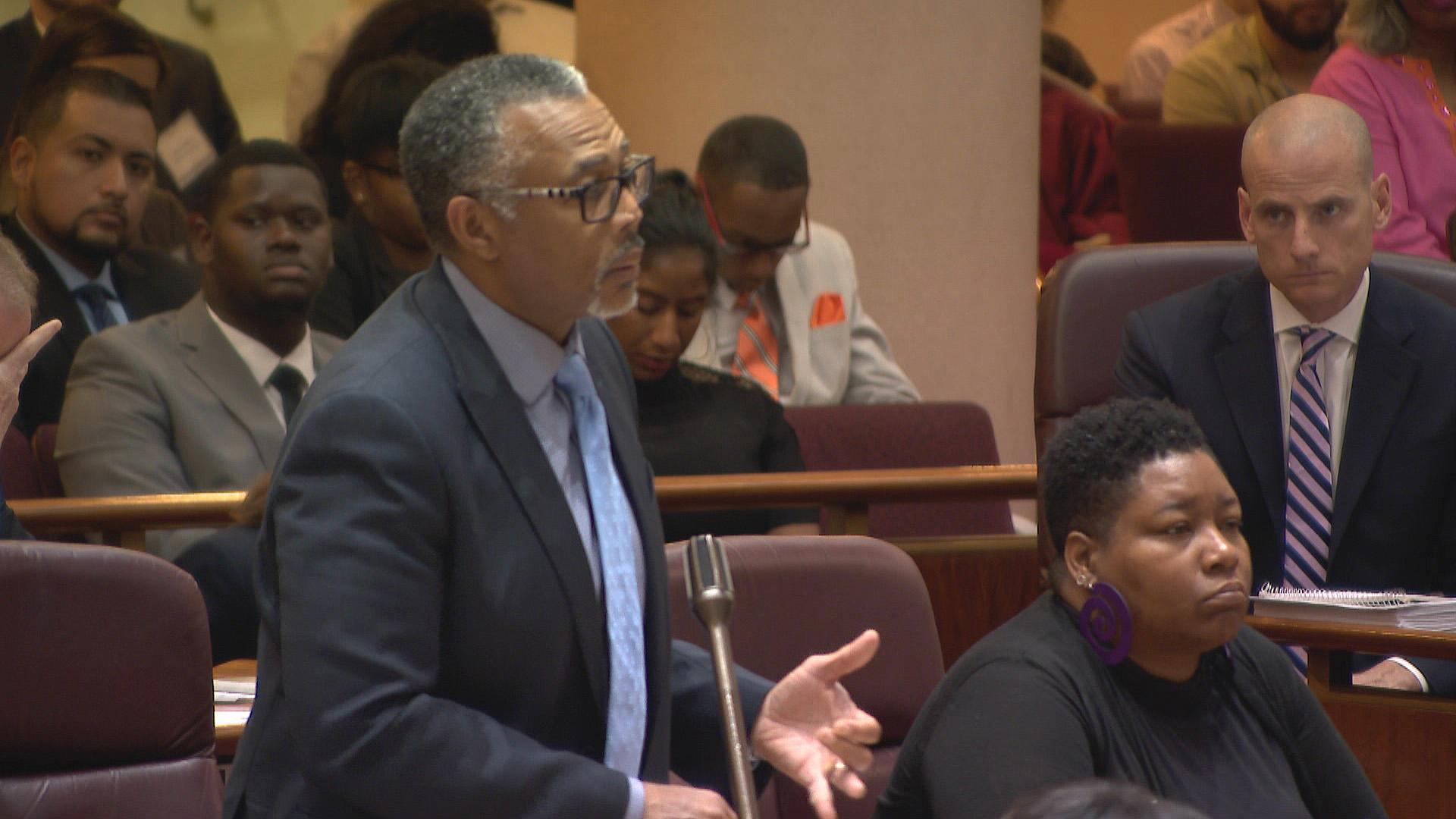 In this file photo, Ald. Howard Brookins (21st Ward) speaks at a Chicago City Council meeting. (WTTW News)
Ald. Howard Brookins (21st Ward) announced Monday that he will not run for re-election to represent the Southeast Side in 2023, joining a nearly unprecedented exodus from the Chicago City Council.
Brookins, 58, said in a statement he is "ready to hand the reins over to a new generation of leadership" after 20 years in office.
"I will remain politically active and available for guidance and counsel, particularly for young Democrats who will bring our ward and our city into a more just future," Brookins said. "I have faith in their leadership and history shows us that the Black movement works best when the new generation takes over at the right time. I believe now is that time, at least for our community here in the 21st Ward."
Brookins did not return repeated requests for comment from WTTW News.
Mayor Lori Lightfoot tapped Brookins to lead the City Council's Transportation and Public Way Committee in 2019, replacing Ald. Anthony Beale (9th Ward). Beale is now one of the mayor's most frequent critics.
As Transportation Committee chair, Brookins helped push through a proposal to rename Lake Shore Drive for Jean Baptiste Pointe DuSable and championed an effort to permit shared e-scooters to zoom around Chicago after two pilot programs.
Brookins is the sixth City Council committee chair to announce they will not run for re-election, joining Ald. Susan Sadlowski Garza (10th Ward), Ald. Tom Tunney (44th Ward), former Ald. Michele Smith (43rd Ward), Ald. George Cardenas (12th Ward) and Ald. Harry Osterman (48th Ward.)
Indicted Ald. Carrie Austin (34th Ward), Ald. James Cappleman (46th Ward) and Ald. Leslie Hairston (5th Ward) have also announced they will not run for the City Council again.
Ald. Sophia King (4th Ward), Ald. Raymond Lopez (15th Ward) and Ald. Roderick Sawyer (6th Ward) announced bids for mayor in 2023. Sawyer is the chair of the City Council's Health and Human Relations Committee.
Brookins' decision not to run again means 12 Chicago wards — representing approximately 25% of the city — are set for new City Council leadership in May 2023.
Four candidates — Ayana Clark, Larry Jay Lloyd, Daliah Goree and Nekoiya Washington — already announced bids for 21st Ward alderperson in 2023.
First elected in 2003, Brookins, a criminal defense attorney, won a fifth term in 2019, defeating Marvin McNeil by fewer than 900 votes in a runoff.
Brooks sued the Chicago Board of Ethics and Executive Director Steve Berlin in January 2021 after it unanimously found he had violated the city's Ethics Ordinance by defending clients — including former 1st Ward Ald. Proco "Joe" Moreno — in criminal cases involving the Chicago Police Department.
The board fined Brookins $5,000 after WTTW News reported in November 2020 that he had agreed to represent Moreno, who was the 1st Ward alderman from 2010-19. 
Both the Board of Ethics and Berlin have asked a Cook County judge to dismiss the suit, and a decision is pending. Brookins has said if he loses the suit, he will resign from the City Council.
A former chair of the City Council's Black Caucus, Brookins agreed in 2017 to pay a $5,000 fine levied by the Board of Ethics to resolve a complaint that he failed to keep track of the hours worked by his former chief of staff Chief of Staff Curtis V. Thompson Jr. and four aides.
After serving as Brookins' chief of staff for more than a decade, Thompson was sentenced in May 2015 to 15 months in prison for accepting a Christmas envelope stuffed with a $7,500 cash bribe, designed to grease the path of a liquor license, in December 2014.
Brookins was seriously injured in a 2017 bicycle accident when a squirrel jumped in his bicycle's spokes while he was riding along the Cal Sag trail. A photo Brookins posted on Facebook shows the mangled squirrel still stuck in his bicycle's front wheel.
Brookins was injured just weeks after he asked city officials to do more to fight the "aggressive squirrels" that he said were eating through refuse carts in his ward and creating a nuisance — and a serious expense for city officials.
After he returned to City Hall, Brookins told reporters he planned to "ban squirrels."
In June, Brookins ran unsuccessfully for the Democratic nomination in a bid to be a Cook County judge. In 2016, Brookins lost to U.S. Rep. Bobby Rush, D-Chicago, in a race for Congress. In 2007, he ran and lost a race to be Cook County State's Attorney.
Contact Heather Cherone: @HeatherCherone | (773) 569-1863 | [email protected]
---