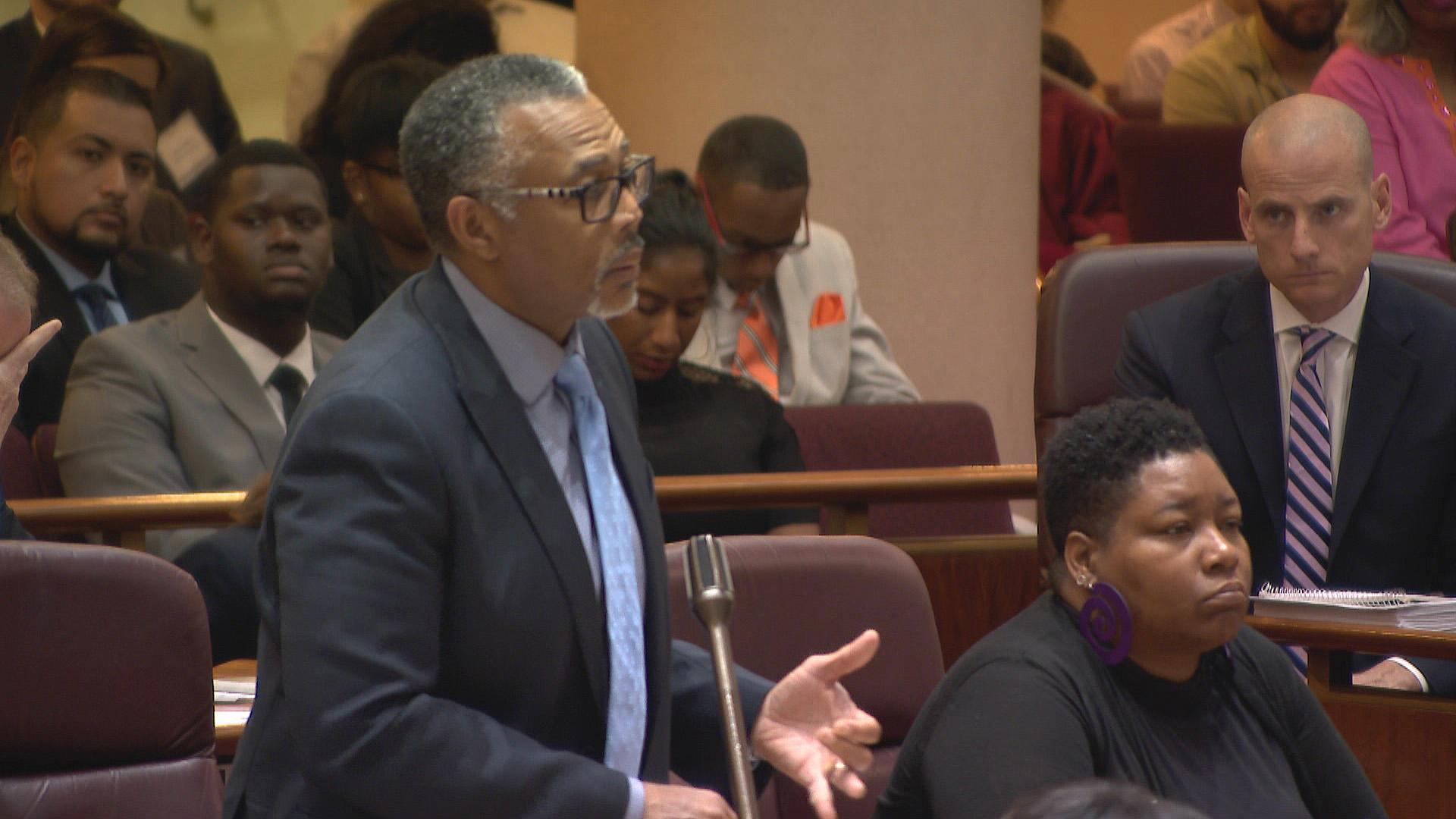 In this file photo, Ald. Howard Brookins (21st Ward) speaks at a Chicago City Council meeting. (WTTW News)
Ald. Howard Brookins (21st Ward) sued the Chicago Board of Ethics after it unanimously found he had violated the city's Ethics Ordinance by defending clients — including former 1st Ward Ald. Proco "Joe" Moreno — in criminal cases involving the Chicago Police Department, he announced Friday.
The board fined Brookins $5,000 after WTTW News reported on Nov. 9 that he had agreed to represent Moreno, who was the 1st Ward alderman from 2010-19. Brookins has yet to pay that fine.
Brookins' lawyer, former Judge Travis Richardson, said in a statement that the Ethics Board's action was "misguided" and designed to prevent Brookins from "defending the criminally accused and those otherwise targeted by the state for prosecution."
"The board and its executive director welcome the chance to have the board's carefully reasoned determinations in this matter reviewed by the court," Chair William Conlon said in a statement.
Steve Berlin, the board's executive director, is named in the suit along with the board, its members and Conlon.
The Ethics Board ruled in September 2019 that aldermen face "diverging interests" when they represent a client charged with a crime based on evidence developed by Chicago police officers.
Aldermen "owe 100 percent of their allegiance to the city and its taxpayers," according to the board's opinion.
At Brookins' request, the board reconsidered its opinion in October 2019 but declined to reverse it. At the time, Brookins said he would sue the city to overturn it — but never did.
Despite the fine, Brookins represented Moreno during a court hearing on Friday. Moreno was ordered released from the Cook County Jail on condition he begin alcohol treatment following his arrest on drunken driving charges.
The Ethics Board's ruling was based on "absurd logic that flies in the face of all attempts to reform the city's notorious police tactics," Richardson said.
"Howard Brookins being a criminal defense attorney [and] assuring that the innocent are not falsely convicted, and the Chicago Police officers that engage in civil rights violations are revealed, and that the system works and prosecutors are held to their burden is good for the city and is entirely consistent with his fiduciary duty," Richardson said.
Brookins, who was first elected to the City Council in 2003, serves as Mayor Lori Lightfoot's hand-picked chairman of the City Council's Transportation and Public Way Committee.
Even though Chicago taxpayers pay aldermen approximately $120,000 annually, they are allowed to work outside of City Hall — including as lawyers.
Brookins — who earns more than $100,000 annually from his law practice — told WTTW News on Nov. 6 that he is confident there is no legal basis for the board's ban on aldermen working as criminal defense attorneys in cases where Chicago police officers investigated the alleged crime.
Despite the fact that the board's order has been in place for more than a year, Brookins has continued to represent clients charged with a crime in Chicago.
Contact Heather Cherone: @HeatherCherone | (773) 569-1863 | [email protected]
---