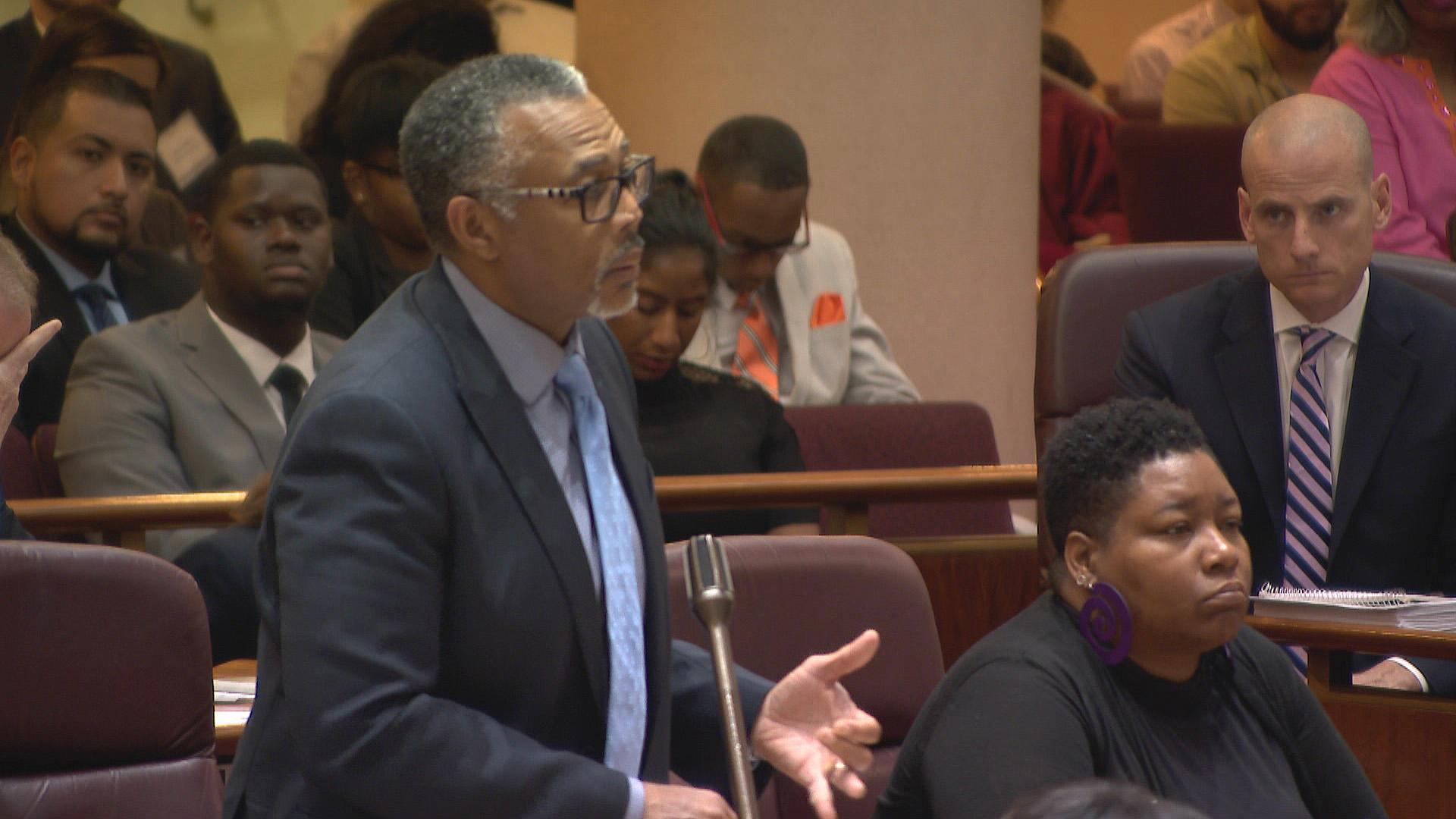 In this file photo, Ald. Howard Brookins (21st Ward) speaks at a Chicago City Council meeting. (WTTW News)
The Chicago Board of Ethics voted unanimously on Monday to fine Ald. Howard Brookins (21st Ward) $5,000 for violating the city's Governmental Ethics Ordinance by defending clients — including former Ald. Proco Joe Moreno — in criminal cases involving the Chicago Police Department.
The fine levied by the board is the maximum allowed, Board President William Conlon said.
The South Side alderman could appeal that decision to the Cook County Circuit Court. Neither Brookins nor his attorney Brendan Schiller responded to a request for comment from WTTW News late Monday.
The Ethics Board ruled in September 2019 that aldermen face "diverging interests" when they represent a client charged with a crime based on evidence developed by Chicago police officers.
Aldermen "owe 100 percent of their allegiance to the city and its taxpayers," according to the board's opinion.
At Brookins' request, the board reconsidered its opinion in October 2019 but declined to reverse it. At the time, Brookins said he would sue the city to overturn it — but never did.
The Ethics Board began investigating Brookins after WTTW News reported on Nov. 9 that he had agreed to represent Moreno, who was the 1st Ward alderman from 2010-19.
The $5,000 fine issued Monday is the second time the Ethics Board has punished Brookins, who was first elected to the City Council in 2003 and serves as Mayor Lori Lightfoot's hand-picked chairman of the City Council's Transportation and Public Way Committee.
Brookins agreed in September 2017 to pay a $5,000 fine to settle Ethics Board charges that he failed to keep track of the hours worked by his former chief of staff and four aides.
As part of that agreement, Brookins acknowledged that he failed to keep track of the time worked by his longtime chief of staff Curtis V. Thompson Jr. and four other aides during a period that stretched from November 2010 to July 2012, a violation of a city ordinance.
After serving as Brookins' chief of staff for more than a decade, Thompson was sentenced in May 2015 to 15 months in prison for accepting a Christmas envelope stuffed with a $7,500 cash bribe, designed to grease the path of a liquor license, in December 2014.
Brookins was not charged in connection with that case and denied wrongdoing.
Contact Heather Cherone: @HeatherCherone | (773) 569-1863 | [email protected]
---