When Chicagoan Babette Peyton suffered a stroke in 2009 that paralyzed the left side of her body, she thought her life was over.
"I was told the next stop for me was the hospice, so at that time, I wrote my obituary," Peyton said. "And when the military came and said they wanted to take me to a military Paralympic sports camp in Newport, Rhode Island, I thought, well, this is my last hurrah – I may as well go."
The camp may have saved Peyton's life. There, an archery coach taught her how to shoot arrows using one arm and her teeth to pull back 45 pounds of pressure. With the help of a leather strap on the bowstring, Peyton drew and fired her first six shots at the target. She was astonished when an aide said she hit two bull's-eyes.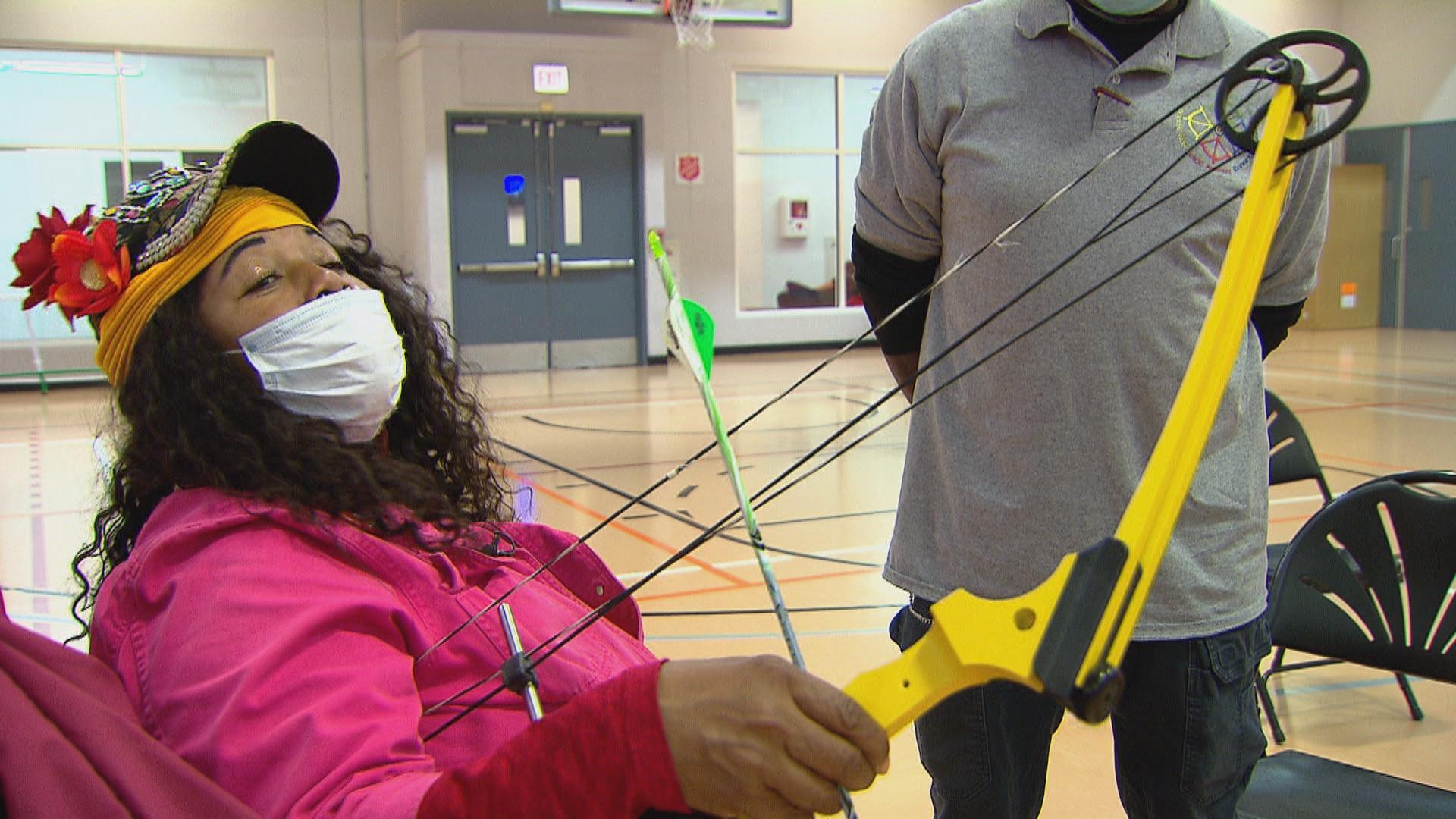 Babette Peyton demonstrates how she fits an arrow to a bowstring, an action called nocking in archery, at the Kroc Center Chicago on Nov. 19, 2020. (WTTW News)
"I looked that way and people were jumping up and I said, 'What's their problem?' – he said, 'You got two bull's-eyes!'" Peyton recalled. "And I said, 'Me? Me?! I got two bull's-eyes?!' you know, you go crazy."
Since then, Peyton has traveled the world to compete in archery and other sporting events, earning more than 150 medals and boasting an archery high score of 299 out of 300.
"I don't just shoot my mouth off; I put it in my teeth with my lips and shoot it!" Peyton said.
While training in the U.S. Army during the 1970s, Peyton sustained an injury resulting in paralysis.
"It's an injury that's got me in pain, causes me to fall and then it progressed to a stroke, which got me ended up in a wheelchair since 2009," Peyton said.
After her injury, she finished her military service overseas as a trauma specialist, stabilizing and rehabilitating wounded soldiers before they returned home. The experience shaped her character and outlook on life.
"The last part of my tour of duty, I dealt with people who had major injuries – so they lost parts of their bodies – arms, legs, half of their bodies, half of their head – I had to deal with that," Peyton said. "I still deal with that in my dreams. It was something I was able to do because I love people and I thought, if they spent their time and they did this, they deserve the best – and I still think that."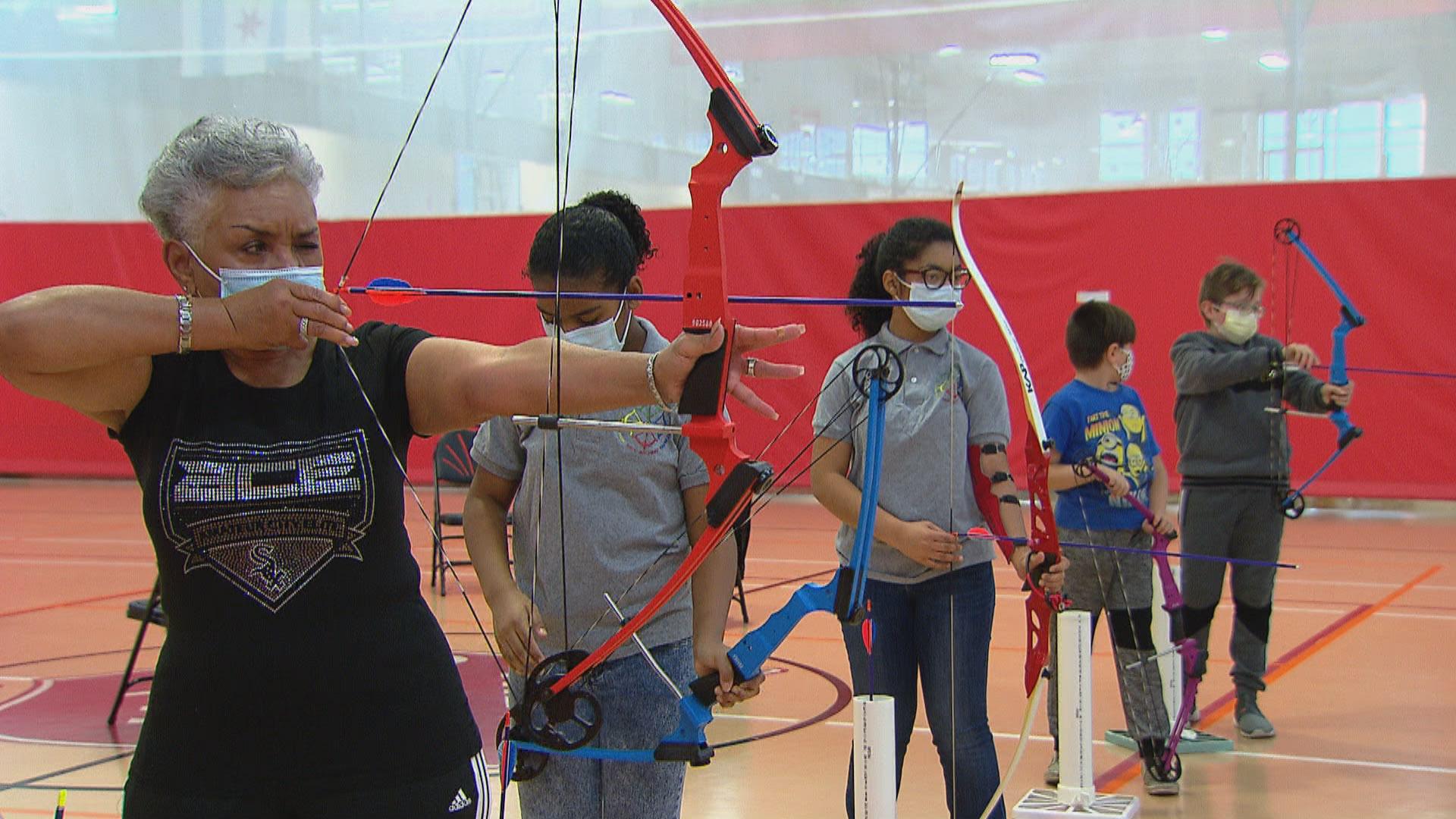 Archers practice their shooting during a lesson held by the Chicago Archery Club at the Kroc Center Chicago on Nov. 19, 2020. (WTTW News)
Peyton, who grew up on Chicago's South and West sides, currently lives in a low-income apartment for military veterans in the city's Auburn Gresham neighborhood, but the 68-year-old said she experienced homelessness as recently as 2010.
Beyond competition, Peyton spreads her message of positivity through gospel radio and public TV appearances as well as church and community speaking engagements.
"Do I win all the time? Nope. But you know, I win so much and I'm so inspirational, they say to other people to get up and try," Peyton said. "And I say that's all that's required. Don't worry about where your arrow hits – just shoot at it."
Peyton said the compound bow she used competitively broke during an August 2019 competition in Ohio. She started a GoFundMe page to raise money for new equipment and pursue her dream of competing in Tokyo at the 2020 Paralympics, rescheduled for August 2021 due to the COVID-19 pandemic.
---
About this series
Chicago Portrait is a WTTW News documentary-style series focusing on the stories of everyday Chicagoans who reflect the city's 77 diverse community areas.
Follow Evan Garcia on Twitter: @EvanRGarcia
---