There's a cowboy riding through Chicago's South and West Side neighborhoods, introducing residents young and old to what is likely an unfamiliar animal — at least on their residential streets: horses.
Chicagoan Adam Hollingsworth, better known as the Dreadhead Cowboy, owns five horses in Will County that he brings into the city for horseback-riding lessons and casual introductions throughout Chicago communities.
"If I'm going to call myself a cowboy," said Hollingsworth, 33. "I gotta put the hood in it, so I put the 'Dreadhead Cowboy.' So basically, I'm from the hood and I'm a cowboy."
Hollingsworth's own introduction to horses came four years ago, thanks to his uncle Eddie Thomas, who owns several in Crete, about 40 miles south of Chicago.
Hollingsworth purchased his first horse two years ago and has been riding regularly since.
"I done fell in love with horses so much, I done bought more horses than my uncle," Hollingsworth said. "So I keep my horses out there with him; I love them."
Prior to Illinois' COVID-19 shutdown, Hollingsworth, a father of four, had worked as an exotic dancer since 2010.
But after discovering a love of horses and the attention brought by his saddled travels through the city, Hollingsworth said he plans to retire from dancing and focus full-time on horseback riding and demonstrations through Chicago's underserved communities and, eventually, beyond.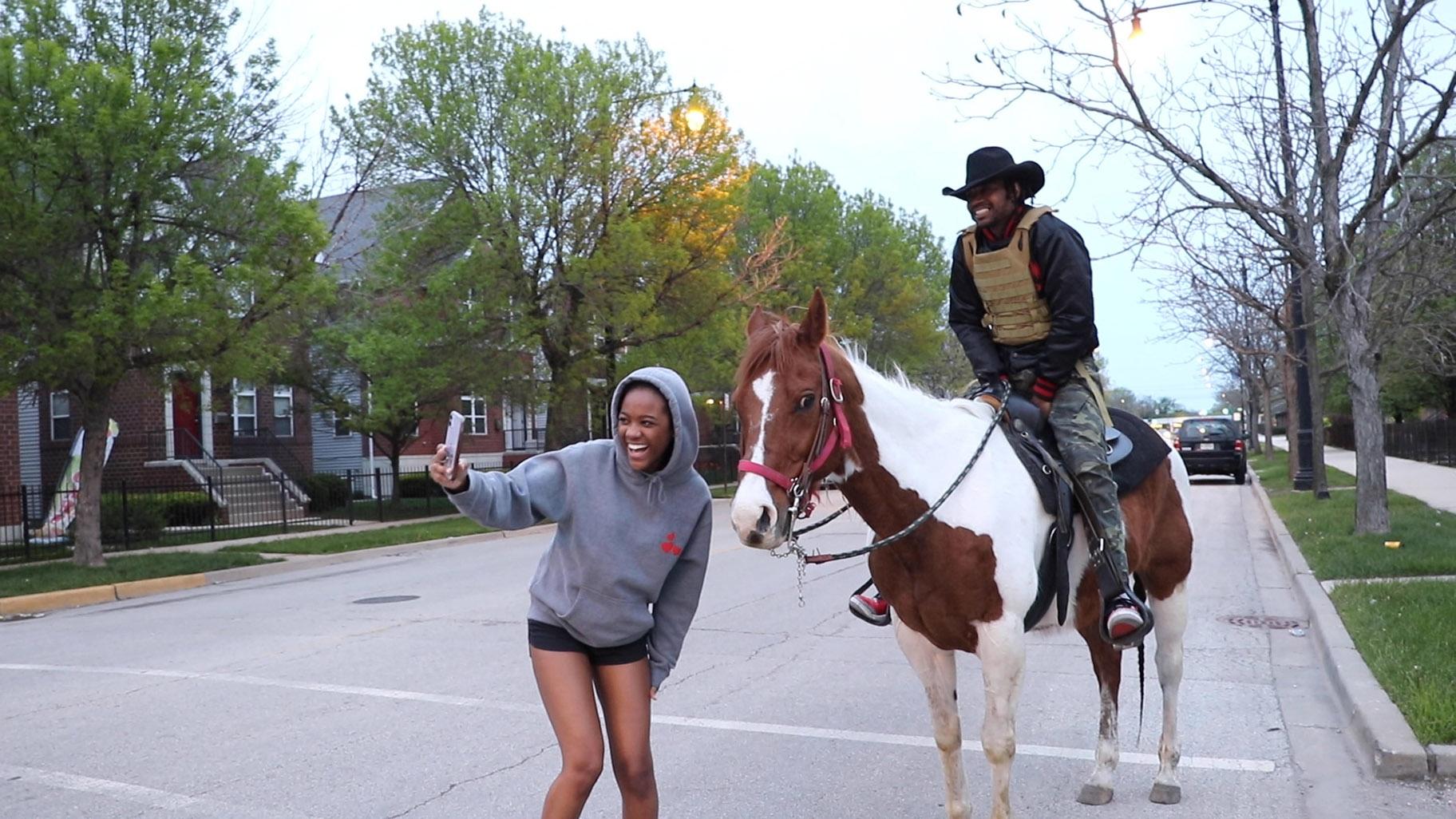 A young woman takes a photo with Adam Hollingsworth, also known as the Dreadhead Cowboy, and his 13-year-old horse Prince in the Woodlawn neighborhood on Chicago's South Side on Saturday, May 16. (Evan Garcia / WTTW News)
"My goal is to give back to the community and then after I do that in the inner city and I accomplish my goal here, I'm gonna branch off and start a tour through the Midwest," Hollingsworth said. "I'm gonna hit seven states in the Midwest and hit the inner city in every state."
To realize his intercity horseback tour, Hollingsworth started a GoFundMe page for supplies, upkeep and gas money.
WTTW News followed Hollingsworth – and his 13-year-old horse Prince – through his neighborhood of Woodlawn on Chicago's South Side.
---
About this series
Chicago Portrait is a WTTW News documentary-style series focusing on the stories of everyday Chicagoans who reflect the city's 77 diverse community areas.
Follow Evan Garcia on Twitter: @EvanRGarcia
---