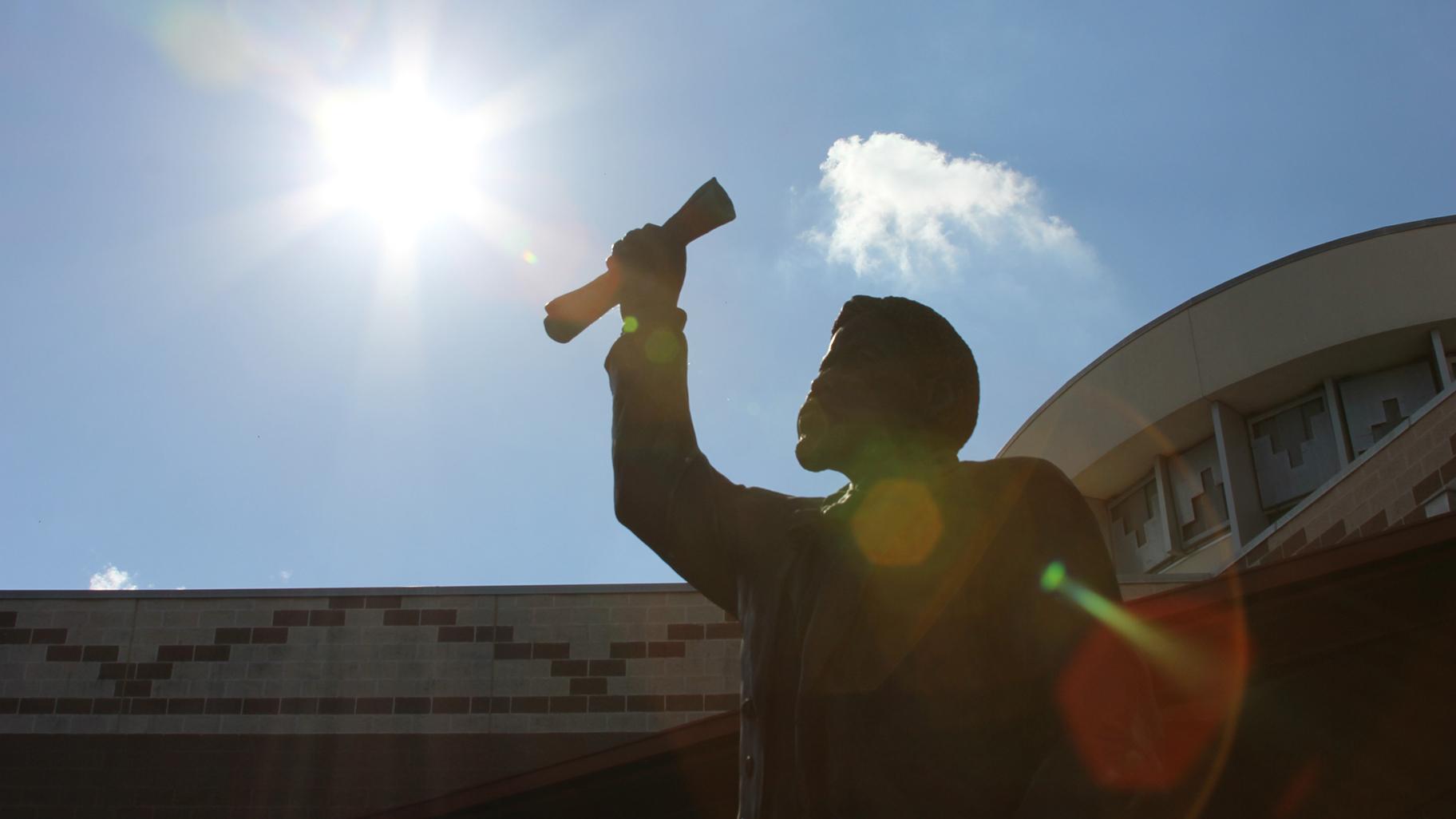 A bronze sculpture by Eddie Dixon is one of five sculptures representing the story of Juneteeth at the George Washington Carver Museum in Austin, Texas. (Jennifer M. Rangubphai / Wikimedia Commons)
Juneteenth, which commemorates the end of slavery in the United States, is poised to become the first official "day of observance" in Chicago as part of the agreement that will approve a $12.8 billion spending plan for 2021.
Aldermen are poised to approve the budget, which contains the new designation for June 19, in a series of votes set to take place at 2 p.m. Monday and at 10 a.m. Tuesday.
But city employees will not get a 10th annual paid holiday — making the designation honorary — at least for now, officials said.
The City Council recognized Juneteenth for the first time in June 2020, just weeks after George Floyd, a Black man, died in the custody of four Minneapolis police officers. However, Mayor Lori Lightfoot said the city could not afford to make it an official city holiday, rebuffing efforts from some aldermen and activist groups.
Instead, the City Council agreed to recognize June 19 every year and "reflect on the suffering endured by early African-Americans, promote public awareness, and celebrate African-American freedom and achievement," according to the resolution.
Ald. Maria Hadden (49th Ward) introduced a measure in November 2019 to mark as an official city holiday June 19, 1865, the day in which formerly enslaved black people in Galveston, Texas, learned of the Emancipation Proclamation, issued on Jan. 1, 1863, by President Abraham Lincoln.
But it would cost approximately $100 million to give city employees the day off — something the city cannot afford at a time when the coronavirus pandemic drenched the city's budget in red ink, officials said.
Hadden, who announced Friday she would vote for Lightfoot's spending plan that closes a $1.2 billion shortfall in 2021 and a $799 million shortfall in 2020 with tax hikes, layoffs and millions of dollars of borrowing, said she was "really excited" by the decision to give Juneteenth "a whole new category" of recognition.
Hadden praised the mayor and her team for working to craft a compromise measure that recognizes Juneteenth during an incredibly difficult budget year.
Hadden said she would work to ensure renegotiated agreements with labor unions representing the city's employees include at least one floating holiday, to allow workers to choose to take off Juneteenth.
To smooth the budget's rocky path through the City Council's committees, Lightfoot wheeled and dealed with aldermen on a number of issues. Before adding the measure to make Juneteenth a day of observance, Lightfoot dropped plans to include protections for immigrants with the budget vote after objections arose from immigrant rights groups and the City Council's Latino Caucus.
LaCreshia Birts, co-chair of the Black Remembrance Project, called the decision to make Juneteenth Chicago's first and only day of observance "a step in the right direction."
The group has been pushing since 2019 to make Juneteenth an official city holiday, and that effort will not stop, Birts said.
"We're very excited, but we still have work to do," Birts said. "We understand the budget constraints. It is a good compromise for the time being."
It is crucial that Chicago and other government agencies recognize Juneteenth as a paid, official holiday, Birts said.
"Look at the history of our people who were forced to labor without compensation," Birts said. "The symbolism of that requires a paid holiday to recognize Juneteenth and reflect on our city's history."
Contact Heather Cherone: @HeatherCherone | (773) 569-1863 | [email protected]
---