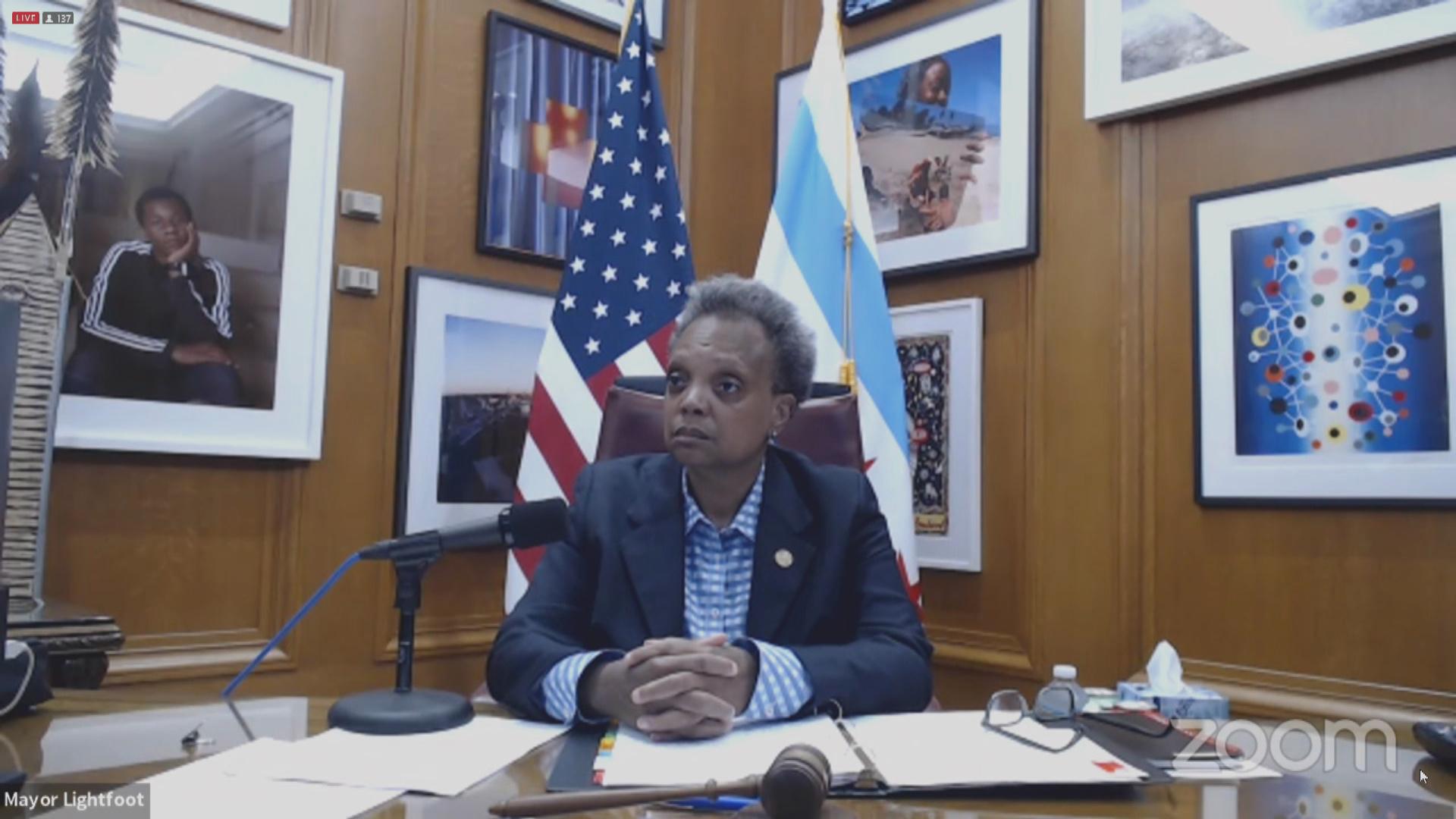 Mayor Lori Lightfoot presides over a virtual Chicago City Council meeting on Wednesday, June 17, 2020.
The Chicago City Council on Wednesday recognized Juneteenth, which commemorates the end of slavery in the United States, but stopped short of making its date of celebration, June 19, an official city holiday.
Ald. Maria Hadden (49th Ward) introduced a measure in November to mark June 19, 1865, the day that formerly enslaved black people in Galveston, Texas, learned of the Emancipation Proclamation, issued on Jan. 1, 1863, by President Abraham Lincoln, as an official city holiday.
But it would cost approximately $100 million to give city employees the day off — something the city cannot afford at a time when the coronavirus pandemic drenched the city's budget in red ink, Mayor Lori Lightfoot said Wednesday.
Instead, the city will recognize June 19 every year and "reflect on the suffering endured by early African-Americans, promote public awareness, and celebrate African-American freedom and achievement," according to the resolution.
The push to make Juneteenth an official city holiday gained new life amid the protests touched off by the death of George Floyd in Minneapolis police custody.
Ald. Leslie Hairston (5th Ward) urged her colleagues to step up their efforts to fight systemic racism in a speech that lasted precisely eight minutes and 46 seconds, the length of time an officer pressed his knee into Floyd's neck.
"I encourage the protesters to continue," Hairston said. "Don't stop. Don't stop. Black lives matter. Black lives matter."
Hairston also took indirect aim at two of her colleagues, Alds. Anthony Napolitano (41) and Nicholas Sposato (38) who gave interviews in recent days to defend the officers caught on tape lounging, sleeping and snacking in the burglarized South Side office of U.S. Rep. Bobby Rush in the early morning hours of June 1 as unrest swept the South and West sides of the city.
Napolitano, a former police officer, appeared on WGN-TV flanked by boxes of popcorn. Rush said officers ate his office's popcorn without permission.
Sposato, a former firefighter, appeared on FOX32-TV, flanked by signs supporting police officers, to defend the officers and blast Rush.
Without mentioning Napolitano or Sposato by name, Hairston said it was "time for this City Council to wake up and stop being dismissive." 
"I need everybody to open up their eyes and to see what role they play in continuing to be biased against Black people and the color of our skin," Hairston said.
Neither Napolitano nor Sposato responded to Hairston.
The two Far Northwest Side aldermen, the most conservative on the City Council, were also the only members to vote against a measure to create a subcommittee to study whether — and how — the city should pay reparations to Chicagoans who are the descendants of enslaved African Americans.
Ald. Jason Ervin (27th Ward), the chair of the City Council's Black Caucus, urged Napolitano and Sposato to change their votes.
"It is somewhat of a slap in the face," Ervin said.
Again, neither Napolitano nor Sposato responded to Ervin. They did not explain their votes.
Ervin appeared to want to debate the subject of reparations, but he was warned by Lightfoot that he was close to being out of order, and he relented.
After Lightfoot objected, Sawyer dropped plans to create the Chicago Citizens of African Descent Reparations Commission and agreed to form a subcommittee.
Lightfoot's office has said the mayor favored a subcommittee over a commission because it could be created "quickly" while serving the same purpose as a commission.
Contact Heather Cherone: @HeatherCherone | (773) 569-1863 | [email protected]
---