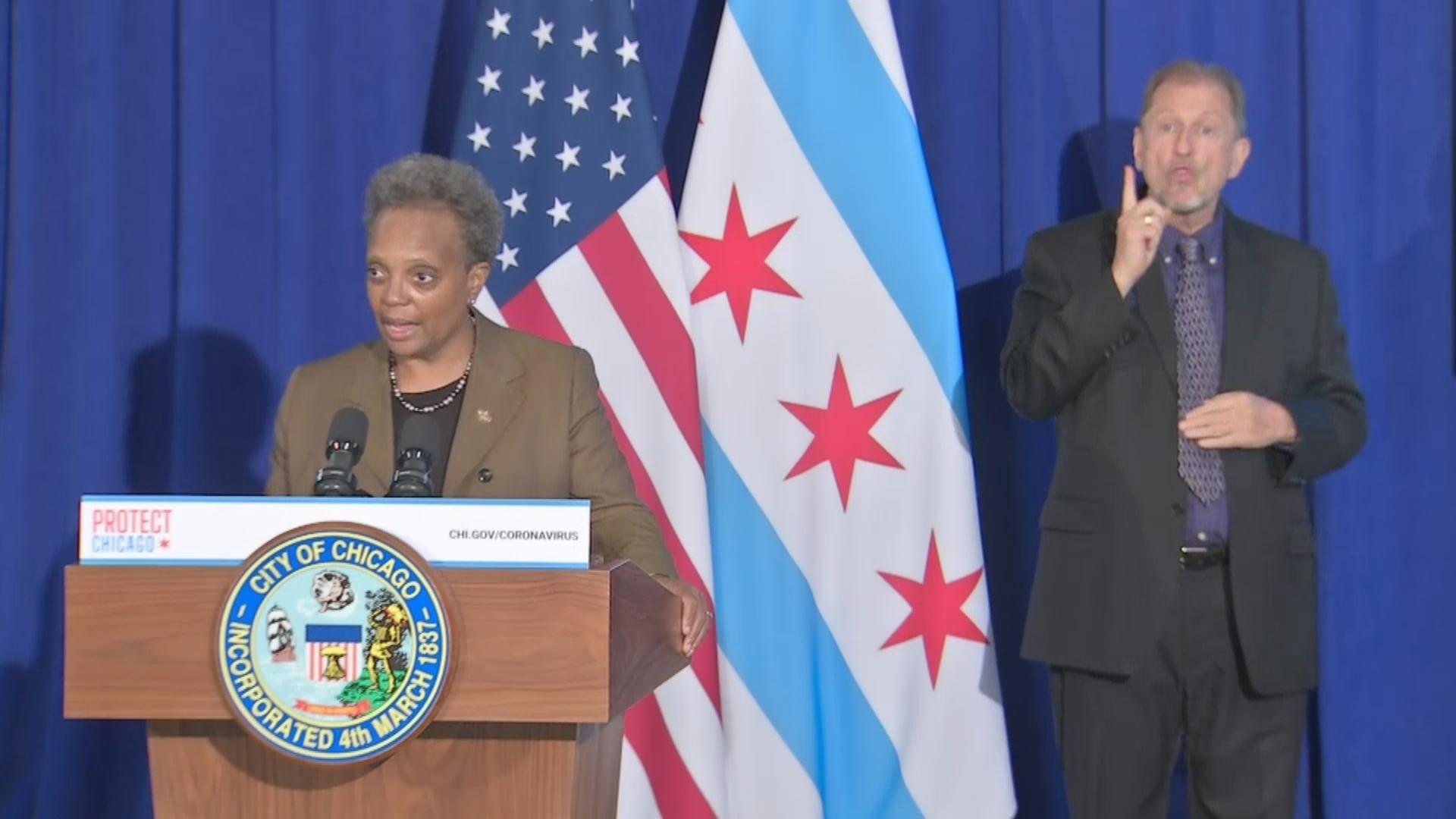 Mayor Lori Lightfoot speaks Thursday, Nov. 12, 2020 at a press conference. (WTTW News via Chicago Mayor's Office)
Mayor Lori Lightfoot acknowledged on Thursday that she had linked the upcoming vote on her plan to balance the city's 2021 budget with tax hikes, layoffs and millions of dollars of borrowing with protections for immigrants.
As part of the massive ordinance that translates the mayor's 2021 spending plan into law, Lightfoot plans to include a measure that would block Chicago Police from cooperating with federal immigration agents.
Ald. Carlos Ramirez-Rosa (35th Ward) — who has been pushing for changes to the city's sanctuary city ordinance for five years — said a member of the mayor's office staff told him it was included in the budget bill "because there isn't much good to vote for in this budget."
Ramirez-Rosa said he told the mayor's staff that the move was inappropriate — and that protections for immigrants should not be "held hostage" or used as "part of a ploy" to ensure that her budget passes.
Immigrant rights groups and the City Council's Latino Caucus also objected to the effort to make changes to the city's Welcoming City ordinance as part of the tense budget process, Ramirez-Rosa said.
Instead, the mayor should introduce a standalone measure that the City Council could act quickly on, Ramirez-Rosa said.
The current ordinance allows Chicago Police officers to cooperate with Immigration and Customs Enforcement agents if they ask for information about individuals listed as a gang member in city databases, have been charged or convicted of a felony, or are wanted on a warrant issued by a judge.
During the 2019 mayoral campaign, Lightfoot campaigned on removing those exceptions. In January, Lightfoot promised to make those changes once the U.S. Supreme Court resolved a lawsuit brought by the city that sought to block the federal government from yanking federal funds from so-called sanctuary cities like Chicago. 
President-elect Joe Biden has vowed to overturn President Donald Trump's efforts to deport undocumented immigrants and punish cities that are determined to protect them. Ramirez-Rosa said it made sense to move forward now that the outcome of the presidential election is clear.
At an unrelated news conference Thursday, Lightfoot defended her decision to link the popular effort to protect immigrants with her budget plan, which has drawn a significant amount of pushback from aldermen.
"I am honoring that commitment," Lightfoot said of her promises to strengthen the ordinance earlier this year. "This is really essential to who we are as a city. We are a welcoming city, and proudly so."
In January, the City Council voted to make Lightfoot's prohibition on allowing agents from Immigration and Custom Enforcement Agency to access the city's gang databases permanent and to require city officials to document all requests for assistance from the federal government.
In addition, the city restricted cases where city officers and officials can assist ICE and required officials to develop sanctuary policies for all city facilities to prevent immigration agents from detaining undocumented immigrants on city property.
The city's sanctuary status dates back to 1985, when Mayor Harold Washington issued an executive order prohibiting city employees from enforcing federal immigration laws. It became law in 2006 and was reaffirmed after the 2016 election of Trump.
Lightfoot's move to include protections for immigrants in the budget debate is an indication that her 2021 budget is well short of the 26 votes it needs to pass on Nov. 24 as currently planned.
The move also calls into Lightfoot's proclaimed aversion to political horse trading, which she has disdained as a relic from a bygone era of Chicago politics.
During two weeks of budget hearings, aldermen repeatedly questioned city officials about whether Lightfoot and her top budget advisors had considered every other option before proposing a total property tax hike of $93.9 million.
Lightfoot's plan calls for that new revenue to not only be used to help fill the budget gap, but also to make sure the city can make the required payments to its pension funds, because the damage to the economy caused by the coronavirus pandemic has been so profound that Chicago finance officials project that 10% of property owners won't pay their tax bills, as first reported by WTTW News.
The total proposed increase, equal to 1.3% of a property's value, will add $56 per year to the tax bill for the owner of a home worth $250,000.
But residents of Chicago's wealthiest neighborhoods have homes worth much more, and could pay more than double than that if the hike is approved by the City Council. While Chicago's poorest residents fear that a rising property tax burden could push them out of their homes.
Aldermen also objected to plans to borrow an additional $1.7 billion to refinance existing city debt to save $450 million in 2020 and $501 million in 2021, returning the city to the era of scoop and toss, a budget-stretching tactic reviled by fiscal watchdogs as a costly gimmick.
The plan means that it will take the city an additional eight years to pay off the debt — increasing interest costs and adding to the city's already large debt burden, officials said.
Other aldermen objected to the plan to save $15 million to order all non-union employees to take a five-day unpaid furlough and lay off 350 employees in March — unless the federal government approves a relief package for states and cities.
Representatives of the mayor dismissed a proposal from the Chicago Federation of Labor on Tuesday that union officials contend could save the city of Chicago between $195 million and $272 million and avert a property tax hike and layoffs.
In addition, the 18-member Progressive Reform caucus urged the mayor to rethink how the city funds its "broken" law enforcement system to emphasize a holistic approach focused on providing mental health services to those in crisis, as well as a safe place to live.
The city should take funds from the Chicago Police Department's $1.69 billion budget to help fill the shortfall caused by the coronavirus pandemic and the city's rising pensions bills, said 4th Ward Ald. Sophia King, the chair of the caucus.
Lightfoot has declared that a nonstarter.
When Lightfoot unveiled her plan, she acknowledged that it would face significant opposition, including from aldermen loath to run for reelection after having voted for a property tax hike to balance the budget.
"As the hearings commence and the debate ensues, please remember to be kind to each other," Lightfoot said. "We and you may not agree on every issue, but let's have this City Council budget season be a model for the nation on how, democracy, messy as it always is, can also be filled with efforts to build bridges to each other and continue on our path toward that more perfect union."
Lightfoot's 2020 budget — which closed a gap of $838 million — passed on a vote of 39-11, with most of the dissenting votes coming from progressive aldermen who were displeased that the plan did not reopen mental health clinics closed by former Mayor Rahm Emanuel.
Lightfoot made sure that those who voted against the plan were put on notice by a website launched by her political action committee that said they had voted to hurt "hard-working Chicagoans" and thwart efforts "to put our city finances back on track."
Since taking office, Lightfoot has worked to restrict aldermen's power as part of her anti-corruption efforts, and the mayor has not shied away from publicly blasting those who she considers roadblocks to her agenda in the most personal and direct terms.
During the pandemic and unrest, Lightfoot faced frequent criticism that she has not been collaborative enough with aldermen. 
When she detailed the size of the budget gap, the mayor acknowledged aldermen's objections, and vowed to recalibrate her approach.
"We need to change the tone of our discourse, and no better place to start than the process we will engage in together over our fiscal future," Lightfoot said. "And when I say 'we,' that includes me as well … I need to push myself harder to work with people with whom I do not agree and who do not agree with me."
However, the Chicago Tribune reported Thursday that Lightfoot told members of the City Council's Black Caucus that they should not "come to me for s--- for the next three years" if you don't support the budget, quoting two aldermen whom the newspaper did not identify.
Contact Heather Cherone: @HeatherCherone | (773) 569-1863 | [email protected]
---