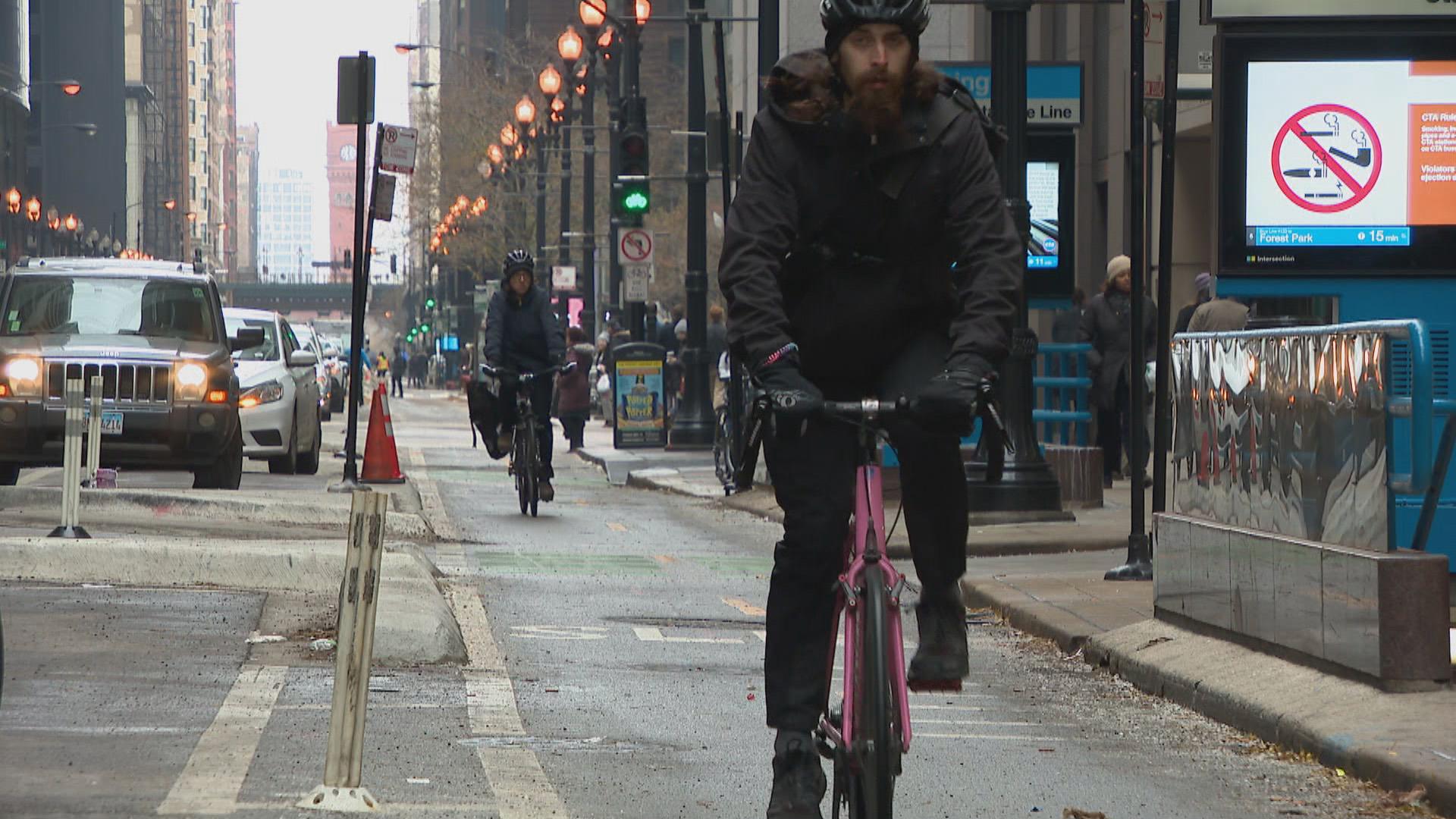 (WTTW News)
The coronavirus pandemic has given rise to a cycling boom in Chicago as residents look for an alternative to public transportation for getting around the city.
But many city riders have likely discovered that cycling comes with a frustrating — and sometimes dangerous — feature: on-street bike lanes that are blocked or in disrepair. The cycling advocacy organization Bike Lane Uprising wants to combat the problem with its new mobile app, which officially launched Tuesday.
"We're seeing that there's been an increase in cycling in the city of Chicago and other cities," said Bike Lane Uprising founder Christina Whitehouse. "With that we've, unfortunately, seen a spike in cyclist deaths and critical injuries. We need safer spaces. The bike lanes that are out there right now are being used as free parking, illegal distribution sites, they're being commandeered by construction companies illegally, and we need something done about it."
Founded in 2017, Bike Lane Uprising is a crowdsourced platform that allows users to submit information and photos when they encounter a bike lane blocked by a parked car, debris or other hazard. The new app lets people send in obstructions directly from their phones. 
Whitehouse, who says she decided to start the platform after nearly being run over by a commercial truck while cycling, originally saw it as a "small research project" on unsafe cycling conditions. But, Whitehouse says, the database took off quickly and has received more than 26,000 entries in the last three years. While it originated in Chicago, anyone in North America can submit to Bike Lane Uprising, and Whitehouse says more than 100 cities are represented in the database.
"When someone submits a bike lane obstruction to our database via the website or the mobile app, that data is housed in one central database and from that we're able to map where it's taking place," Whitehouse said. That makes it easier to track obstructions hot spots and repeat offenders, and raise the issue with companies and elected leaders. "It allows cyclists to actually have proof with their city officials that yes, there is a problem, this is what it looks like and here's identifiable information," she said.
In addition to combating bike lane obstructions, Whitehouse also hopes Bike Lane Uprising has raised awareness among drivers that cyclists swerving out of a bike lane are likely avoiding a hazard, and that parking your car in a bike lane is a no-go.
"I think there were just so many people that have no idea that one, it's illegal, two, it's dangerous, and it has a real impact on whether or not somebody biking … (makes) it home safe each night," Whitehouse said. She added that drivers should give cyclists a 3-foot buffer, at minimum, when they pass them.
Whitehouse said Bike Lane Uprising's app and database are valuable tools to highlight unsafe conditions for cyclists, but that the city needs to do its part as well. Despite a goal of 645 miles of bicycle lanes around the city as part of the Chicago Streets for Cycling Plan 2020, the city has only installed about half that number.
"We need more safe spaces for cyclists," Whitehouse said. "It's a life-or-death situation."
---