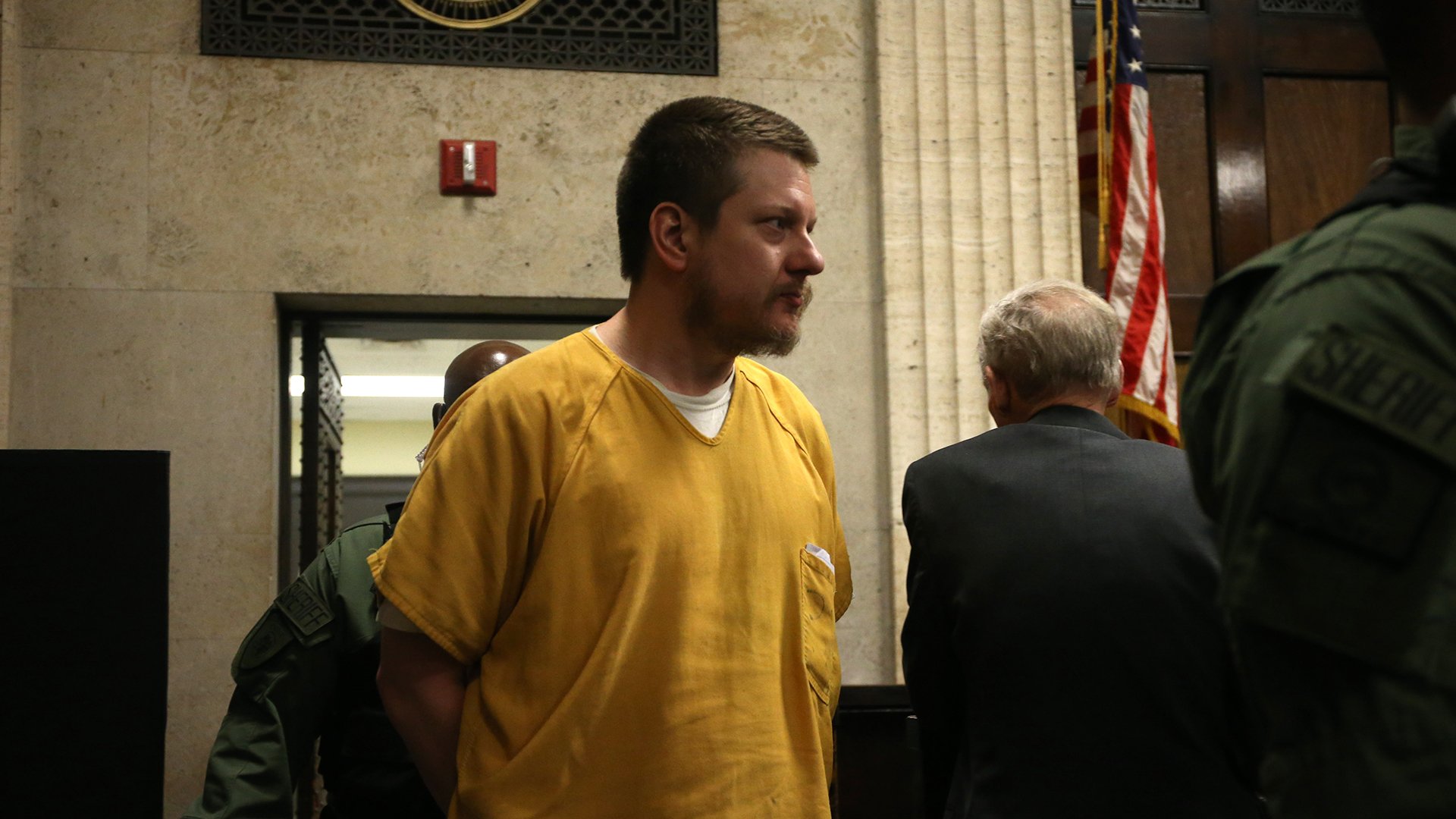 Former Chicago police Officer Jason Van Dyke enters the courtroom for his sentencing hearing at the Leighton Criminal Court Building on Friday, Jan. 18, 2019. (Antonio Perez / Chicago Tribune / Pool)
An Illinois appellate court has dismissed an appeal made by former Chicago police Officer Jason Van Dyke for his conviction in the 2014 murder of Laquan McDonald.
Kane County State's Attorney Joseph McMahon, who acted as special prosecutor in Van Dyke's 2018 trial, said the Appellate Court of Illinois First District made the ruling Friday after Van Dyke made a request last month that his appeal be dropped.
"Mr. Van Dyke's decision prevents additional years of litigation, bringing finality to the thorough prosecution of this case in which his rights were protected and justice was served," McMahon said in a statement. "I wish to again thank everyone who diligently worked with us on this case from the time of our appointment as special prosecutor in August 2016 through today's Appellate Court ruling."
Van Dyke was convicted in October 2018 of second-degree murder and 16 counts of aggravated battery with a firearm following a landmark monthlong trial. His conviction marked the first time a Chicago police officer had been convicted of murder for an on-duty shooting in some 50 years.
Van Dyke shot McDonald 16 times during a police response on Oct. 20, 2014, as the teen walked down the middle of South Pulaski Road carrying a knife. The dashcam footage of the shooting was not released until more than a year later.
Taking the witness stand at trial, Van Dyke testified he only started shooting after McDonald raised the knife at him, and continued firing as the teen tried to get up off the ground with a knife still in hand.
But special prosecutors argued that didn't match the dashcam video. They also pointed to statements the officer made to his partner on the night of the shooting while en route to McDonald's position, including saying, "Oh my God, we're going to have to shoot the guy."
Though he was charged with first-degree murder, jurors convicted him of a lesser charge. They believed that Van Dyke felt he was in danger when confronting McDonald, but felt that wasn't enough of a reason to shoot and kill him.
The conviction was hailed by local activists as a "historic victory," but that sentiment soured some after Van Dyke was sentenced to 81 months in prison – far below the 18-year sentence McMahon had recommended.
Van Dyke was initially held at a prison facility in Connecticut following his sentencing, but he was moved after being beaten by a fellow inmate. He has since been held at other federal, and later state, facilities. It is unclear where he's being held.
Van Dyke is expected to be released in February 2022
Contact Matt Masterson: @ByMattMasterson | [email protected] | (773) 509-5431
---