Beyond the normal excitement and first-day jitters that come with a return to school, Chicago educators have expressed concerns about new issues like finding a stable internet connection and checking in with students about COVID-19 as classes in Chicago Public Schools resume in an unprecedented academic year.
While the Tuesday after Labor Day once again marks the start of the new CPS year, little else remains normal as students, families and teachers prepare to spend at least the first quarter of this year learning remotely due to the ongoing coronavirus pandemic.
Chicago Teachers Union members and officials said Tuesday that no matter how much experience you have, everyone is essentially a first-year teacher again as they wade into a school year unlike any other.
"I'm excited to start the school year even though we're starting remotely," said Nina Hike, a chemistry teacher at Westinghouse College Prep. "My biggest fears are the technology, if my internet is gonna go out. (I'm) really concerned about that."
"I think the thing that I'm most nervous about is not seeing some of (my students) for the past six months and really checking in with them," said Lauren Kullman, a drama teacher at Nightingale Elementary. "The area surrounding (Nightingale) in Gage Park was hit very hard by COVID and so I really don't know how my families are. I don't know if people lost people."
CPS and city officials have been scrambling in recent weeks to make sure each one of the school district's 350,000 students is equipped with both a computer device and a stable internet connection.
District leaders said they have distributed some 128,000 electronic devices to students this year, and in June, the city launched "Chicago Connected," a program offering four years of free broadband internet to CPS families. As of Tuesday, about 25,000 families have thus far enrolled in that program.
"We are not leaving anybody behind this year," Mayor Lori Lightfoot said during a visit to King Elementary School on Tuesday morning. "We want to make sure that every single student in CPS has the same opportunity to have a fulfilling and nurturing learning experience as they would if they were physically in the classroom."
CPS CEO Janice Jackson said that for those teachers who are struggling to find consistent internet, schools do remain open to them and are outfitted with high-speed internet.
Some teachers, though, have expressed concern about working away from their homes.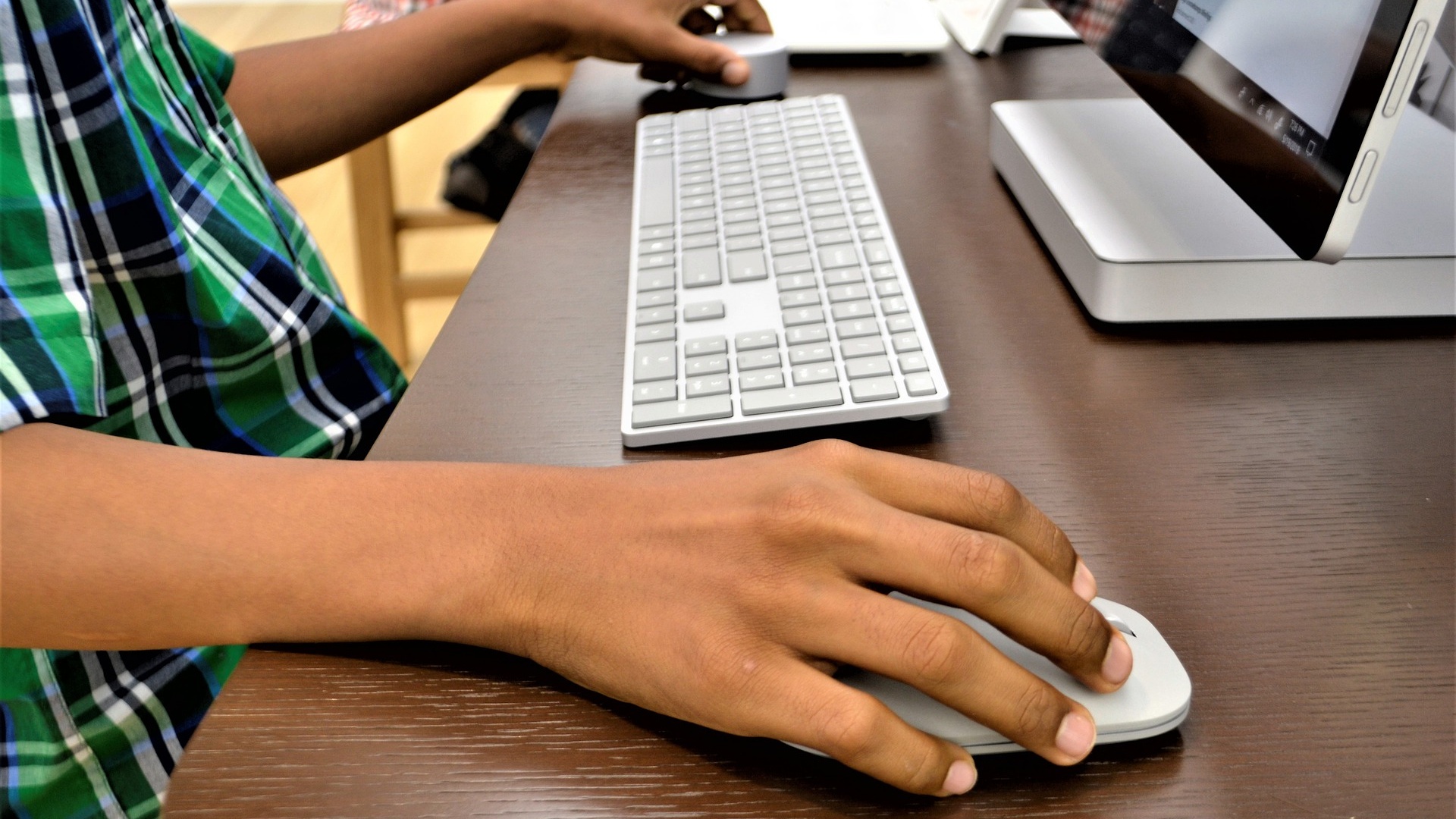 (ArtisticOperations / Pixabay)
Teachers said they haven't had much time thus far to check in with their students and make sure they have the appropriate technology to participate in remote learning. But they expect to find out quickly once classes get underway.
"At 8 o'clock, that's when we'll find out," Hike said.
CPS last month outlined grade-specific learning time expectations for students, split between real-time instruction with a teacher and individual activities.
Pre-K students should spend an hour each day in real-time learning and 90 minutes in individual activities, according to that rubric. Kindergarten through second grade students will split their time evenly between the two programs at 180 minutes a day each.
Third through fifth graders should spend 205 minutes a day in real-time instruction, sixth through eighth graders should be at 230 minutes per day, and high schoolers should spend 80% of each weekday in real-time instruction.
CPS has opened six supervision sites at district schools, giving some parents a child care option during remote learning. While a few hundred families were signed up at those schools as of Tuesday, Jackson said the district is planning to launch "many more sites" in the coming weeks with the capacity to serve "thousands of families."
Remote learning did begin in the spring after the pandemic forced the shut down of in-person learning, but teachers said Tuesday they're still adapting and trying to find ways to effectively teach their students.
"Our house is embracing the chaos," said Kullman, who added that her 5-year old child is beginning kindergarten and her husband is a special education teacher. "I can't wait to log in. I've got like four monitors all around me. I feel like I'm producing the Emmys or something."
While remote learning is in place for the first quarter of the year, CTU members said they're not yet sure what's going to happen later in the year or when in-person instruction could resume. They said there's ongoing negotiations with CPS, but they claim their suggestions have largely been ignored.
"As we get closer to the second quarter, we are going to be looking very, very, very (closely) at what is happening with the virus, and we're gonna be prepared to fight again," CTU Financial Secretary Maria Moreno said Tuesday. "Our priority is the health and safety of every single one of our members, their students and the community as a whole."
Contact Matt Masterson: @ByMattMasterson | [email protected] | (773) 509-5431
---