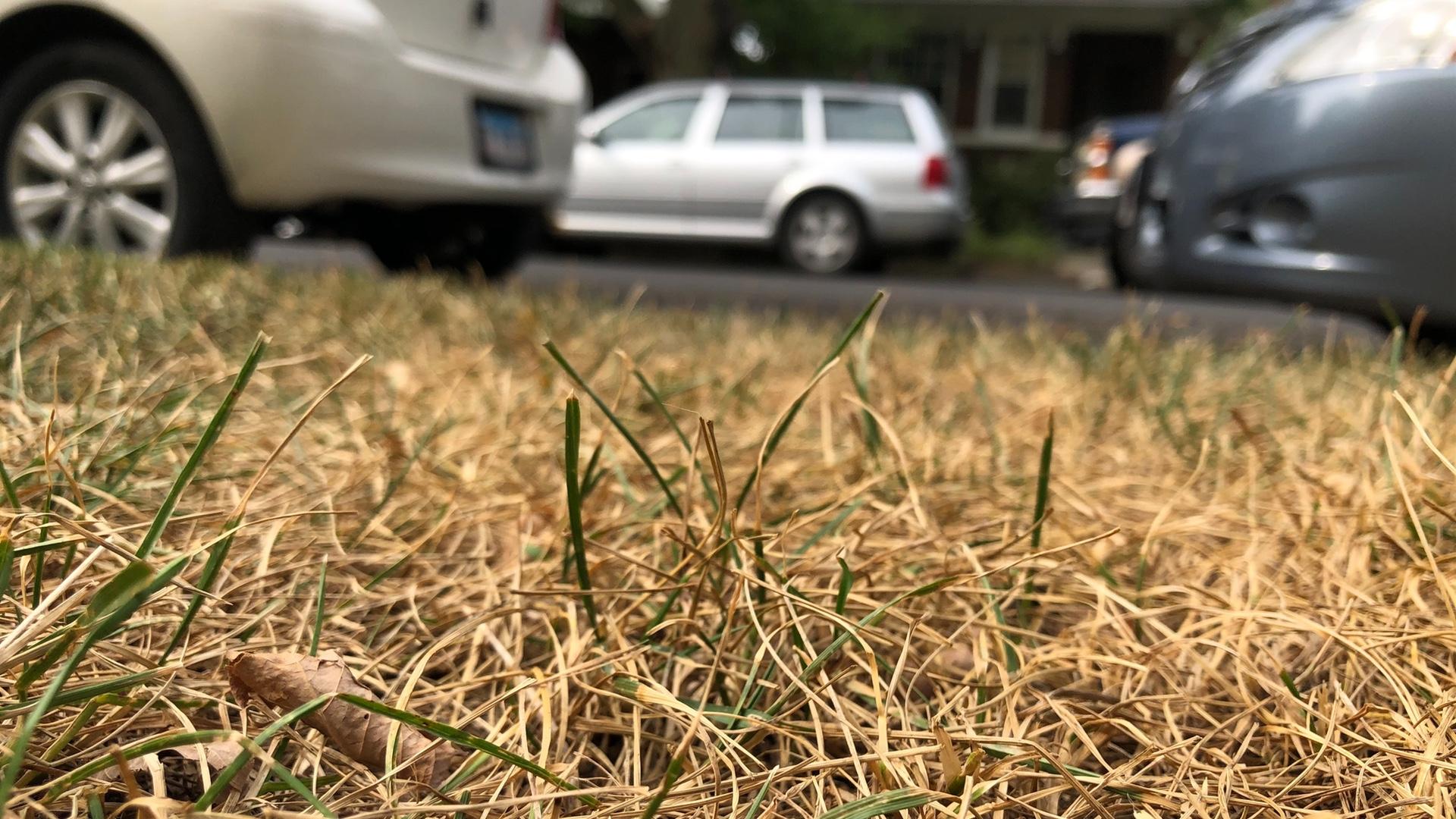 (Patty Wetli / WTTW News)
Remember May, when we all wished it would just stop raining? Well, it did.
After experiencing the wettest May ever, Chicago hit a dry spell that only worsened as summer progressed, with the area now on the verge of drought, according to the U.S. Drought Monitor.
The swing from soggy to parched has been dramatic. National Weather Service data shows that 9.51 inches of rain were recorded at O'Hare in May and even June's 4.4 inches were above normal. July's rainfall total came in at nearly an inch below normal and then August fell off a cliff, with just a scant 0.8 inches measured at O'Hare, almost 4 inches less than normal. (That's frankly a deluge compared with Chicago's record for least precipitation in a month, by the way, set in September 1979 at 0.01 inches.)
Summer thunderstorms typically can be relied on to deliver heavy downpours, which didn't happen in Chicago in August, not even during the powerful derecho on Aug. 10, said Rafal Ogorek, meteorologist with the National Weather Service, though he noted that some suburbs did notch significant precipitation.
Ogorek said he and his colleagues are investigating potential causes or explanations for August's scarce rainfall. 
The U.S. Drought Monitor ranks drought, defined as a moisture deficit bad enough to have social, environmental or economic effects, from D0 "abnormally dry" to D4 "exceptional drought."
The most recent drought report describes conditions in the Chicago area as "abnormally dry," a diagnosis many folks could have made based on the look of their brown lawns alone. 
Portions of suburban Cook, DuPage and Will counties are in the D1, or "moderate drought" range, which is when row crops, pasture and tress begin to show stress, according to the Drought Monitor produced by the University of Nebraska, U.S. Department of Agriculture and National Oceanic and Atmospheric Administration.
Chicago's trees were already dealt a major blow by the derecho, which downed nearly 12,000. Drought and recent high temperatures have placed many of them under even more stress, causing symptoms like leaves turning color early and dropping, said Lydia Scott, director of the Chicago Region Trees Initiative.
"They may also look like they are just fine, and then next year you may see branches that don't leaf out or sections that are dead," Scott said. "Damage can be occurring without indicators."
In the same way that people are more susceptible to colds or the flu when they're stressed, trees under duress are also more vulnerable to pests, she said.
"Being healthy makes you better able to stave off other infections. Trees are the same way," said Scott. "It is imperative that people check their soil to make sure their trees have adequate moisture regularly."
Go ahead and give your trees a good soak at the roots — even under drought conditions, Chicago's water supply is in no danger of drying up. Lake Michigan's level remains high, Ogorek said, thanks to plenty of rain in Wisconsin and Michigan.   
Contact Patty Wetli: @pattywetli | (773) 509-5623 |  [email protected]
---