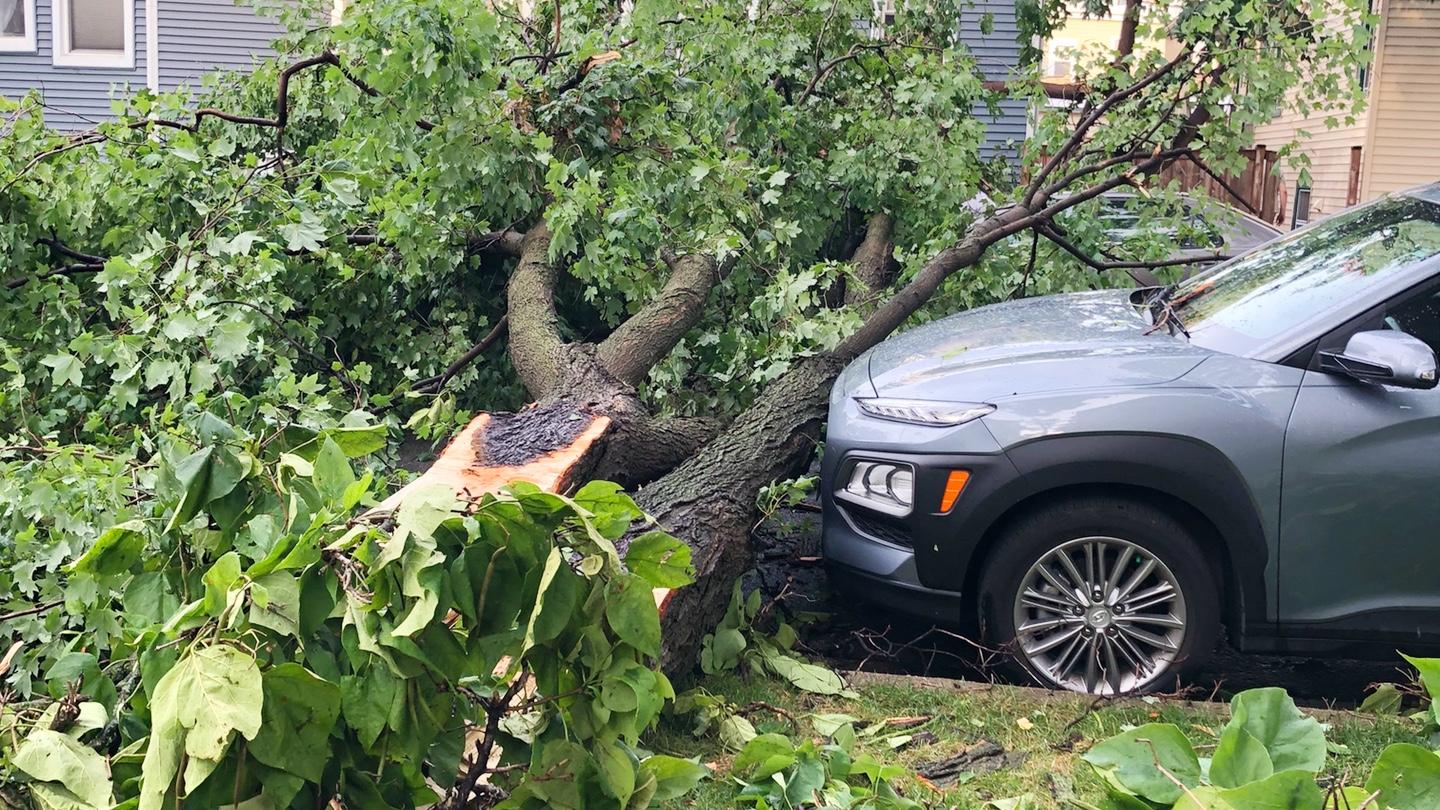 Trees crashed onto cars and into streets during storms on Aug. 10, 2020. (Patty Wetli / WTTW News)
City crews have been working 12-hour shifts as they continue to clean up debris following last week's derecho, a powerful storm system that cut a swath through the Midwest, spawning numerous tornadoes in its path, including a twister that touched down in Rogers Park.
The Department of Streets and Sanitation cleared 6,895 downed trees within a week but has yet to tally the total number of trees requiring removal or some other action, said spokeswoman Cristina Villarreal.
Whatever that final count is, it could have been lower, said Daniella Pereira, vice president of community conservation with Openlands, who described the city's approach to its green infrastructure as far too heavily reliant on a sort of "emergency medicine" model versus preventive care. 
If trees were routinely inspected and the ones determined to have structural issues were pruned or removed and replaced as a matter of course, far fewer aging, unsound trees would have toppled over onto cars or rained down limbs onto power lines during the storm.
"There could've been a lot less damage if there was some sort of maintenance plan," said Pereira. "This has nothing to do with the workers. This has to do with strategy and how we think about resiliency."
At July's City Council meeting, Ald. Scott Waguespack (32nd Ward) introduced an ordinance that would create an Urban Forestry Advisory Board, whose role would be to develop the strategy Pereira referenced, by bringing together environmentalists, arborists and representatives from all of the various city and regional governmental entities that touch on trees — all the smart people who are currently working in silos, she said.
"One of the purposes for the board, as future, more intense storms come into play, would be to have coordination on building a more resilient canopy and also preparing for these intense storms as a coordinated effort, as opposed to calling ComEd or the City and relying only on them for reaction," Waguespack said.
At the moment, the ordinance is stuck in the Rules Committee, known to council insiders as the place "legislation goes to die." Waguespack said he remains committed to rallying support and bringing the measure to a vote. Openlands is pitching in with an advocacy campaign, recruiting its TreeKeepers and other tree lovers to contact aldermen and secure their endorsement of the forestry board.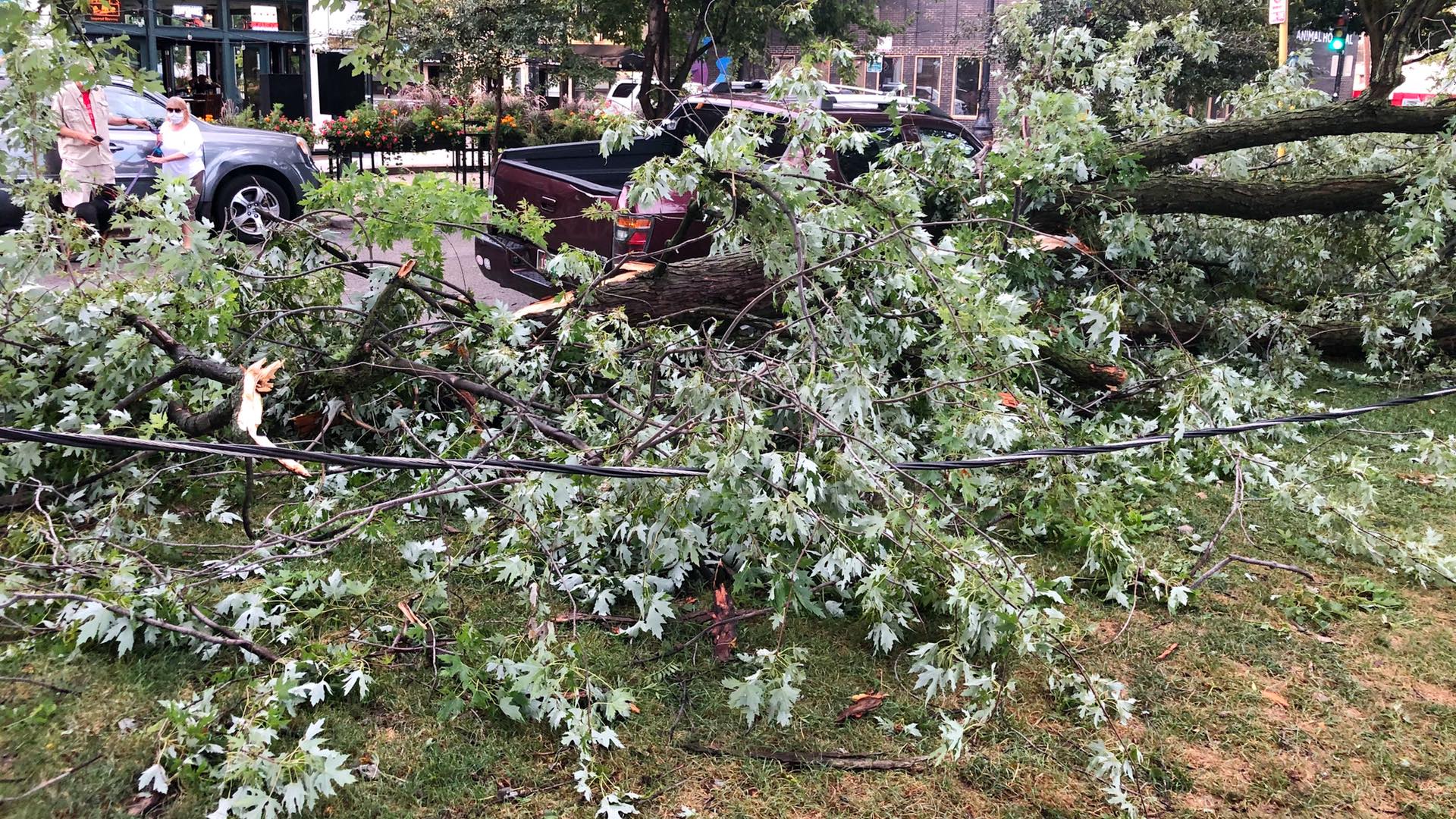 Toppled trees brought down power lines. At least some of the damage could have been prevented, environmentalists say. (Patty Wetli / WTTW News)
The loss of thousands of trees in a single afternoon only piled on to Chicago's existing deficit. 
Millions of the region's ash trees were killed in recent years by the Emerald Ash Borer, and due to a legacy of inequality in the distribution of green resources, some of the city's neighborhoods have less than 10% tree canopy cover versus more than 40% for others. Environmentalists have been pushing to grow Chicago's canopy, not shrink it.
Once crews have cleaned up the final twigs and leaves from the Aug. 10 storm, streets, sidewalks and yards may appear tidier, but there will be less shade, less stormwater absorption, less pollution removed from the air, less nature and less of the calming sense trees provide.
If the storm had damaged homes or businesses, roads or bridges, there would be a push to rebuild ASAP, but with trees, Pereira said the common refrain is typically "We don't have funds" or "We'll get to it later" or "Trees are not a priority."
What concerns her, she said, is that trees aren't just placed on the back burner, they're often not even part of the conversation.
For example, on Tuesday city officials announced a proposal to replace hundreds of thousands of lead service lines, a multi-billion dollar project that could potentially see the Water Department rip up parkway trees en masse, said Pereira.
"What's going to happen with that?" she asked.
Which brought her back to the forestry board, as an entity that could bring departments together to talk through competing concerns and objectives, and arrive at mutually beneficial solutions.
"City departments working together would be so helpful," Pereira said.
Cleanup Continues, But Beware of Scammers
In the immediate aftermath of the Aug. 10 storm, one of the most destructive the city has seen in a decade, the Department of Streets and Sanitation prioritized removing trees that were blocking streets, said spokeswoman Cristina Villarreal. Crews then tackled trees that had fallen on houses or cars, or were obstructing sidewalks. Debris was stacked in parkways for later pickup.
The final phase in the department's emergency response procedure is for crews to assess remaining trees that might have suffered a less than fatal blow, Villarreal said, adding that the cleanup process has yet to reach that point.
Ward superintendents are also surveying their neighborhoods for tree debris, and the Chicago Department of Transportation and Department of Water Management are lending assistance. 
The Chicago Park District, which did not respond to a request for comment, is responsible for trees within park boundaries, with Streets and Sanitation working in conjunction with park employees, said Villarreal.
Though images of neighbors pitching to help move downed trees were great in terms of lifting spirits, Villarreal cautioned residents against clearing public trees that pose a danger.
"They should wait for the experts," she said.
Debris can be placed in the public way or alley and then folks should call 311 for pick up. If a private contractor does the work, it's their responsibility to haul away the debris.  
Beware of scammers offering tree trimming services, though.
The Chicago Police Department issued a community alert related to a "ruse burglary" in Rogers Park on Aug. 14. Three men talked their way into the home of an older adult, posing as a tree trimming crew. While one of the men distracted the resident, the other two stole jewelry and other valuables. 
Contact Patty Wetli: @pattywetli | (773) 509-5623 |  [email protected]
---