Video: "Chicago Tonight" discusses the storm with atmospheric scientist Scott Collis of Argonne National Laboratory.
---
The National Weather Service has confirmed that a tornado touched down in Rogers Park during Monday's powerful derecho, then moved out over Lake Michigan where it became a waterspout. Details of the tornado are still being finalized.
A derecho brings a swath of particularly damaging thunderstorm winds over an area at least 400 miles long and 60 miles wide, according to the National Weather Service. The Upper Midwest to Great Lakes is prime territory for such storm complexes.
Tornadoes are extremely rare but not unheard of within Chicago city limits, according to the weather service. 
We received this video from the Rogers Park section of #Chicago, of debris being lifted. There was a tornado warning in effect for the north side of the city. If you have any instances of significant damage from Rogers Park & nearby, please tweet them to us. Thanks. #ilwx https://t.co/nq3vstjEnW

— NWS Chicago (@NWSChicago) August 10, 2020
---
No fatalities have been reported in the wake of a line of storms that stretched from the Nebraska-Iowa border into Indiana. 
Wind gusts of 62 miles per hour and 72 miles per hour were recorded at O'Hare and Midway airports respectively, with a peak gust of 85 miles per hour notched by a Weatherbug station in Lincoln Square on the city's North Side, according to the National Weather Service.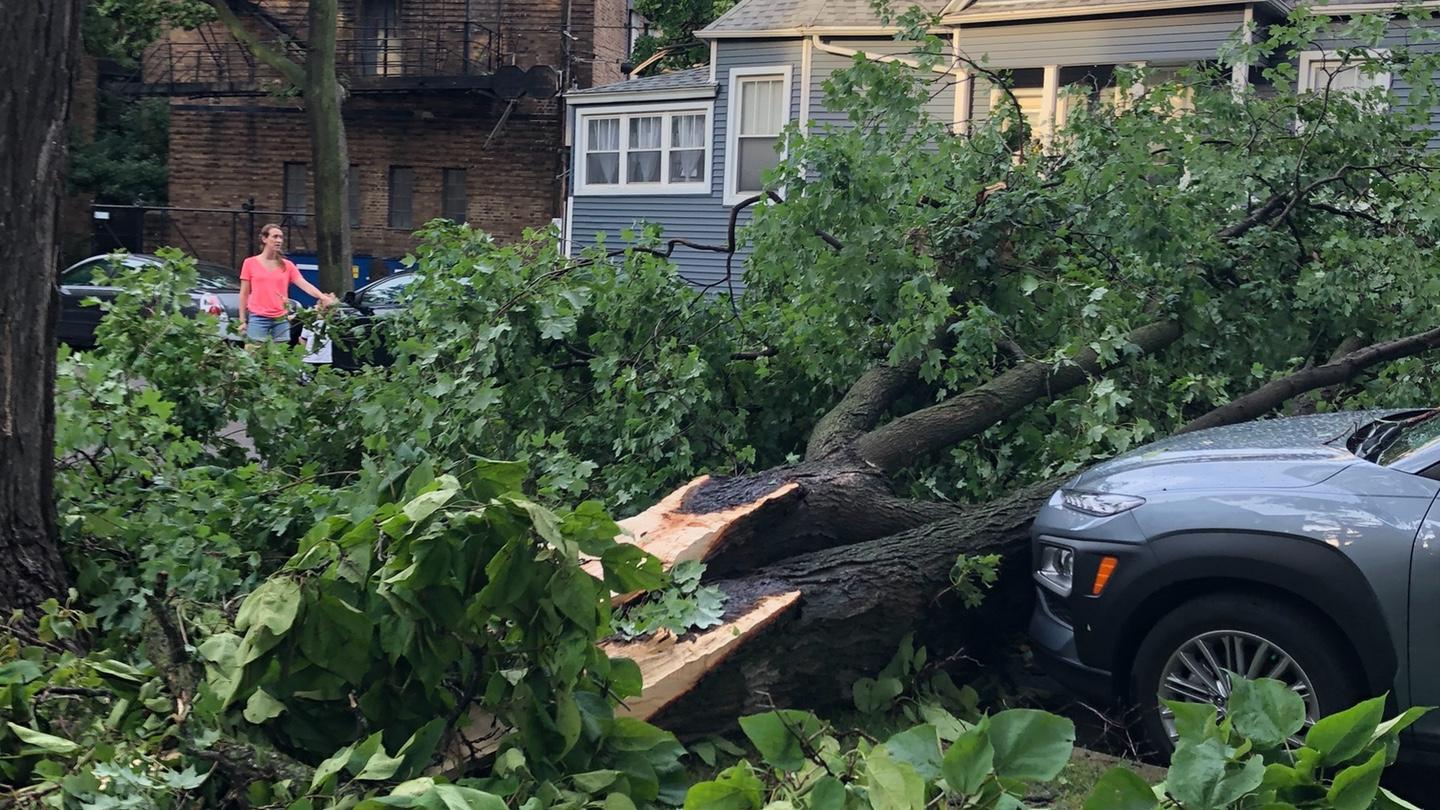 Monday's storm caused widespread damage, including in Chicago's Lincoln Square, where a Weatherbug station recorded an 85 mph wind gust. (Patty Wetli / WTTW News)
The storm uprooted scores of trees, brought down power lines and left hundreds of thousands of Chicagoans without electricity. ComEd's ward-by-ward map of outages in the city showed more than 60,000 customers still affected as of 7 a.m. Tuesday. CTA had restored normal service on its rail lines by Tuesday, after numerous disruptions during Monday evening's rush hour due to debris on the tracks. 
The Department of Streets and Sanitation reported receiving more than 2,000 tree emergency calls, and had cleared hundreds by mid-morning Tuesday. Though downed trees and branches accounted for much of the storm's wreckage — crushing cars, blocking streets, crashing into homes and yards, and even toppling a church steeple in Wheaton — the Chicago Fire Department also reported damage to a building under construction in Pilsen.
Still and box for collapse. 1840 Canalport. Now struck. Wind damage on new incomplete construction. Uprights blown over pic.twitter.com/ng4ynHHeAR

— Chicago Fire Media (@CFDMedia) August 10, 2020
Historic Pilgrim Baptist Church in Bronzeville, already gutted by a fire in 2006, suffered further injury to its remaining shell, as shown in photos shared on social media by numerous Chicagoans. 
South and east brick walls of historic Pilgrim Baptist Church/KAM Synagogue in Bronzeville by Adler & Sullivan have collapsed in the high winds.

The limestone front elevations appear secured with the heavy duty scaffolding. pic.twitter.com/N6F538OWR8

— Preservation Chicago: Love Your City Fiercely! (@Pres_Chicago) August 10, 2020
The south brick wall of Pilgrim Baptist in #Bronzeville fell during the storm, but the north and west limestone facade is still standing. pic.twitter.com/M4FU57MSS8

— Marrianne McMullen (@marrianne) August 10, 2020
Looking into the "whale's mouth" of the shelf cloud as the #derecho plowed through Chicago. It rolled over so fast, I only got off a few frames before the wind and rain hit // #ILwx pic.twitter.com/UpiuwW9QBo

— Nick Ulivieri (@ChiPhotoGuy) August 10, 2020
— NWS Chicago (@NWSChicago) August 10, 2020
Good morning!☀️ Let's talk Monday's storms.

A long-lived, large storm complex tracked from the NE/IA border, across IA, northern IL, & northern IN. This produced widespread damage to trees, toppled several semis, & caused some structure damage.

Recap: https://t.co/AZJonw6Ykq pic.twitter.com/d7frOHNBhA

— NWS Chicago (@NWSChicago) August 11, 2020
---
Contact Patty Wetli: @pattywetli | (773) 509-5623 |  [email protected]
---