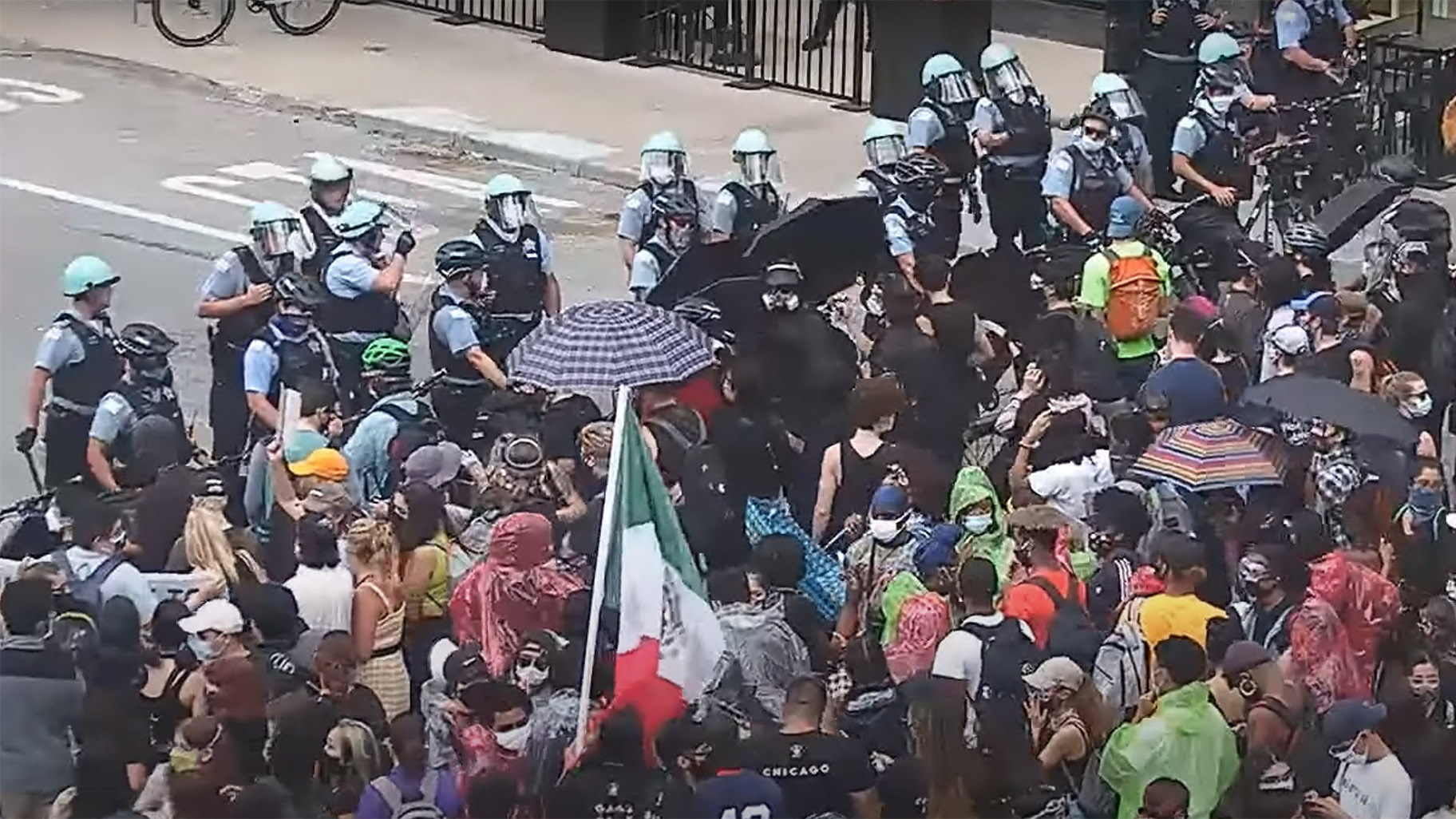 A still image taken from a video released by the Chicago Police Department shows a confrontation between protesters and police at Michigan Avenue and Wacker Drive on Saturday, Aug. 15, 2020. (WTTW News via CPD)
Elizia Artis, a Black woman who attended a May 30 protest in downtown Chicago, said she was beaten by a police officer after she threw her body over another woman to protect her on the ground as police used shields and batons to push protesters back.
"This was the first time I heard myself make a sound I can only describe as a combination of shock, fear and gurgling pain," she said, describing what she felt during the beating.
Artis' story was echoed by dozens of others Thursday during the second day of a listening session held by consent decree independent monitor Maggie Hickey and federal Judge Robert Dow. The sessions were organized to gather public comments on the response by the city and Chicago Police Department to protests and civil unrest following the police killing of George Floyd in Minneapolis.
Hickey and her team have said they will prepare a special report on that response.
Dozens of speakers recounted what they saw and experienced during a series of protests dating back to May. Many of their allegations were the same: police officers escalated violence, beat protesters with batons, shot pepper spray in people's faces and mocked their cause with no fear of reprisal.
"I will never feel safe around a Chicago police officer again, because I know those officers don't care about me as a person," said Seth Torres, a 24-year-old who said he acted as an "impromptu medic" during a July 17 protest at the Christopher Columbus statue in Grant Park after he saw several others hit with batons and pepper sprayed by police.
"Their actions prove it," he continued. "No one who says they protect and serve and then turn around to beat and pepper spray people can expect me to believe them."
The 30-plus speakers Thursday were universal in their denouncement of the CPD's tactics and response.
"CPD's behavior last Saturday was barbaric," said Michael Drake, a 29-year-old who said he saw officers beating people on the sidewalk as they received medical treatment during an Aug. 15 protest.
"It felt like a battle zone," said one speaker who was at the Grant Park protest.
Much of the testimony centered on that July 17 protest, in which confrontations between police and protesters left dozens injured.
Days after that July 17 protest, Police Superintendent David Brown claimed there had been organized mob action "designed to provoke violent responses" during a situation that began peacefully but turned violent.
The CPD published a compilation video last month which it says shows some members in the protest using umbrellas to shield others as they changed into black clothing and masks before pelting officers at the statue with rocks, frozen water bottles, fireworks and other items.
Brown said 49 officers were injured during that protests, including 18 who were hospitalized.
One speaker, 24-year-old Margaret Mullen, accused Brown of "blatantly" misrepresenting the contents of that video, specifically a portion which he claimed protesters are shown taking apart a banner with pre-sharpened PVC to jab and throw at the police.
"What I saw was the police pull the banner apart in order to hit the people behind the banner with their batons," Mullen, who identified as the daughter of two CPD officers, said Thursday. "Superintendent Brown lied to the public. Any remainder of good faith I had in our leaders was destroyed."
Miracle Boyd, a youth organizer with GoodKids MadCity who was struck in the face by an officer during that July 17 protest, said she received death threats and "a lot of hate" since sharing her story.
This is Miracle. She's 18 years old and an organizer for @GKMC18. She is fighting gun violence everyday. Last week I offered her an internship.

She is just over 5 ft, 100 pounds. Tonight a police officer beat her. Knocked out her teeth.

I'm sad, angry, and disgusted. pic.twitter.com/9Qx9G1aNxE

— Robert Peters (@RobertJPeters) July 18, 2020
---
"Every time I see police now I have some fear they'll try to harm me or whatever, something like that," she said. "The events that happened that night were truly traumatizing."
Hickey said more than 540 people signed up to participate in the listening sessions, which began Wednesday. The actual number of speaker spots was limited to about 100, but Hickey's team has also accepted written comments submitted by Thursday.
Mayor Lori Lightfoot, who was asked about the listening sessions Thursday morning, said she has a "great deal of confidence" in Hickey and this process. She also reiterated her belief that on July 17 specifically, a peaceful protest was hijacked by vigilantes who "came for a fight."
"I have confidence that the monitor will make sure that she understands the totality of the circumstances there," Lightfoot said, "and hopefully we will have an opportunity, I'm sure we will, to engage directly with her about what we saw, what lessons learned and how we have adapted both as a police department, but also as a city."
Contact Matt Masterson: @ByMattMasterson | [email protected] | (773) 509-5431
---