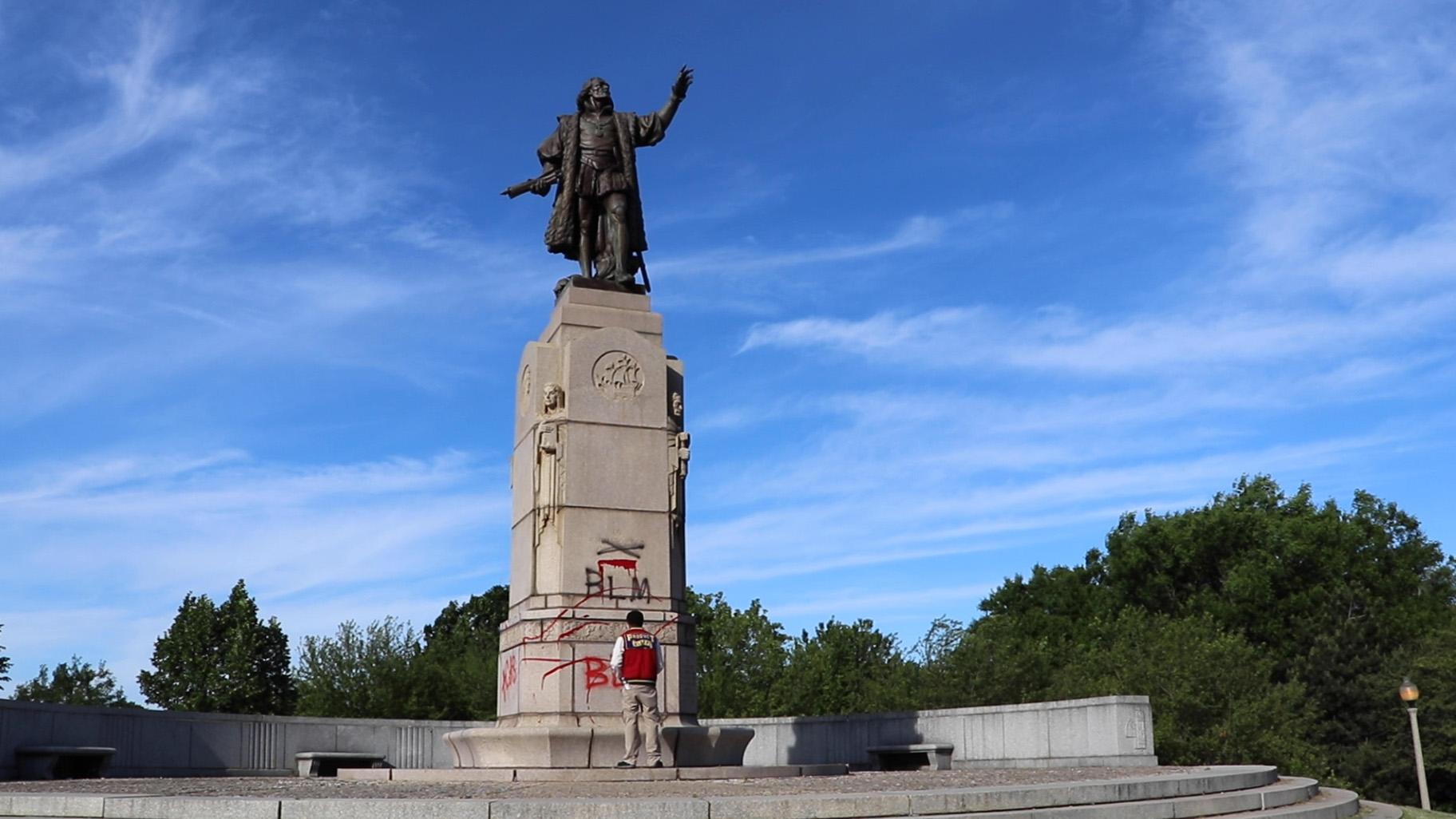 Courtney Johnson, a South Side resident, stands in front of a vandalized statue of Christopher Columbus in Grant Park on Saturday, June 15, 2020. (Evan Garcia / WTTW News)
Activists and elected officials condemned violence by Chicago police and again called on Mayor Lori Lightfoot to remove a Christopher Columbus statue that became the site of a clash between officers and demonstrators Friday evening.
At a Saturday morning press conference near the statue in the south end of Grant Park, speakers condemned Columbus as a symbol of white supremacy and genocide and described the confrontation the night before.
Protesters organized by several Chicago activist groups met at Buckingham Fountain on Friday and marched south along Columbus Drive toward the statue, which has become a flashpoint in the weeks following the death of George Floyd at the hands of Minneapolis police. 
RELATED: Controversial Statues Honoring Christopher Columbus Vandalized in Chicago
In a string of tweets Saturday afternoon responding to the incident, Lightfoot expressed her support "for the rights of individuals to peaceful protest on any issue," but noted that "a number of individuals came with frozen water bottles, rocks, bottles, cans and other gear to throw at officers.
"There have also been several reports of excessive force by the police. These are also unacceptable," she tweeted.
Lightfoot has so far opposed calls to remove Chicago's monuments to Columbus, as cities nationwide reevaluate the historical figures they commemorate.
"I think that the way we educate our young people, in particular, about their history is to educate them about the full history," Lightfoot said last month.
On Saturday, the mayor said a plan is in the works to "engage in a comprehensive review of our public icons to identify which should change, and where we need new monuments and icons to be erected to ensure our full, robust history is told.
"The details of that plan are forthcoming," she wrote.
But speakers at Saturday's press conference say they're clear-eyed about what Columbus represents.
"That statue is a symbol of white supremacy," said Amika Tendaji of Black Lives Matter Chicago. "That statue is a symbol of a history we need to acknowledge, but divorce ourself from. That statue has nothing to do with where Chicago is going and our future."
When the group of protesters reached the Columbus statue Friday, they attempted to tear it down and faced opposition from Chicago police officers that sometimes erupted in violence, according to activists and recordings posted on social media.
"The air was thick with tear gas. They beat young people … I saw people's heads gushing with blood," Tendaji said. "Police showed up in riot gear. That is a threat. Police showed up armed and dangerous."
In a statement, the Chicago Police Department said it was "providing security and protecting (the group's) First Amendment right to peacefully assemble. As the group approached the Christopher Columbus statue, some members of the crowd turned on the police and used the protest to attack officers with fireworks, rocks, frozen bottles, and other objects."
A widely circulated account after the clash showed 18-year-old activist Miracle Boyd with several teeth broken and knocked out after being punched in the face by a police officer, she and others said.
State Sen. Robert Peters of the 13th District, who recently offered Boyd an internship, said he checked in on her well-being Saturday morning.
"She's doing OK. She's with someone who cares and loves her. I think she's processing the abuse she took yesterday," Peters said. He declined to say more, preferring to let Boyd speak for herself when she chooses.
Peters lauded Boyd, a recent Chicago Public Schools graduate, for her efforts as an anti-violence activist.
"And what did she face? Abuse," Peters said.
This is Miracle. She's 18 years old and an organizer for @GKMC18. She is fighting gun violence everyday. Last week I offered her an internship.

She is just over 5 ft, 100 pounds. Tonight a police officer beat her. Knocked out her teeth.

I'm sad, angry, and disgusted. pic.twitter.com/9Qx9G1aNxE

— Robert Peters (@RobertJPeters) July 18, 2020
---
Several Chicago aldermen also spoke at Saturday's press conference, calling on the mayor to reverse her position and to hold Chicago police accountable.
"I think the Chicago Police Department has hit a new low," said Ald. Byron Sigcho-Lopez (25th Ward). "We demand that the police officers that were part of yesterday's shameful acts of police brutality be held accountable. … We demand that the officer who punched Miracle must be fired."
And, Sigcho-Lopez said, the mayor must stop sending the wrong message by supporting the Columbus statue. "That is why police officers continue to act with impunity," he said.
On Twitter, Lightfoot said the Civilian Office of Police Accountability "stands ready to address these complaints" and urged those who felt they had been mistreated by police to file a complaint via COPA or by dialing 311.
Ald. Daniel La Spata (1st Ward) said as an Italian American, the pushback from some Italian Americans opposed to removing Columbus statues is unfounded.
"I would tear down that statue with my two hands if could," La Spata said.
In a statement released late Friday, the CPD said: "At this time, there are approximately 12 individuals who were arrested and who could potentially face charges that may include Battery to a Police Officer, Mob Action, and/or other felonies. Approximately 18 officers were injured as a result. Some of the officers were treated on the scene by paramedics while others were transported to area hospitals for further treatment."
According the Black Lives Matter Chicago Twitter account, all protesters have now been released from police custody.
---