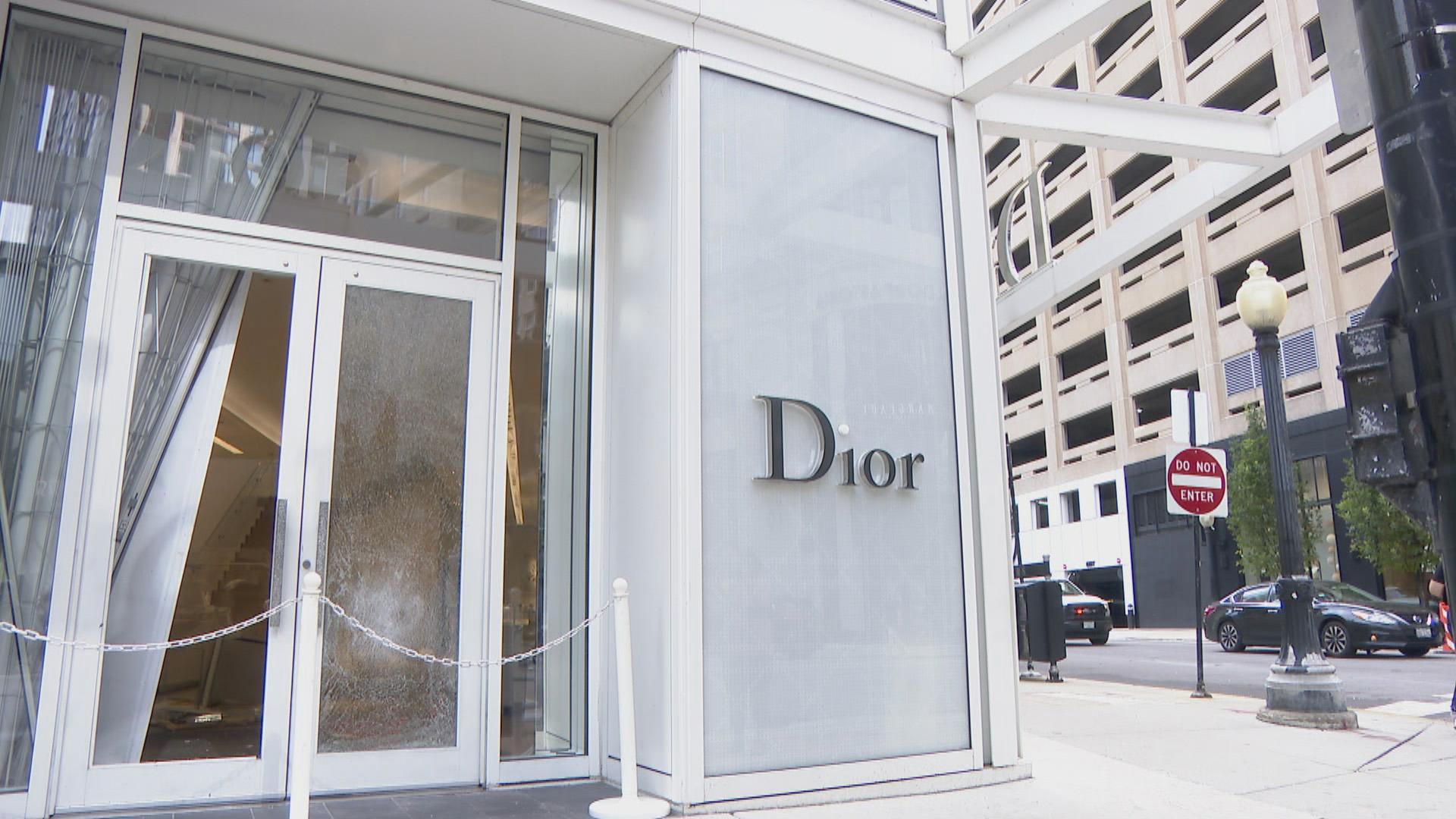 Broken windows at a Dior store in downtown Chicago on Monday, Aug. 10, 2020. (WTTW News)
Four aldermen invoked a rarely used provision of state law to call a special meeting of the Chicago City Council for 10 a.m. Friday in an effort to pressure Mayor Lori Lightfoot to ask Gov. J.B. Pritzker to call out the Illinois National Guard to reduce escalating violence and sustained protests amid the coronavirus pandemic.
Alds. Leslie Hairston (5th Ward), Anthony Beale (9th Ward), Raymond Lopez (15th Ward) and Anthony Napolitano (41st Ward) filed the request for the special City Council meeting, which is scheduled to take place virtually.
Former Ald. Dick Simpson, a University of Illinois at Chicago political science professor who has been analyzing the Chicago City Council for decades, said he could not recall a similar attempt by aldermen to force a special meeting of the City Council to take place. Special meetings are more typically called by the mayor, said Simpson, who endorsed Lightfoot in the 2019 mayoral election.
A spokesperson for City Clerk Anna Valencia did not immediately respond to an inquiry from WTTW News about whether aldermen had ever before forced a special City Council meeting without the support of the mayor.
The City Council has not met since July 22, when it adjourned for its annual August recess. The next regularly scheduled meeting is set for Sept. 9.
At least 26 City Council members must be present for the meeting to take place and for the three items listed on the meeting's agenda to be considered, according to the City Council's rules.
Lightfoot declined Wednesday morning at an unrelated news conference to commit to attend Friday's meeting, and accused Lopez and Beale of "grandstanding" at a "very difficult time" in Chicago.
Although she did not mention them by name, Lightfoot called Lopez and Beale — the two aldermen who most frequently criticize her — "quite foolish" and said they have a "history of grandstanding."
"This is not a time for grandstanding," Lightfoot said. "They are who they are. We'll see what happens."
Hairston, a member of the City Council's Progressive Caucus, has opposed several of the mayor's initiatives, but voted for her 2020 budget and worked with her administration to reach a compromise on an affordable housing plan near the planned Obama Presidential Center.
Napolitano, a former police officer and firefighter, has been critical of Lightfoot's handling of recent protests and blasted her decision to remove the city's Columbus statues, saying she acted in "cowardly fashion" after pressure from "socialist cancel culture."
The four aldermen said they would ask their colleagues to approve a resolution calling on Pritzker to declare a state of emergency" for Chicago, and deploy the Illinois National Guard to the city for the next four months.
Lightfoot — and Pritzker — rejected calls to deploy the National Guard hours after widespread looting swept downtown and several North Side neighborhoods during the night of Aug. 9 and the early morning hours of Aug. 10.
At Lightfoot's request, the National Guard was deployed to Chicago on May 31 after protests against systemic racism and police brutality turned violent. Members of the guard were used to block off the Loop and Central Business District as unrest swept the South and West sides of the city. 
In addition, the aldermen demanded reports from Lightfoot, police Superintendent David Brown, Cook County State's Attorney Kim Foxx and Cook County Circuit Court Chief Judge Tim Evans on "their unified efforts to address safety in Chicago" as well as a resolution calling on the Budget Committee to hold monthly subject matter hearings on public safety.
"Our residents do not want the City Council sitting on the sidelines," Lopez said in a statement. "They want aldermen to be engaged, now more than ever.  This meeting will allow us to discuss and vote on important first steps to stabilizing every corner of our city."
Caravans of cars headed to the Loop and North Side to loot stores on Aug. 9 after a police officer shot and wounded a 20-year-old man in Englewood, causing widespread destruction and mayhem, Lightfoot said.
Lightfoot restricted access to downtown nightly for six days, and Superintendent David Brown ordered all officers to work 12-hour shifts and canceled all scheduled days off. Approximately 400 officers were sent downtown, and approximately 100 people were arrested on various charges, Brown told reporters.
An analysis of City Council votes by Simpson released in April found Lightfoot has just a "fragile" hold on a City Council majority that allows her to govern the city.
The tension between the mayor and the City Council has been "ratcheted up" by the protests, looting and a sustained surge in violent crime, with homicides and shootings soaring approximately 50%, as compared with the same time period in 2019, Simpson said.
"I'm sure the aldermen want to show their constituents they are taking action," Simpson said.
Contact Heather Cherone: @HeatherCherone | (773) 569-1863 | [email protected]
---