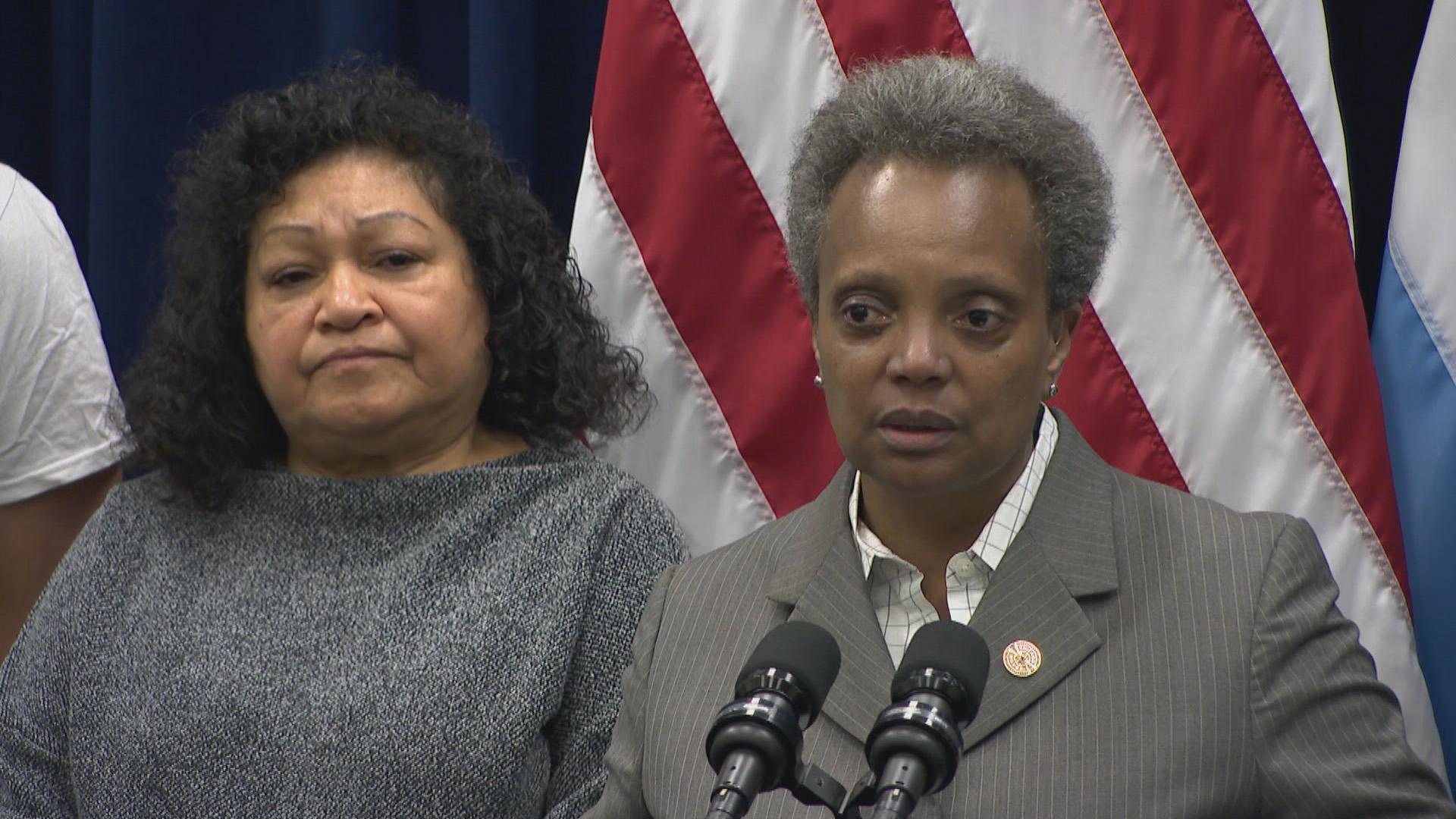 Mayor Lori Lightfoot speaks to the media after a City Council meeting on Wednesday, Jan. 15, 2020. (WTTW News)
Mayor Lori Lightfoot has just a "fragile" hold on a City Council majority that allows her to govern the city — but warning signs are flashing, according to an analysis of City Council votes during her first 11 months in office.
The most recent annual report from former Ald. Dick Simpson, a University of Illinois at Chicago political science professor who has been analyzing City Council votes for decades, found that the City Council has split into four main voting blocs in an unprecedented realignment.
"Chicago politics are undergoing a major transformation as the machine era ends," said Simpson, a longtime advocate for reforming Chicago government and one of the first high-profile Chicago politicians to endorse Lightfoot's 2019 mayoral bid.
Under former Mayors Rahm Emanuel and Richard M. Daley, Simpson characterized the Chicago City Council as a "rubber stamp," recording overwhelming victories even on matters that generated massive controversy.
But while Lightfoot does not have what he called Daley or Emanuel's "iron-fisted" control of the City Council, Simpson says she's not facing a return of Council Wars, when a group of white aldermen banded together to thwart former Mayor Harold Washington's agenda. Washington was Chicago's first black mayor. 
With 12 aldermen elected alongside Lightfoot in 2019, the City Council is younger includes more black and Latino members than at any point in its history. Like the mayor, many of the rookie aldermen had never held elected office before — or had any experience in what remains of the once-vaunted operations of the Cook County Democratic Party.
Lightfoot and several of those new aldermen — including six members of the Chicago chapter of the Democratic Socialists of America — were largely elected on promises to chart a more progressive course for Chicago.
But those promises will be difficult to fulfill as the city grapples with the economic fallout of the coronavirus pandemic, Simpson said. 
On Tuesday, Lightfoot said Chicago finance officials were monitoring the city's budget but were not yet prepared to estimate the size of the gap facing the city's 2021 spending plan. Before the pandemic hit, city officials expected the deficit to approach $1 billion.
"Lightfoot has a working majority, which means she can govern and run the city," Simpson said.
That majority is made up of what Simpson called the Center-Liberal Bloc and the Progressive-Socialist Bloc, and bolstered by consistent support from aldermen whom Lightfoot tapped to lead committees, according to the 11th report analyzing votes taken by Chicago City Council that resulted in a divided roll call authored by Simpson, Marco Rosaire Rossi and Thomas J. Gradel.
The remaining groups of aldermen — dubbed the Chicago Machine Bloc and the Conservative Bloc — supported Lightfoot much less consistently, according to the analysis.
The opposition Lightfoot has faced "should be a clear warning" to shelve her central campaign promise to end aldermanic prerogative, the largely unwritten, decades-old practice giving aldermen a veto over ward issues, Simpson said.
Lightfoot should not move to change the zoning code to strike at the heart of aldermanic power, Simpson said.
And she will have no choice but to ask aldermen to take "drastic" action to stem the flow of red ink caused by the pandemic, Simpson said.
"It will not be pretty," Simpson said.
Lightfoot, who has repeatedly said she does not want a "rubber stamp" City Council, said Tuesday the City Council should operate "transparently" and feature "robust debate."
"I don't have a quid pro quo relationship with aldermen," Lightfoot said. "I don't buy votes."
Lightfoot said she remained determined to "break from the status quo" and would continue to work to build consensus.
"Twenty-six votes is what I need," Lightfoot said. "Anything over that, in my mind, is gravy."
Contact Heather Cherone: @HeatherCherone | (773) 569-1863 | [email protected]
---