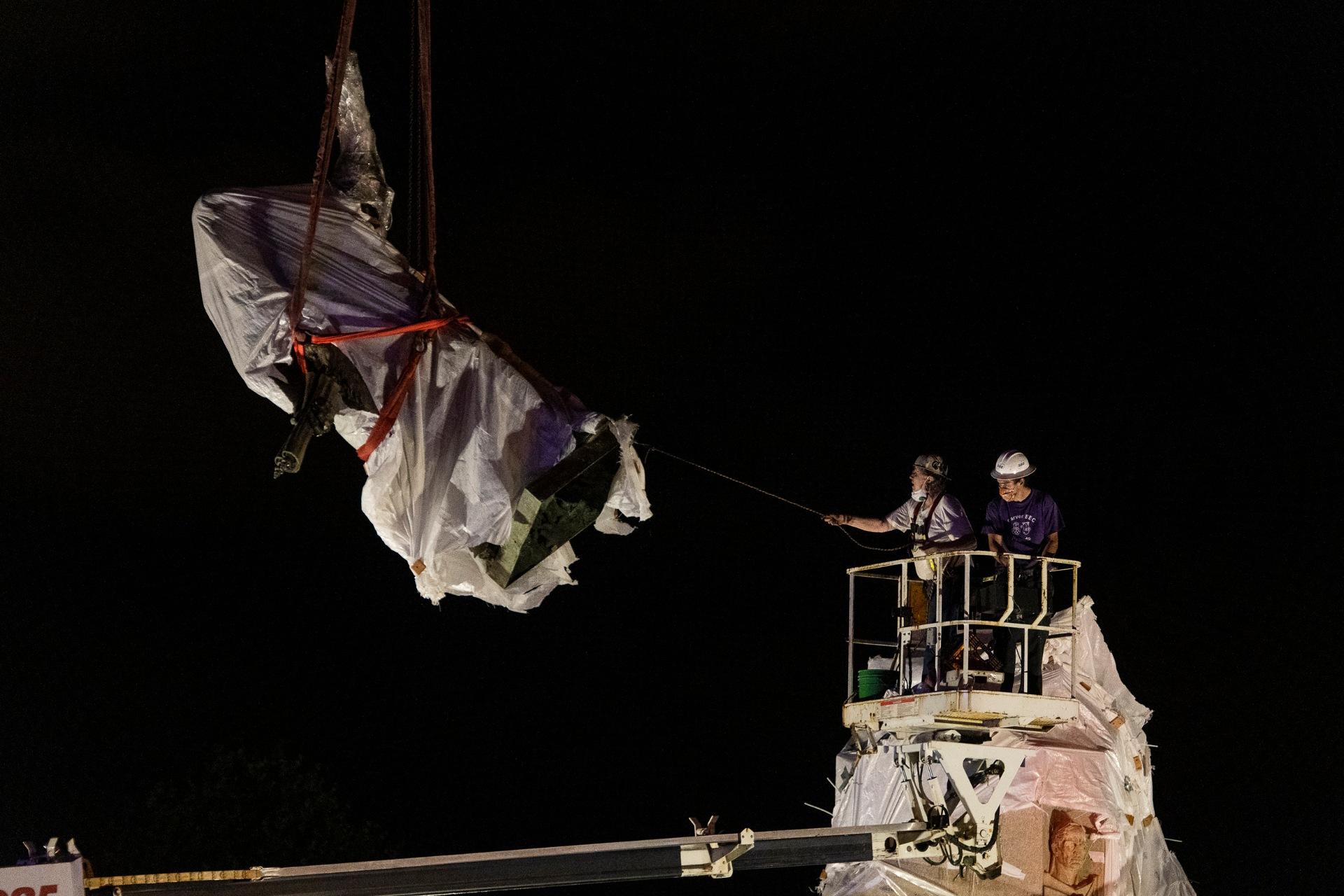 City municipal crews help guide the Christopher Columbus statue in Grant Park as it is removed by a crane, Friday, July 24, 2020, in Chicago. A statue of Christopher Columbus that drew chaotic protests in Chicago was taken down early Friday amid a plan by President Donald Trump to dispatch federal agents to the city. (Tyler LaRiviere / Chicago Sun-Times via AP)
While some aldermen praised Mayor Lori Lightfoot's decision to take down the statues of Christopher Columbus that had become a flashpoint of protests against racism and police brutality, others said Friday she should not have acted unilaterally in the middle of the night. 
By the time the sun rose on Friday morning, there were empty pedestals in Grant and Arrigo parks where the statues of Columbus once stood. 
Members of the Progressive Caucus, which includes six aldermen who are members of the Chicago chapter of the Democratic Socialists of America, praised Lightfoot's decision on social media and vowed to keep pushing to remove all of the "monuments to white supremacy" in Chicago. 
However, the aldermen credited not Lightfoot but the "activists and organizers who put their bodies on the line to make this happen." 
Ald. Rossana Rodriguez Sanchez (33rd Ward) vowed to renew her push to replace Columbus Day with Indigenous Peoples Day as an official city holiday. Lightfoot rejected that effort in February.  
Progressive Caucus Chair Ald. Sophia King (4th Ward) called Lightfoot's decision "a step in the right direction." The caucus called for the statue's removal from Grant Park days after activists attempting to take the statue down themselves clashed with police. 
Lightfoot said she ordered the statues removed in an effort to "protect public safety and to preserve a safe space for an inclusive and democratic public dialogue about our city's symbols. In addition, our public safety resources must be concentrated where they are most needed throughout the city, and particularly in our South and West Side communities." 
Ald. Gilbert Villegas (36th Ward) said he agreed with the mayor that the police department could no longer afford to order hundreds of officers to protect the statue in Grant Park while gun and gang violence swept the West and South sides. 
But Villegas, a close ally of the mayor, said the statues should have been removed after a "legislative process, not in the middle of the night." 
Villegas likened the mayor's move to the decision by former Richard M. Daley in March 2003 to bulldoze the runway at Meigs Field without notice after his efforts to shutter the airfield were blocked by state and federal officials. 
Before noon on Friday, Villegas said more than 50 people called his office on the Northwest Side to tell him they were angry about the statue's removal, and several people came into his office to register complaints. 
Villegas said he has gotten no complaints about the surge of violence, even as it has killed and wounded babies, toddlers and children. 
"I'm baffled that we are talking about a statue," Villegas said. "I'm at a loss." 
However, Villegas said that if the protests had continued at the statue in Grant Park, it could have given President Donald Trump a pretext to order a Portland-style paramilitary strike force to Chicago in order to protect the statue.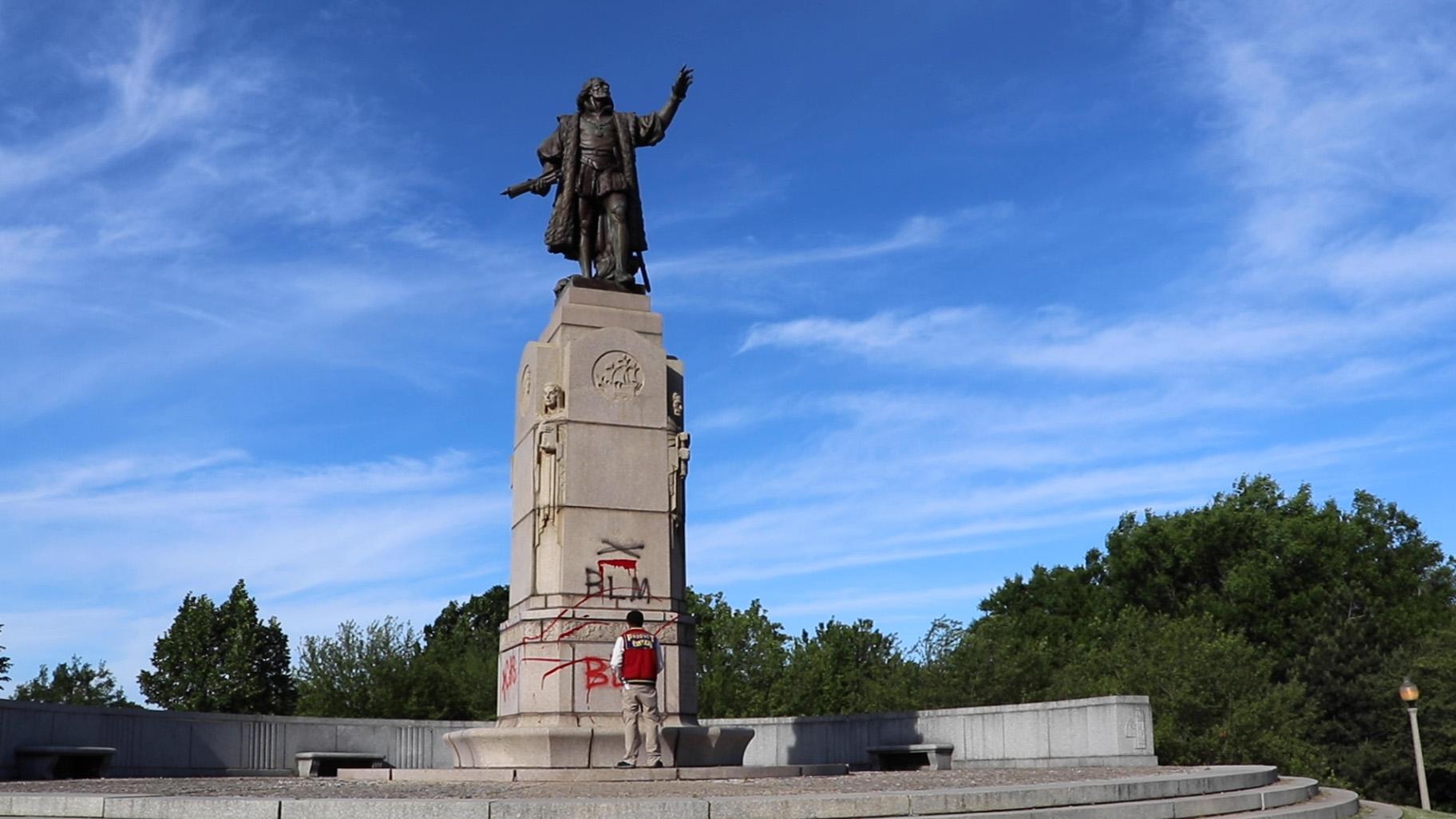 Courtney Johnson, a South Side resident, stands in front of a vandalized statue of Christopher Columbus in Grant Park on Saturday, June 15, 2020. (Evan Garcia / WTTW News)
Ald. Nicholas Sposato (38th Ward), an Italian-American who has frequently defended the statues and Columbus Day as a way to pay tribute to the explorer's legacy as well as the many contributions of Italians to Chicago and America, said Lightfoot consulted with him and other Italian American leaders in Chicago before acting. 
"I'm not jumping for joy," Sposato said. "But we basically had no choice." 
Sposato said he was not willing "to roll the dice" and risk the safety of Chicago police officers to protect the statue during future protests. 
However, Sposato said Friday that he underestimated the amount of "gloating" from groups that organized the protests. 
"This was letting them win," Sposato said. 
However, Ald. Anthony Napolitano (41st Ward) used a Facebook post to blast Lightfoot's decision, saying she failed to consult with him. 
The statues were removed in a "cowardly fashion" after pressure from "socialist cancel culture," Napolitano wrote. 
"The American way to remove the Christopher Columbus statue should have been a discussion, debate and decision made by the City Council," wrote Napolitano, the only member of the City Council who is not a member of the Democratic Party. "The city didn't just lose a statue on the sneak last night, it lost its sense of decency and American soul!" 
The move also upset Ald. Raymond Lopez (15th Ward), Lightfoot's most frequent critic, who said he was outraged that Lightfoot removed the statues approximately a month after she said they should not be removed. Lightfoot said June 18 that the statues should be used "to educate our young people, in particular, about … the full history" of America. 
Lopez said Lightfoot acted because of several large protests outside her Logan Square home. 
What has become of Chicago? We have a mayor forced into submission by anarchy & mob-rule? No more public process, official discourse, or on-the-record debate. The lesson learned is that if you want action from Lightfoot, show up en mass at her house & she will cave every time.

— Ald. Raymond Lopez (@RLopez15thWard) July 24, 2020
"We have a mayor forced into submission by anarchy & mob-rule?" Lopez tweeted. "No more public process, official discourse, or on-the-record debate. The lesson learned is that if you want action from Lightfoot, show up en mass at her house & she will cave every time." 
 Ald. Brian Hopkins (2nd Ward) also said he had not been consulted by the mayor before the decision. 
After Lightfoot tweeted that she had consulted "with a variety of stakeholders" Hopkins responded with a tweet laced with sarcasm. 
"Please accept my application for the position of Stakeholder," Hopkins wrote. "Qualifications include being elected by voters of the 2nd Ward to represent their views. Interests include making difficult decisions on complex issues. Please consider me if you have an opening." 
Villegas, who as Lightfoot's floor leader is charged with ensuring that her initiatives make it through the City Council, said he had heard complaints from other aldermen about the decision to remove the statues without the support of the City Council, which could have considered the issue at its meeting on Wednesday. 
The decision to remove the statue also served to ratchet up the tension between Lightfoot and Fraternal Order of Police President John Catanzara who engaged in heated debates with anti-Columbus protesters in the hours before the statue was removed in Grant Park. 
The city's labor agreement with the police union has been expired for more than three years, and there has been little progress toward a new deal. 
Lightfoot this week defended calling Catanzara a "clown" in a series of text messages first reported by WGN-TV.  
Contact Heather Cherone: @HeatherCherone | (773) 569-1863 | [email protected]
---