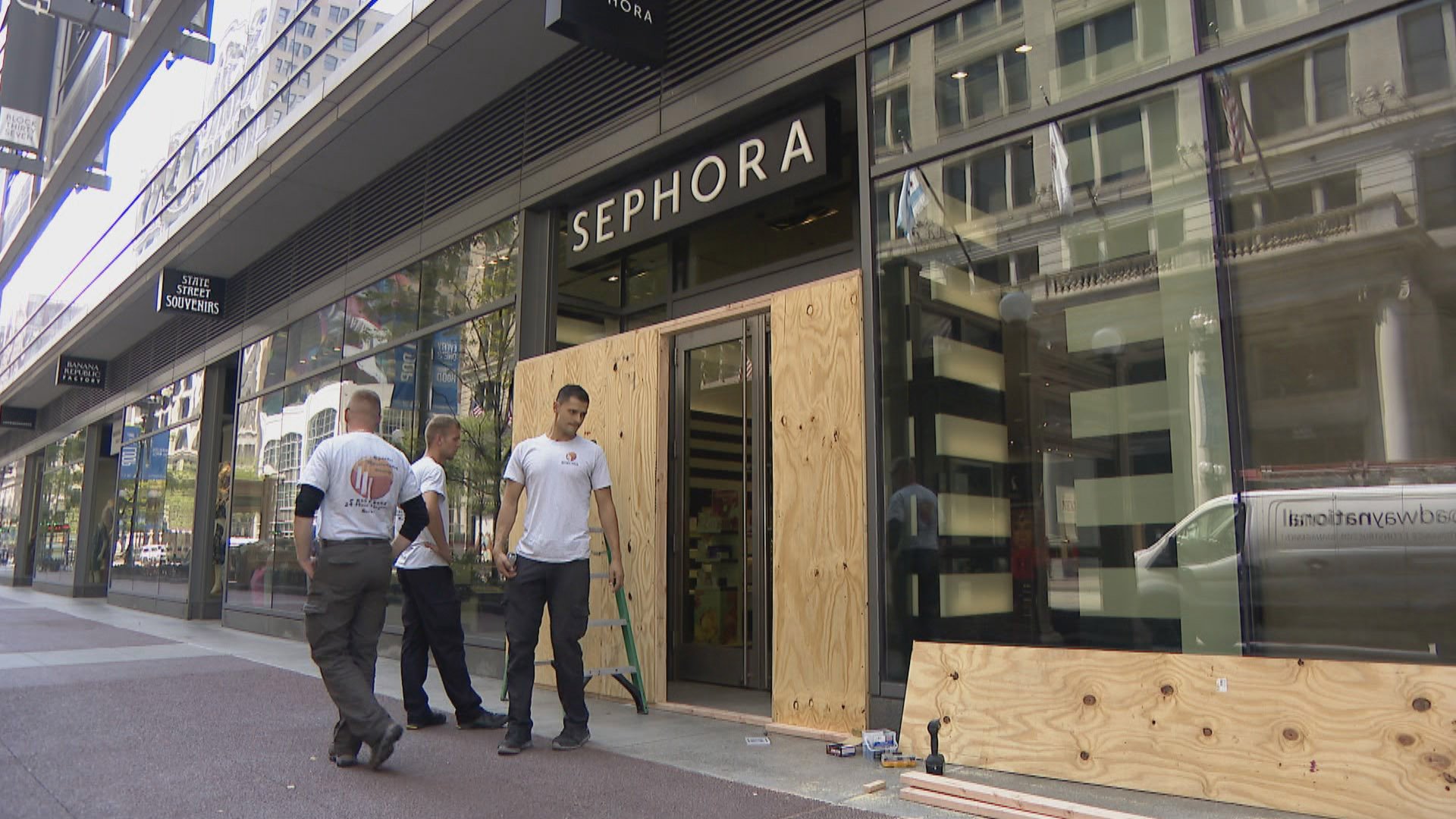 Windows at a Sephora in downtown Chicago are boarded up following looting on Sunday, Aug. 9, 2020. (WTTW News)
Mayor Lori Lightfoot, Chicago police Superintendent David Brown and Cook County State's Attorney Kim Foxx presented a united front Friday, announcing new strategies to prevent looting across the city days after back-and-forth criticism among the trio.
The mayor announced a five-point plan to protect businesses and better identify and respond to looting through analytics, additional police deployments and faster lockdowns in areas where businesses are being burglarized.
"What we experienced this week is simply not who we are as a city and we will never allow anyone to destroy the fabric of our city and our pride that we rightfully have as Chicagoans," Lightfoot said. "And as your mayor, I simply will not allow that to happen."
The city's plan is based on five core strategies, Lightfoot said. Those include: enhanced use of technology through data and analytics, the rapid deployment of police officers to looting scenes, a faster approach to area-specific lockdowns, stronger community partnerships and robust legal action to hold looters accountable after their arrest.
That plan also includes a new Chicago Police Department social media task force: a specialized 20-person unit focused on an around-the-clock review of open source social media activity to find planned looting before it happens.
"This proactive monitoring will provide the crucial information our public safety agencies need in order to be aware of planned activity as early as possible and to enable them to respond quickly and appropriately," she said.
While the plan is for "every part of our city," Lightfoot said there is an emphasis on Chicago's commercial corridors downtown and in neighborhoods.
The mayor's announcement comes after much of Chicago awoke Monday to widespread reports of looting, which began when a caravan was organized on social media after a CPD officer shot and wounded a 20-year-old man Sunday in Englewood.
Police said that man shot at officers first, but those officers involved were not outfitted with body-worn cameras, so no video of the incident is available. On Friday, the mayor said the CPD will add 500 body worn cameras.
Lightfoot was joined by Brown, Foxx and others Friday in announcing the plans. The appearance comes just days after Lightfoot and Brown criticized the state's attorney, saying that not enough is being done to hold those charged with crimes accountable.
After the Sunday looting, Brown again criticized Foxx, saying people were emboldened to break into businesses because they believed there "would be no consequences for their actions." Foxx pushed back, calling the criticism "dishonest blame games" and on Friday said her office has charged out more than 300 felony cases stemming from looting between May 29 and June 16.
Foxx also said her office has approved felony charges in 42 of the 43 cases presented by Chicago police related to last weekend's looting.
On Friday, Lightfoot said the looting had undermined residents' sense of safety and certainty in the city, and it would require an all-hands-on-deck approach to fix that.
"We are united in collaborating and pooling our resources against this effort of criminal conduct to create chaos and fear in our city," she said.
Nightly restrictions to limit downtown access will remain in place this weekend, including a partial closure of Lake Shore Drive, limited CTA train service and raised bridges.
More than 100 people were arrested, according to Brown, and 13 officers were injured during looting Sunday night and early Monday morning.
Brown on Thursday announced his department will use "all tactics necessary," including deploying an additional 1,000 officers, to prevent looting this weekend. He said police will be prepared to block off streets or use spike strips and tow trucks to stop caravans of cars, which have been seen driving to multiple businesses and looting them.
The goal, he said, is to "send a message" to potential looters: "If you come downtown or to any one of our retail corridors in the neighborhoods of Chicago to loot, CPD is going to arrest you."
"All parts of the criminal justice system must collaborate and work together to restore a sense of security in our city," he said Friday. "Chicago is strong, and a beautiful city. Working together, we can keep it that way."
Contact Matt Masterson: @ByMattMasterson | [email protected] | (773) 509-5431
---