A dedicated team of detectives will work toward identifying people who ransacked stores and damaged commercial property throughout pockets of the city late Sunday, the Chicago Police Department announced Tuesday afternoon.
The looting task force asks businesses, residents and witnesses to send videos, photos and information by calling 312-744-8263 or emailing [email protected]; anonymous tips should go to CPDtip.com
While police Superintendent David Brown told reporters Tuesday that Monday night was "comparatively" calm, he and Mayor Lori Lighfoot have vowed to aggressively go after looters.
To attorney Tanya Woods of the Westside Justice Center, the threat makes it sound as if the city is sending in storm troopers to hunt down Black people dealing with trauma from a lifetime of feeling as if they're being hunted.
"People feel as though here it comes again, our communities are under siege again," Woods said. "No one wants to live under those conditions. No one wants to feel as though in their own home they are being hunted, they are being tracked."
Woods says that does not equate to her advocating for anarchy or lawlessness.
"What we are asking is that we are treated like human beings, that we are given an opportunity to live peaceably under the law, that we are not hunted and tracked," she said.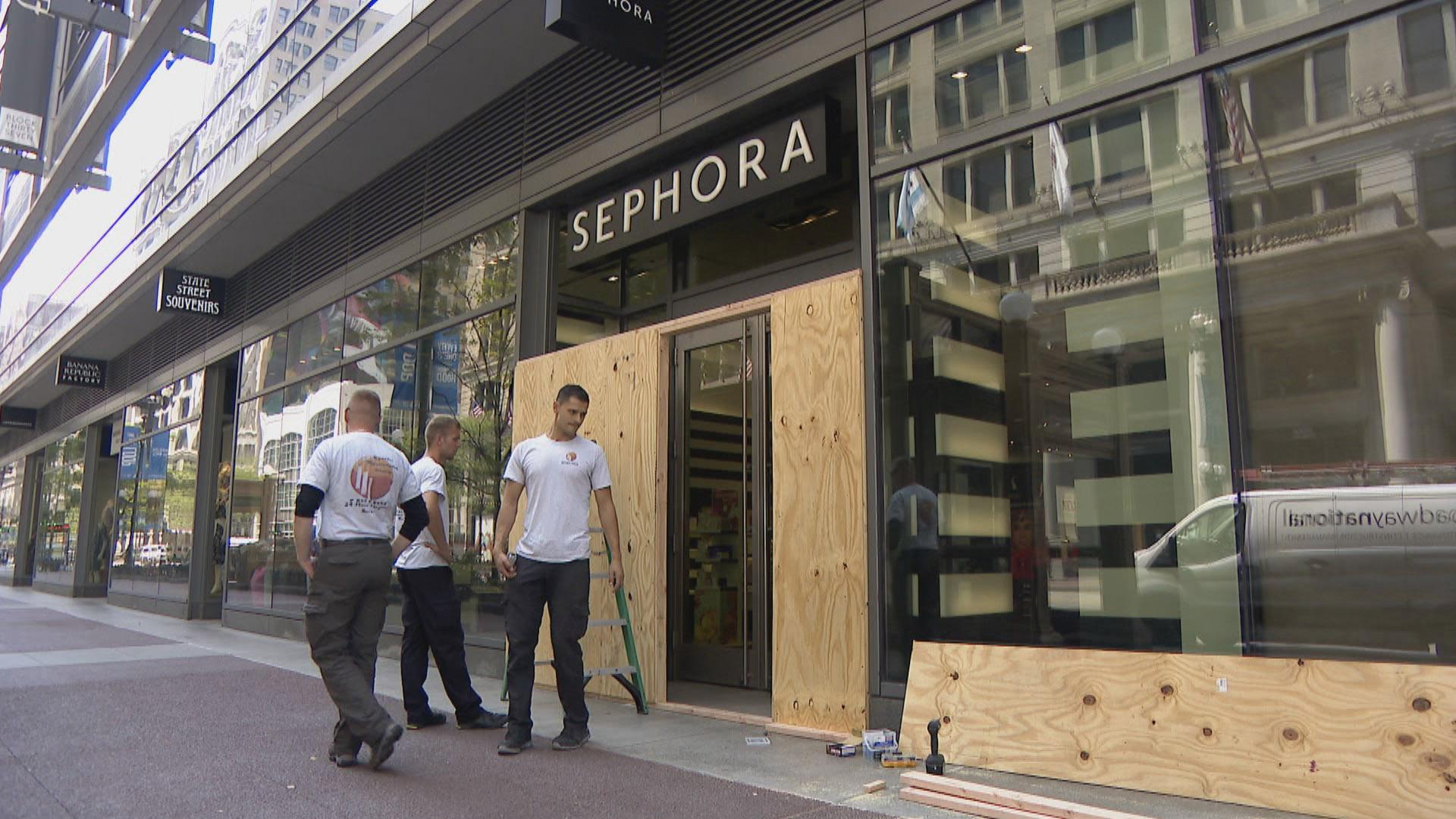 Windows at a Sephora in downtown Chicago are boarded up following looting on Sunday, Aug. 9, 2020. (WTTW News)
Cook County State's Attorney Kim Foxx on Monday rebuffed public accusations by Mayor Lori Lightfoot and Brown that linked the weekend upheaval to a failure of prosecutors and the court system to pursue criminals who'd looted the city in late May following the death of George Floyd at the hands of Minneapolis police.
Hundreds of those engaged in "peaceful protests" at the time were arrested on charges that they violated the city's curfew and for failing to disperse when ordered by police.
Those cases were not charged by the state's attorney's office, Foxx said.
Foxx said it's wrong to conflate peaceful protesters with those who took part in violence and looting, whom she pledged to hold accountable.
But her opponent in November's election, Republican former judge Pat O'Brien, called Foxx a "criminal's best friend."
"Only the state's attorneys can ask for subpoenas, only the state's attorneys can get search warrants and arrest warrants. They should have had those arrest warrants and search warrants ready and when the people were arrested, go to the houses and get back all the proceeds that have been taken," he said. "You can't have an adversarial relationship with the police if you're the prosecutor, otherwise you're not going to get anywhere and everybody in the city and suburbs and county are at risk. She's not protecting us."
But Sarah Staudt of the Chicago Appleseed Fund for Justice said it's not as open and shut as going after looters and locking them up, which she said does not deter crime and ends up hurting communities.
"The reasons that people commit crimes aren't that simple," she said. "There's a lot of anger out there and addressing that anger is something also that our elected officials are in charge of doing."
Staudt said she feels for those who businesses were broken into, and realizes that being a victim of a crime can have long-lasting, traumatic consequences.
"It's very easy to empathize, particularly if you're a person who has a connection with the Mag Mile with those people who own those stores," she said. "But I also encourage people to empathize with the rest of the city. Especially neighborhoods that have been places where there's been a huge amount of police violence, where there's been a disproportionate jailing of the population and where there is a lot of anger in a police reform conversation where so far as a city we have not moved forward as other cities have."
Especially in 2020, a year that is unprecedented due to the coronavirus, the economic pain caused by it, as well as the movement sparked by the death of Floyd in late May.
All of those have likewise hit businesses, even those that were flourishing prior to the pandemic.
Michael Edwards, president and CEO of the Chicago Loop Alliance, said members of the organization were beginning to recover prior to the latest, second round of massive looting.
"The best security for State Street is more people and so what people tend to forget is that because of COVID, there is 30% as many people on State Street as there were a year ago. And when there's no people it is more difficult to keep a place safe," he said.
He said the alliance is working with the Chicago Police Department, which is providing ongoing services. "Of course we want more, we always want more," he said.
Edwards said the group is also taking steps to address the broader issues of inequality and injustice at the source of the unrest, including by training employees and member businesses about anti-racism, and by working with businesses and members of the "street team" to make everyone feel comfortable along the iconic street, including Black shoppers who indicated in a survey that they didn't feel welcomed.
Follow Amanda Vinicky on Twitter: @AmandaVinicky
---