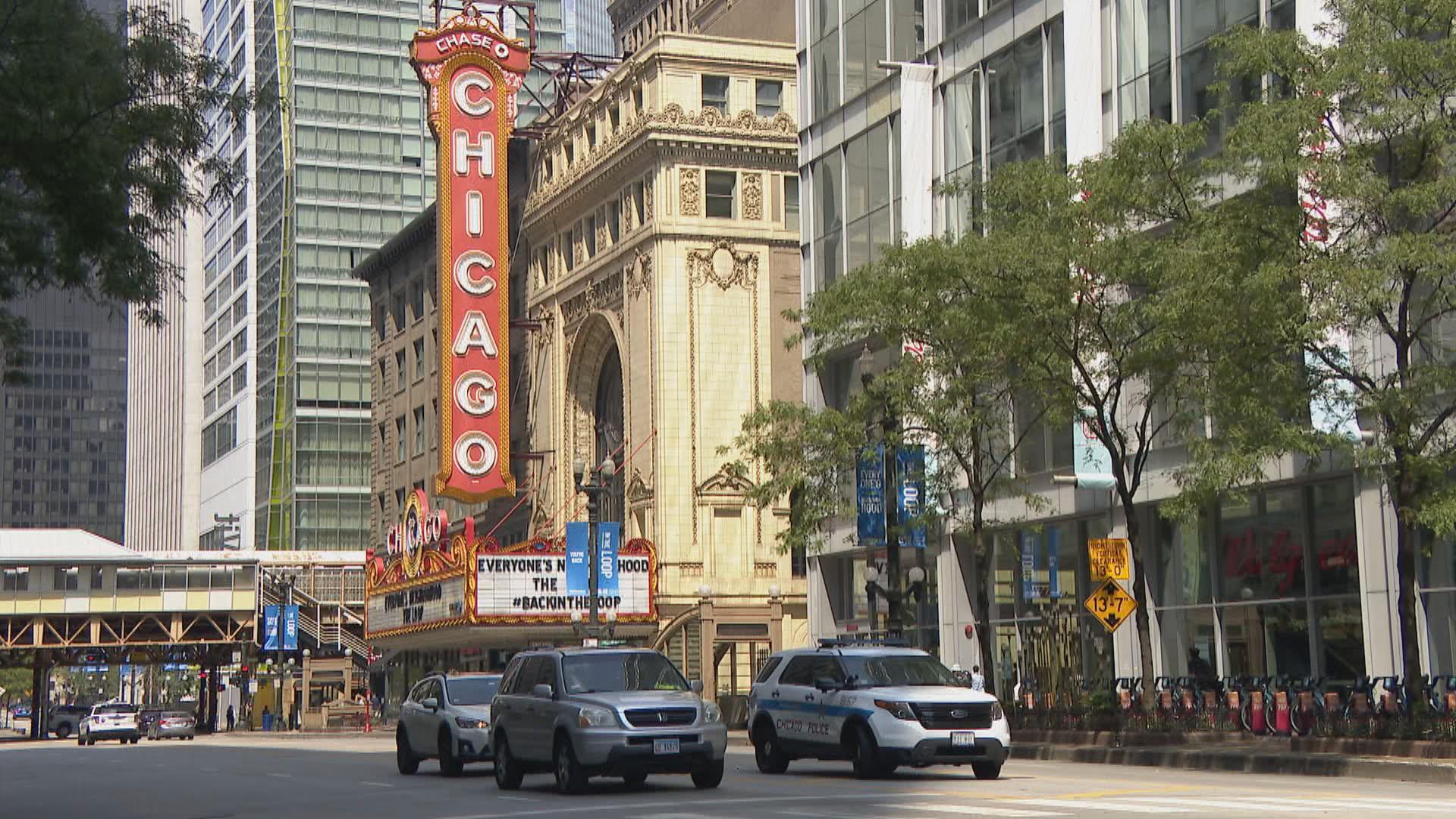 Chicago Police vehicles are seen on an otherwise quiet State Street in Chicago on Monday Aug. 10, 2020, hours after looting and property damage swept through downtown streets. (WTTW News)
UPDATE: Lightfoot to Keep Downtown Blocked Off Through Weekend; Restrictions Set to End Monday
City officials will again restrict access to downtown Chicago for a second night in a row on Tuesday, even though Chicago police Superintendent David Brown told reporters Monday night was "comparatively" calm.
Officers responded to some attempts at looting Monday night, but the incidents were isolated and only one shooting was reported, Brown said.
However, officers will continue working 12-hour shifts and city officials will continue to block off downtown and commercial districts from 9 p.m. to 6 a.m. to prevent looting from flaring up again, Lightfoot said. 
Those restrictions will be in place "for the foreseeable future," Lightfoot said.
City equipment, including garbage trucks, will again be used by the Chicago Police Department "to protect neighborhood commercial corridors and critical businesses, such as grocery stores and pharmacies," officials said.  
The closures come a day after caravans of cars headed to the Loop and North Side on Sunday night to loot stores after a police officer shot and wounded a 20-year-old man in Englewood, causing widespread destruction and mayhem, officials said.
Lake Shore Drive will be closed between Fullerton Avenue and Interstate 55, officials said. All expressway ramps from Roosevelt Road to Division Street will be closed in both directions, officials added.
Downtown bridges will be raised, officials said. However, bridges along LaSalle Street, Harrison Street, Lake Shore Drive, Columbus Drive, Kinzie Street and Grand Avenue will remain down. Westbound traffic will be allowed on the Ida B. Wells bridge, officials said.
Residents and employees will need to show identification or proof that they live in the area or work in the area to get past the checkpoints.
Residents and essential employees can enter downtown at Harrison Street, Chicago Avenue and Halsted Street, Roosevelt Road and Canal Street, Kinzie and Halsted streets and LaSalle Street.
CTA train service will be suspended from Fullerton Avenue to 47th Street and Halsted Street. Buses will run, but will be rerouted by bridge and street closures, officials said. Divvy bicycles will not be available from North to Ashland avenues and Cermak Road between 9 p.m. and 6 a.m.
City officials used a similar strategy after protests triggered by the death of George Floyd in Minneapolis police custody turned into unrest that swept the city, significantly damaging businesses on the South and West sides.
Contact Heather Cherone: @HeatherCherone | (773) 569-1863 | [email protected]
---