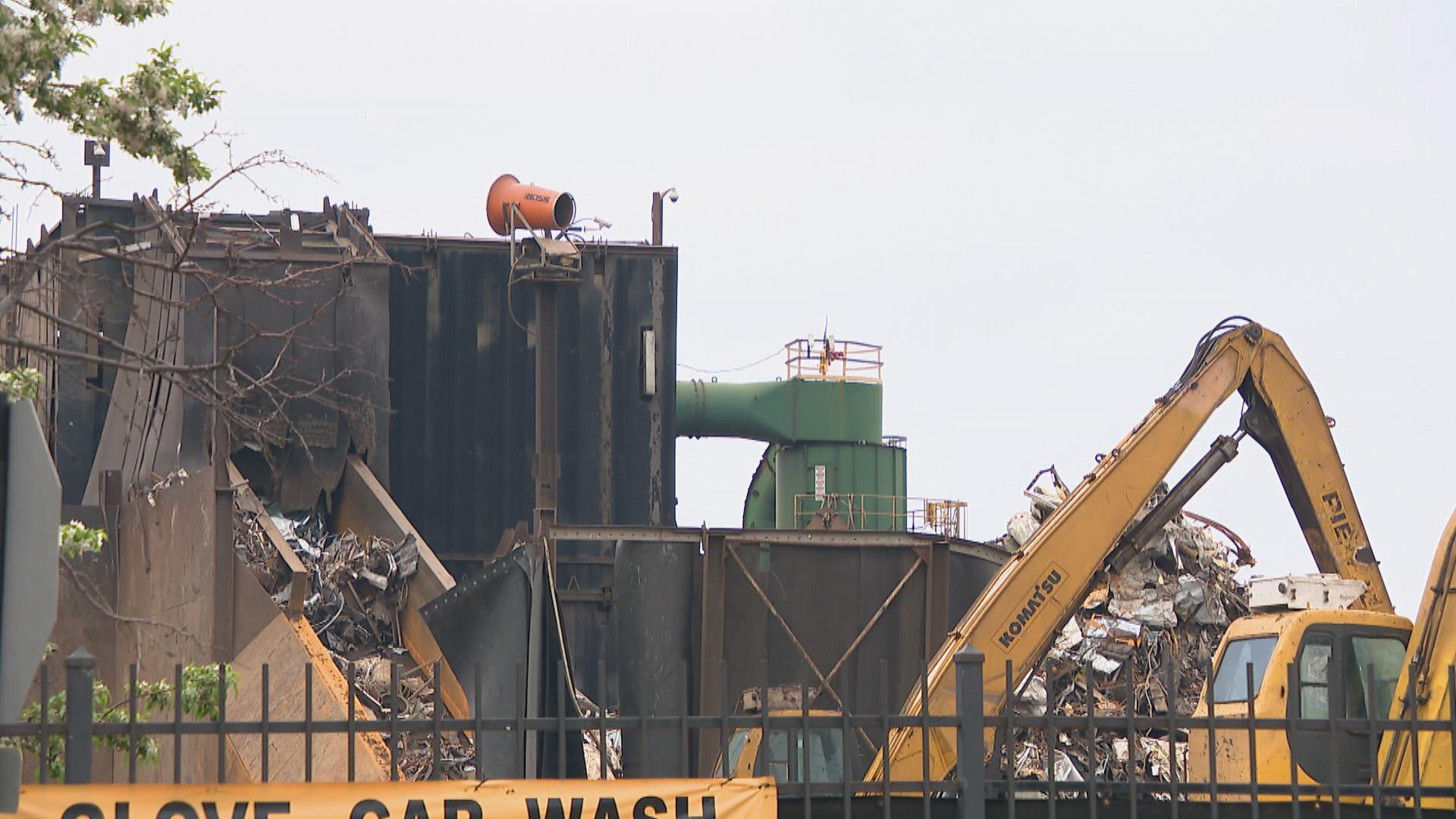 General Iron's Lincoln Park facility. (WTTW News)
At the close of a virtual town hall hosted by Ald. Susan Sadlowski Garza (10th Ward) on Saturday, city officials and residents remained at a stalemate over the planned relocation of General Iron's metal shredding operation from Lincoln Park to the Southeast Side.
Noise, "fugitive dust" and concerns about air quality have been among North Siders' ongoing complaints about General Iron.
Speaking to the more than 150 people who logged into the online forum, Angela Tovar, Chicago's newly appointed chief sustainability officer, and Dr. Allison Arwady, commissioner of the Chicago Department of Public Health (CDPH), acknowledged that Southeast Side residents are already disproportionately burdened by pollution. Then they outlined all of the ways the city would attempt to minimize General Iron's impact on the area's environment, should the company's as-yet-unfiled permit applications meet a slew of recently adopted rules and regulations.
During an hourlong public comment period that followed Tovar and Arwady's presentation, neighbors expressed doubts that General Iron (or its parent company Reserve Management Group) would comply with requirements or that the city would provide necessary enforcement.
"The city is treating this move like a train without brakes and letting it roll through and onto this community," said Nancy Loeb, director of the Environmental Advocacy Center at Northwestern University's Pritzker School of Law. 
Speaking on behalf of a trio of environment justice organizations — the Southeast Side Coalition to Ban Petcoke, the Southeast Environmental Task Force and the Natural Resources Defense Council — Loeb pleaded with Tovar and Arwady: "Put on the brakes. Deny the permit. Tell General Iron and RMG to find another community."
According to a spokesman for General Iron, the company was not invited to speak at the town hall and therefore was not able to refute many of the "blatantly false" allegations made about its North Side facility.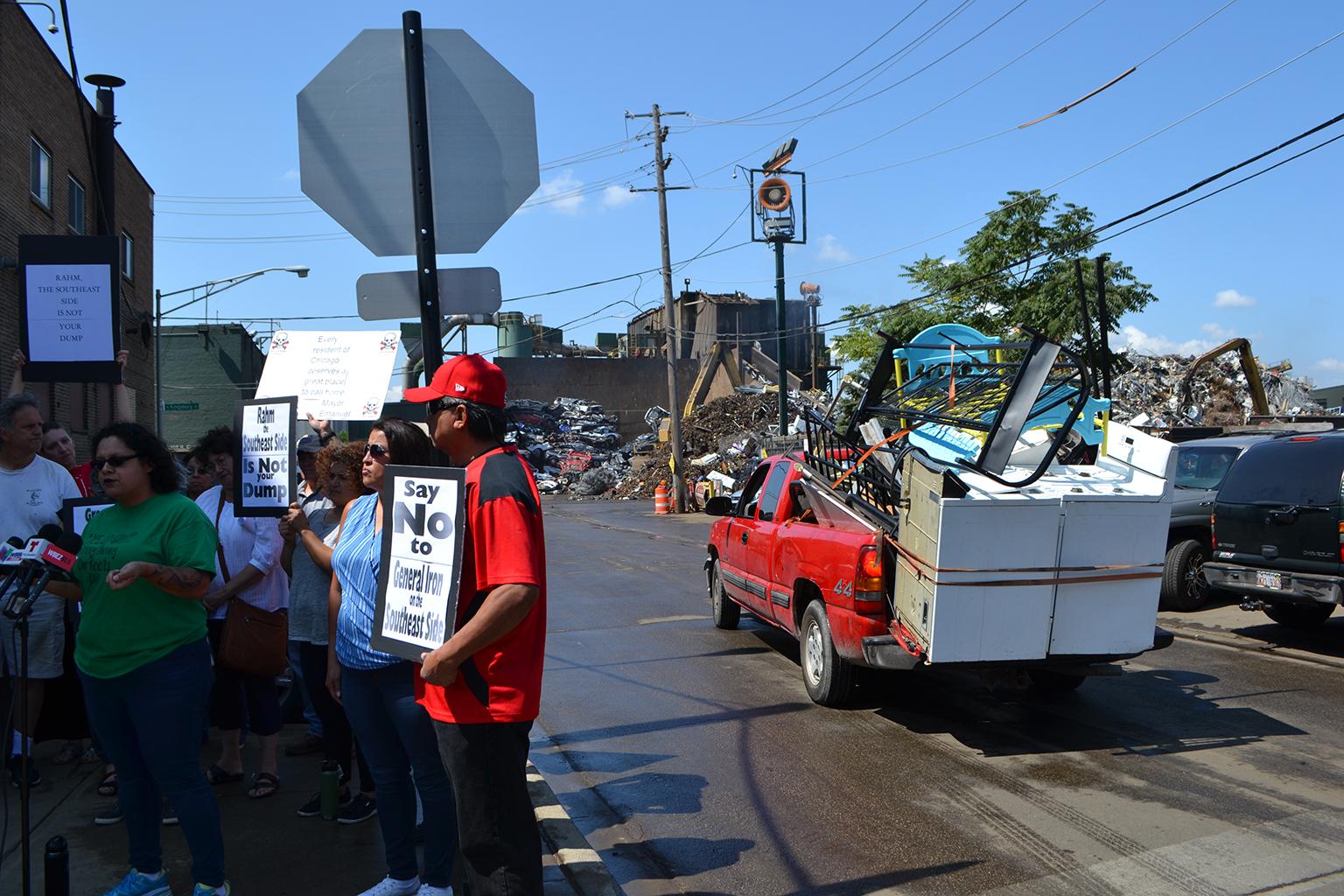 Southeast Side residents protested in 2018 in front of General Iron's scrap metal yard in Lincoln Park. (Alex Ruppenthal / WTTW News)
Southeast Side residents have been telling General Iron, "We don't want you," since 2018. That's when the scrap metal recycler announced it would vacate its Lincoln Park home along the North Branch of the Chicago River, which sits adjacent to the controversial Lincoln Yards development. RMG purchased General Iron's assets with the intent of bringing metal recycling and shredding to its 175-acre site along the east side of the Calumet River, at South Burley Avenue and 116th Street. RMG has owned that site for approximately 20 years.
Environmental justice activists immediately mobilized against the prospect of an industrial operator moving from wealthy, white Lincoln Park to a lower-income community with a majority Latino population.
When the Illinois Environmental Protection Agency cleared the path for General Iron's relocation in June, attention turned to CDPH, which General Iron must apply to for its final permits — one tied to air pollution control and one for recycling — before it can undertake any shredding at its Burley facility.
Arwady emphasized that her office has yet to receive either of those applications from RMG (which has set up a subsidiary, General III, as the official metal shredding entity).
"This conversation is far from over," Arwady told those participating in the virtual town hall. "I want you to know no applications have been received or approved. There will be an opportunity for input once they are received."
What CDPH can do when it receives those applications, she said, is add special conditions of operation based on feedback from the community.
What CDPH can't do, Arwady said, is deny a permit that meets environmental and zoning requirements. Nor can the city impose stricter emission standards than those set by the Illinois EPA, per a ruling made by the Illinois Supreme Court, she said.
Should General Iron/RMG meet all relevant requirements, the protections in place as a result of new rules include:
— An air impact study and ongoing air monitoring for particulate.
— Traffic studies.
— Real-time notification of air quality issues and a required plan to mitigate health impacts.
— Noise impact study and monitoring.
— Enclosure of equipment that shreds large pieces of metal (particularly automobiles), as well as enclosure of what's known as post-process auto fluff.
— Requirements for stricter record keeping.
— Requirements for public notice of any changes to permits.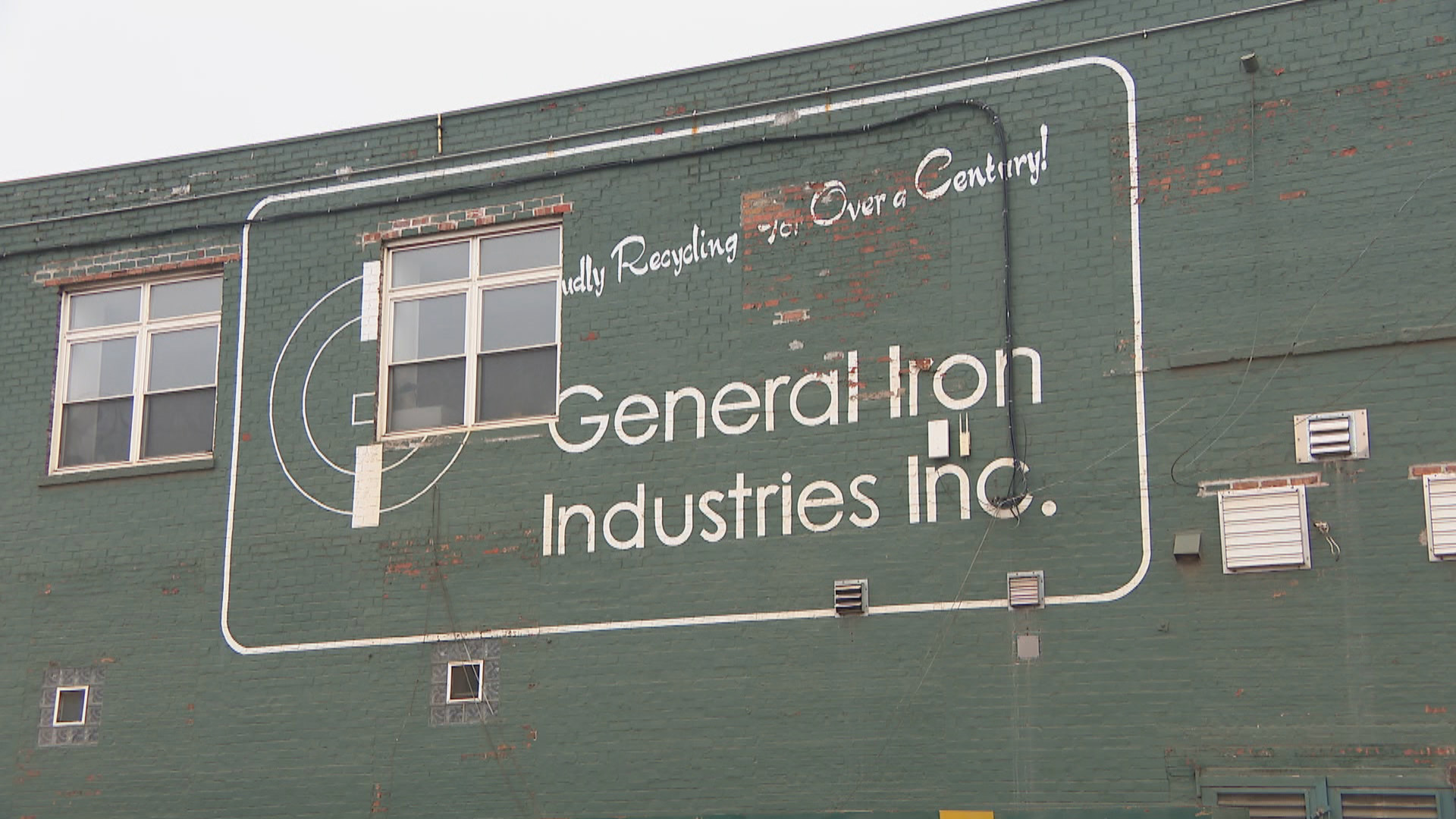 (WTTW News)
Residents were clear that no amount of reassurances from the city would make them feel protected, and they continued to argue for an outright denial of permits to General Iron/RMG. 
The issue, neighbors said, goes far beyond General Iron/RMG and whether it complies with federal, state and local environmental regulations. At stake is the future of a part of the city that has long been treated as a "dumping ground" — home to steel mills, landfills, refineries and other heavy industrial uses.
Rachel Vance, who moved to the area six years ago, described the region's beautiful beaches, forest preserves, wildlife and trails.  
"It's like my dream home. But there are days I can't even walk down the trails. You can't breathe," Vance said. "After a rain, the air smells like gasoline. It's like breathing through lard."
What neighbors like Vance fault the city for is a lack of imagination, or re-imagination, when it comes to the region. Bring in clean technology and lure companies like Google, they said. Start scrubbing away the existing accumulation of decades of heavy industry, they said, instead of being satisfied with, at best, a net-zero gain.  
"If this is all that can be thought of," resident Mariana Bernal said of uses like metal shredding, "that shows a lack of creativity and passion by our civil servants."
Ald. Sadlowski Garza — who was warned by constituents during the meeting of a potential "reckoning at the ballot box" — committed to additional community meetings when the General Iron/RMG permits are filed. The city has created a web page that will serve as a repository of all documents related to General Iron/RMG.
A meeting regarding General Iron's North Side operation, which was shut down following an explosion in May, is being scheduled for August.
NEW CHIEF SUSTAINABILITY OFFICER COMMITS TO REFORM AGENDA
Angela Tovar, appointed Chicago's chief sustainability officer in June, is herself a product of the Southeast Side. 
At Saturday's town hall, she acknowledged that the city's "low-income communities and communities of color are disproportionately impacted by pollution, and we are committed to mitigating these issues."
To that end, Tovar announced a "robust air reform agenda" including the first-ever environmental equity working group, with members encompassing environmental justice advocates, environmental experts and other stakeholders to advise that agenda. 
Additionally, her office would put forward a cumulative impact ordinance that would trigger a more stringent review process of permit applications in areas suffering from poor air quality or over-industrialization. 
In the same way that the rules governing large-scale recyclers such as General Iron have been revised, Tovar committed to examining other types of industrial facilities and identifying areas where regulations can be strengthened.
Overall, she vowed to build protections where they don't currently exist and to strengthen ones that do, "So that no community will bear a disproportionate burden on behalf of the rest of the city," she said.
---
Contact Patty Wetli: @pattywetli | (773) 509-5623 |  [email protected]
---