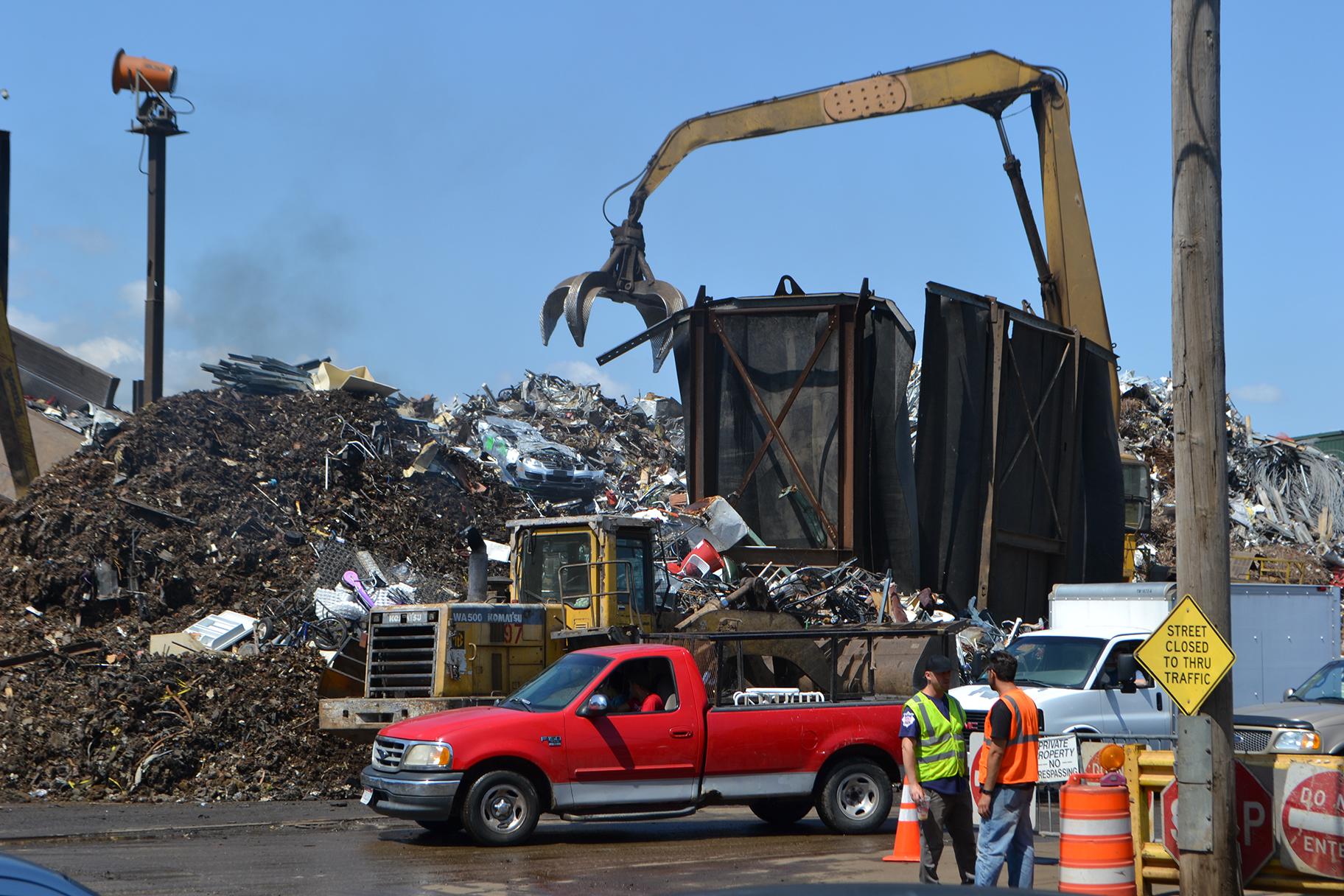 A file photo of General Iron's scrap metal yard at 1909 N. Clifton Ave. in Lincoln Park. (Alex Ruppenthal / WTTW News)
An explosion Monday morning at General Iron's metal shredding facility in Lincoln Park rocked surrounding homes and had neighbors renewing their calls for the city to shut down the plant.
The Chicago Fire Department received a report of an explosion shortly after 9 a.m., according to department spokesman Larry Langford.
There were no injuries and no one was taken to the hospital. Firefighters secured the scene, he said.
General Iron later issued a statement confirming the explosion. "Shredding has ceased at this time," the company said. "We are fully cooperating with City officials."
The cause of the explosion, which occurred on the facility's conveyor system, is still under investigation. Initial air quality tests by the fire department found no apparent immediate health risk to residents and the surrounding community, but the Chicago Department of Public Health (CDPH) is on site to conduct further testing and evaluation, fire department officials said in a statement released Monday afternoon.
Officials added: "Should any environmental violation be determined, the City will issue citations immediately. Work at the site has stopped as a result of the incident and will not resume until the City has determined the cause of the explosion. The health and safety of Chicago's residents remain a top priority, and we will continue to provide more information as details are gathered." 
Neighbors were jolted from their morning routines by the blast.
"Our whole house shook. It was insane," said Lara Compton, who lives near the plant and is a member of Clean the North Branch, an organization that's been fighting to have General Iron closed.
"It was terrifying," she said of the boom. 
Pictures fell off the wall of a neighbor's house, Compton said. People said they heard and felt the explosion nearly 2 miles away at Hotel Lincoln on the lakefront and as far south as the old Morton Salt facility, 2.5 miles from General Iron, according to Compton.
"The fact of the matter is, we hear explosions all the time," she said. "This was on a much grander scale, but this is not something new. Hopefully this will cause our leaders to act."
Ald. Brian Hopkins, whose 2nd Ward includes General Iron, responded to reports of the explosion on Twitter. "Permanent and immediate closure of this hazardous facility is no longer a discussion point, it must happen now, by executive order," Hopkins said in a tweet.
major explosion and fire at General Iron this morning. sudden increase in pollution readings detected in surrounding residential neighborhood. Permanent and immediate closure of this hazardous facility is no longer a discussion point, it must happen NOW, by executive order. pic.twitter.com/OddESmFwk6

— Alderman Hopkins (@AldermanHopkins) May 18, 2020
---
witnesses reported a fireball and "mushroom cloud" of smoke generated by the explosion. pic.twitter.com/UGlrOkcS0N

— Alderman Hopkins (@AldermanHopkins) May 18, 2020
---
While no one was injured in the blast, "people are getting hurt daily by pollution," Compton said.
General Iron is currently operating under conditions laid out in a 2019 consent decree with the Environmental Protection Agency, which was issued after the company was cited for violations in 2018.
The metal-shredding outfit has stated its intent to vacate Lincoln Park at the end of 2020 and move its operation to the Southeast Side, drawing strong opposition from residents and community organizations in that area. 
The Illinois EPA conducted virtual hearings last week, soliciting public comment on General Iron's application for a permit to move its business. Though the agency has created a draft permit, residents pleaded with the IEPA to deny General Iron's request. 
This explosion was so huge I thought a house blew up from a gas leak. I wouldn't be surprised if buildings have cracks in them from the explosions.

— Randy Egge (@coachegge) May 18, 2020
---
Contact Patty Wetli: @pattywetli | (773) 509-5623 |  [email protected]
---