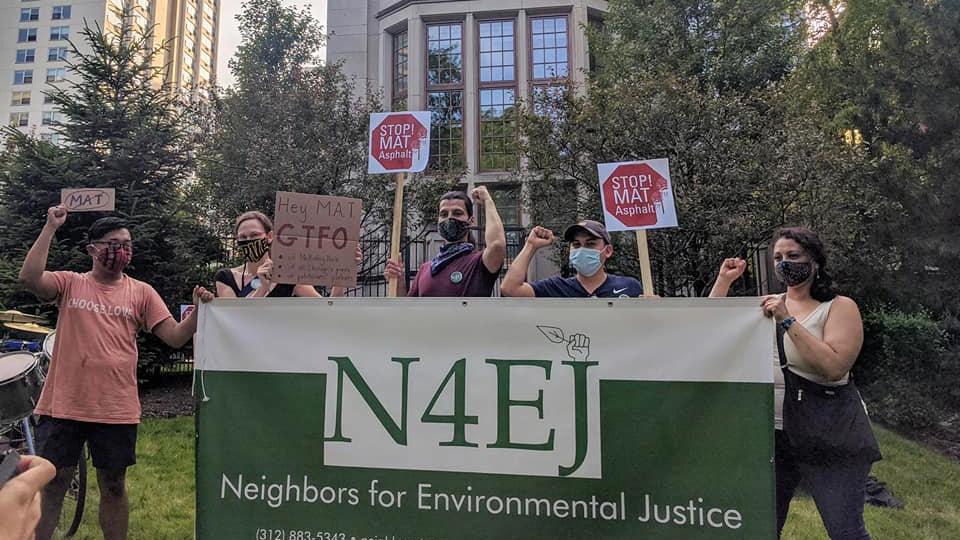 Protesters outside the North Side home of MAT Asphalt owner. (Neighbors for Environmental Justice)
Environmental activists from the city's Southwest Side brought their ongoing fight against MAT Asphalt to the North Side front yard of owner Michael Tadin Jr. on Thursday night.
Actually, the protest took place in what used to be the Tadin family's faux front yard — public parkland in Lincoln Park adjacent to the Tadins' house, which they had appropriated as private property by erecting a hedge, according to reporting by Block Club Chicago, following the release of an inspector general report. 
"Wait until you hear what this guy did to McKinley Park," read one activist's sign.
McKinley Park residents have been battling MAT Asphalt's presence in their community since the plant was constructed at 2055 W. Pershing Road in spring 2018. The land previously served as a storage site for cargo containers.
Residents assert they were caught completely off guard, with no prior notice of MAT's intentions. Neither the company nor the Illinois Environmental Protection Agency, which granted MAT a construction permit in October 2017, engaged with the community in advance, despite McKinley Park's designation as an Environmental Justice Area. Illinois EPA policy requires a "public participation strategy for permits, programs and actions in areas of EJ (environmental justice) concern."
The hot-mix asphalt plant operates across the street from the neighborhood's 70-acre namesake park, and just hundreds of feet away from schools and homes.
Neighbors have complained of odors, visible smoke and trucks leaving the facility with asphalt exposed to the air. 
MAT's initial one-year construction permit expired in July 2019. The Illinois EPA has allowed MAT to continue producing asphalt while the company's application for a 10-year permit is under review. A planned IEPA hearing regarding a draft permit, originally scheduled for March 23, has been indefinitely postponed due to the COVID-19 pandemic.
MAT Asphalt officials maintain that their plant produces well under the legal threshold of pollution, as monitored by the Illinois EPA.
"This is a state-of-the-art asphalt plant, and has pollution control items that go above and beyond what are allowable emissions for the IEPA," Joe Haughey, the plant's general manager, told WTTW News in May.
The Southwest Environmental Alliance and Neighbors for Environmental Justice organized the march, calling for the city to cut ties with the politically connected Tadin.
"Southwest Side residents argue the Tadins have no regard for parks or people on the South or North Side," the groups said.
Now that Lincoln Park has its land back, McKinley Park wants its air back, they said. 
The bushes are gone, he removed them this morning.

This protest is to bring attention to the fact that Michael Tadin Jr is doing near daily harm to the McKinley Park community by owning and operating a polluting asphalt plant he secretly built across the street from our park. pic.twitter.com/YSpHrLAFE1

— Neighbors4EJ (@N4EJchicago) July 3, 2020
---
Band just started drumming in front of Tadin's house.

(I'm kicking myself for not bringing bug spray.)#stopMAT @LVEJO @SEnviroAlliance @N4EJchicago @clean_nb #ChicagoScanner #chicagoprotest #chicagoprotests pic.twitter.com/xW6wBbj7ZS

— Angry Woman Who Isn't Funny & Ruins Everything Fun (@dudgedudy) July 2, 2020
---
After you remove the hedges,

REMOVE the MAT Asphalt Plant from McKinley Park and Chicago's Central Manufacturing District, Pershing Rd.

Say NO to toxic environmental pollution.

Say YES to the reinvestment, redevelopment, and revitalization of the CMD!

@EricAllixRogers https://t.co/n8oL4u2zBx pic.twitter.com/Uy47GXuBcn

— Preservation Chicago: Love Your City Fiercely! (@Pres_Chicago) July 2, 2020
---
Note: This story was originally published July 3, 2020. It has been updated to clarify that MAT Asphalt is allowed to operate during the permit-review process; and to include comments from the company's general manager.
Contact Patty Wetli: @pattywetli | (773) 509-5623 |  [email protected]