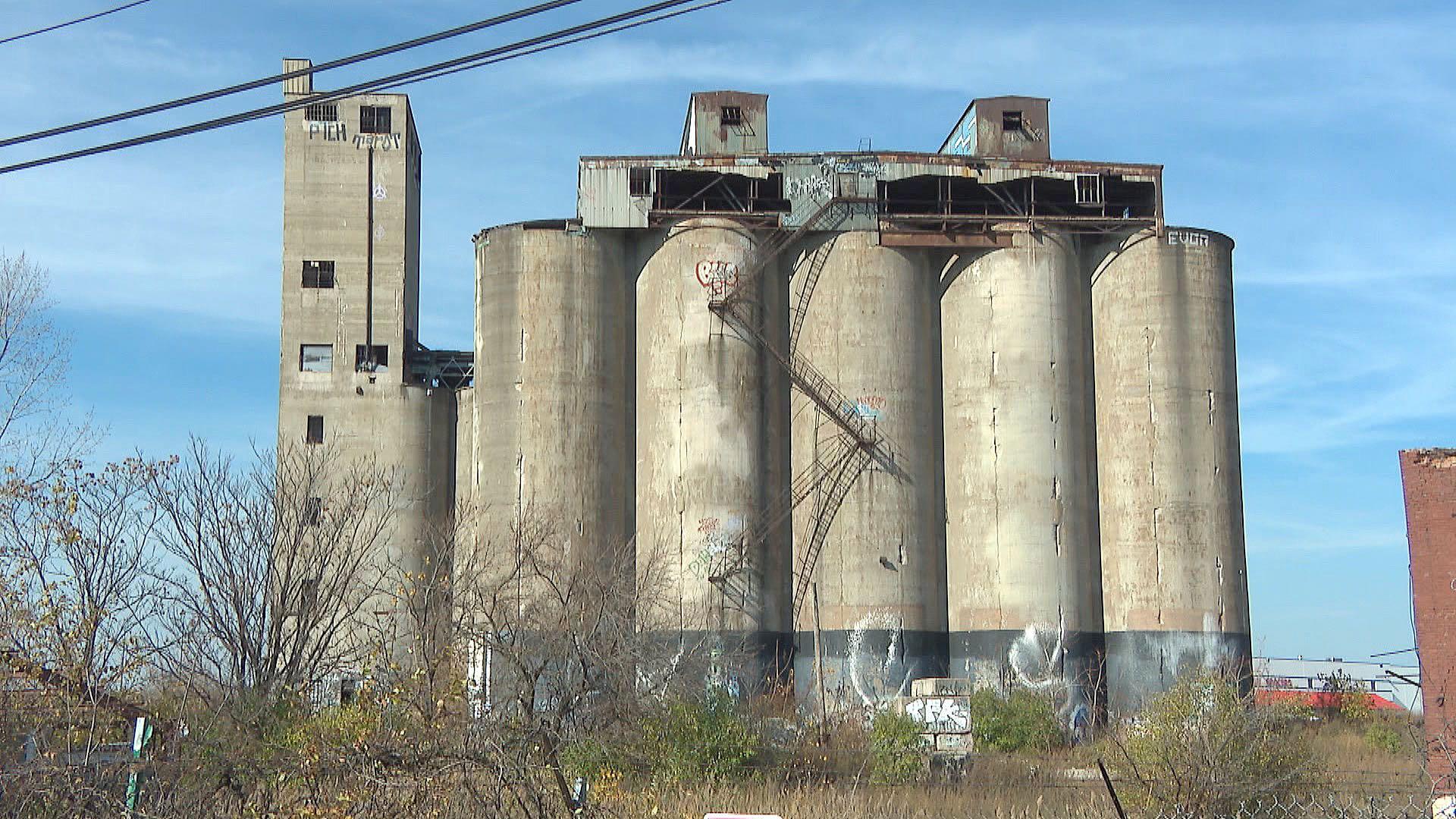 The Damen Silos, former grain elevators. (WTTW News)
More than a year after the state of Illinois sold off the abandoned 23-acre Damen Silos property to MAT Limited Partnership, the fate of the silos — a favorite of urban explorers — is still up in the air.
MAT's contractor, Heneghan Wrecking, has applied for demolition permits to begin the work of remediating the site, but on Tuesday Mayor Brandon Johnson said the city would "defer its decision on the demolition application" pending the results of required review processes by multiple federal agencies, as well as a community engagement component.
Those results, Johnson added, "may involve or raise environmental issues and mitigation measures relevant to the City's review." 
The site at 2860 S. Damen Ave. had been vacant for decades when MAT, owned by Michael Tadin Jr., bid $6.5 million to buy the property in 2022. 
Neighbors and preservationists hoped for a creative reuse of the silos, but Tadin announced his intention to tear them down and replace the structures with a to-be-determined development. Initially, Tadin said the property would be home to a headquarters for his company but has hedged on its use in later statements.
Tadin issued a statement Tuesday afternoon in response to the decision.
"We understand that the city has an important responsibility to ensure that whatever replaces the Damen Silos is done with the utmost care," Tadin said. "As the owner of the property, we share that perspective and will continue to be actively engaged with the community and all interested stakeholders. We look forward to the process moving ahead through the appropriate permitting and review channels and ultimately bringing forth a development that is part of the area's revitalization."
At an August community meeting attended by Tadin, representatives from Heneghan Wrecking and city officials, residents were reassured that in the event demolition permits were approved, the leveling of the silos would not be a repeat of 2020's "botched" implosion of a smokestack in Little Village, which sent a plume of dust into the surrounding neighborhood. 
The silos would not come down via implosion, officials said. 
Records show the Department of Buildings reviewed the demolitions permits in late August but the current status is
"incomplete."
Among the additional requirements cited by Johnson: a United State Army Corps of Engineers permit and a federal review under the National Environmental Policy Act. 
Contact Patty Wetli: @pattywetli | (773) 509-5623 |  [email protected]
---