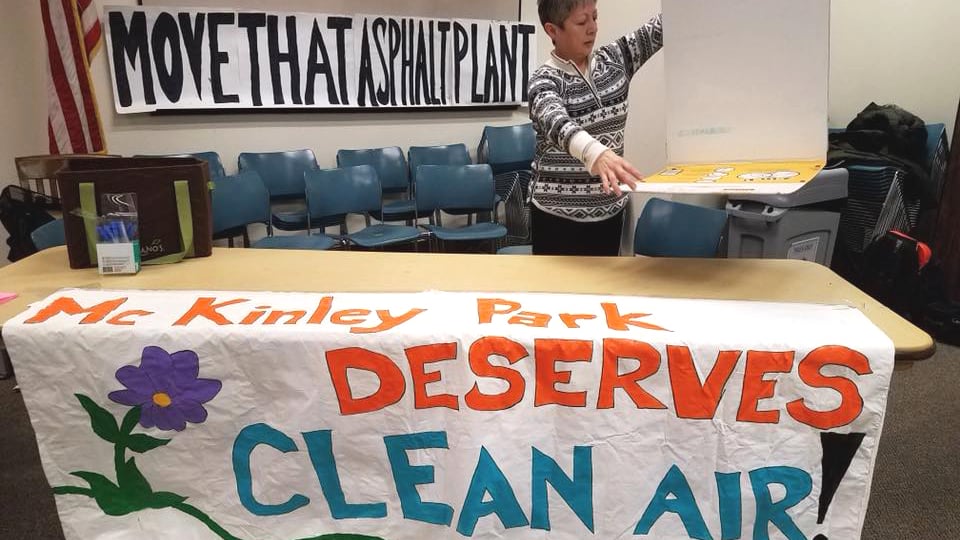 McKinley Park residents are fighting against an asphalt plant located in the midst of parks, schools and homes. (Neighbors For Environmental Justice / Facebook)
McKinley Park residents turned out for a community meeting Wednesday night, braving concerns about the spread of the coronavirus to mobilize against the environmental threat in their own backyard: a hot-mix asphalt plant operating across the street from the Southwest Side neighborhood's 70-acre namesake park, and just hundreds of feet away from schools and homes.
"This facility is completely incompatible with its surroundings," said Robert Beedle, president of Neighbors for Environmental Justice (N4EJ), the community group that's organized in opposition to the plant. "It's contrary to any common sense and logic."
MAT Asphalt began construction of its plant, at 2055 W. Pershing Road, in spring 2018 and started churning out asphalt in July of the same year. The land previously served as a storage site for cargo containers.
Residents assert they were caught completely off guard, with no prior notice of MAT's intentions. Neither the company nor the Illinois Environmental Protection Agency, which granted MAT a construction permit in October 2017, engaged with the community in advance, despite McKinley Park's designation as an Environmental Justice Area. Illinois EPA policy requires a "public participation strategy for permits, programs and actions in areas of EJ (environmental justice) concern."
"We need to be clear here, what we're talking about is environmental justice," Beedle said. "We're one of the most environmentally burdened neighborhoods in Chicago. This is a fundamental threat to our quality of life."
Dr. Susan Buchanan, clinical associate professor of environmental and occupational health sciences at the UIC School of Public Health, and director of the Great Lakes Center for Children's Environmental Health, informed meeting attendees about the health effects of asphalt production.
Asphalt is made from petroleum products that contain carcinogenic chemicals, Buchanan said, and emissions from asphalt include hazardous air pollutants and "particulate matter." The latter, she said, refers to small dust particles that are especially dangerous to pregnant women and young children, who breathe faster than adults and take in more air. Exposure to particulates can result in wheezing, coughing, shortness of breath and asthma, said Buchanan, who added that extremely small particulates can cross through the lining of the lungs and enter the bloodstream, eventually reaching the heart.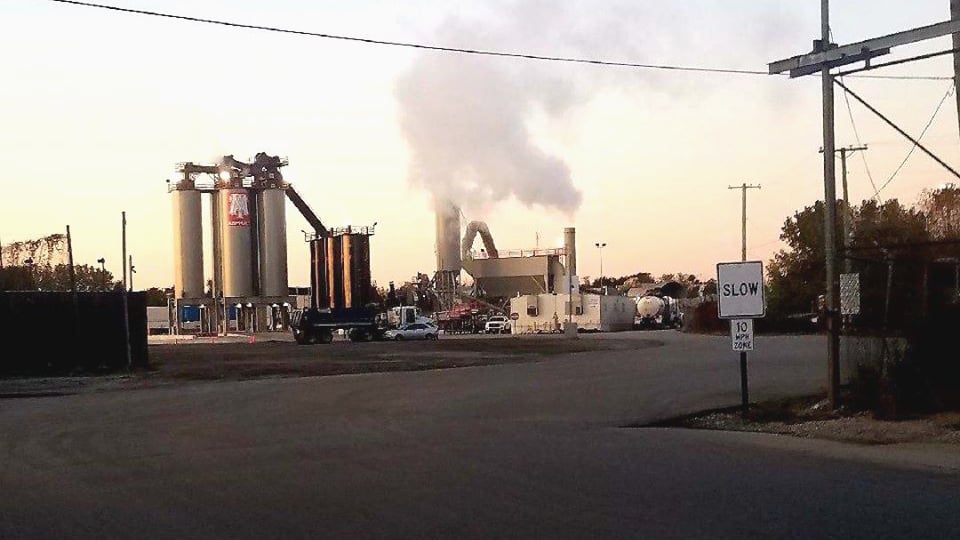 MAT Asphalt plant rose up in 2018 without any notice to neighbors. (Neighbors For Environmental Justice / Facebook)
Per a procedure outlined by the Illinois EPA, neighbors have already lodged 160 odor and visible smoke complaints, with many of those at the meeting stating they only file a report when the situation is at its worst, not every time they see or smell something. Photos were presented of trucks leaving the facility with asphalt exposed to the air (not covered with airtight tarps as stated by MAT in an FAQ section on the company's website), and video showed clouds of dust wafting from carts of asphalt moving on the plant's conveyor belt.
"We've tried to work within the system and we're not seeing any results," Beedle said. "We have no trust in the IEPA to regulate this facility and protect all of us … The IEPA has yet to do a credible investigation."
That the Illinois EPA has been decimated by staff cuts, down from 1,265 employees in 2003 to 639 in 2018, is extremely alarming, said Alfredo Romo, N4EJ vice-president.
"Illinois EPA is either unwilling to enforce this permit or unable to," Romo said. "These agencies that are supposed to protect our health have no capacity to enforce environmental law."
Frustration has mounted as N4EJ has uncovered communications, through Freedom of Information Act requests, that demonstrate a "dismissive attitude" from MAT and the IEPA toward community complaints, and also point to broken promises. MAT, for example, initially told the IEPA it had installed an air monitor on site, and then said one wasn't necessary because neighbors had privately purchased and placed several in the community themselves, according to emails that were obtained by N4EJ and presented at the community meeting.
Additional irregularities surrounding MAT's application for a long-term operating permit raised even more red flags for neighbors. MAT's original application, filed in January 2019, was cited as "incomplete" by the IEPA in that it failed to account for all emissions, according to N4EJ. The totals would have placed it in the category of "major" polluter.
The way that was resolved, Beedle said, was that MAT Asphalt submitted new emissions numbers that added up to a "minor" source of pollution.
Now N4EJ's two-year fight is coming to a head on March 23, when the Illinois EPA will hold a public hearing regarding a draft of a 10-year operating permit for MAT. Wednesday's meeting was designed to bring community members up to speed about events to date and to explain how residents can participate during the hearing's public comment portion.
For some neighbors, the meeting was the first they'd heard of MAT, whose operation is tucked next to what's left of the Central Manufacturing District's imposing brick buildings. Among them was Ken R., a lifelong community member who preferred not to provide his last name. He said McKinley Park has long borne the brunt of industrial uses that would never be allowed elsewhere in the city, recalling the days when the Department of Streets and Sanitation operated an incinerator down the road. "There would be layers of soot," he said.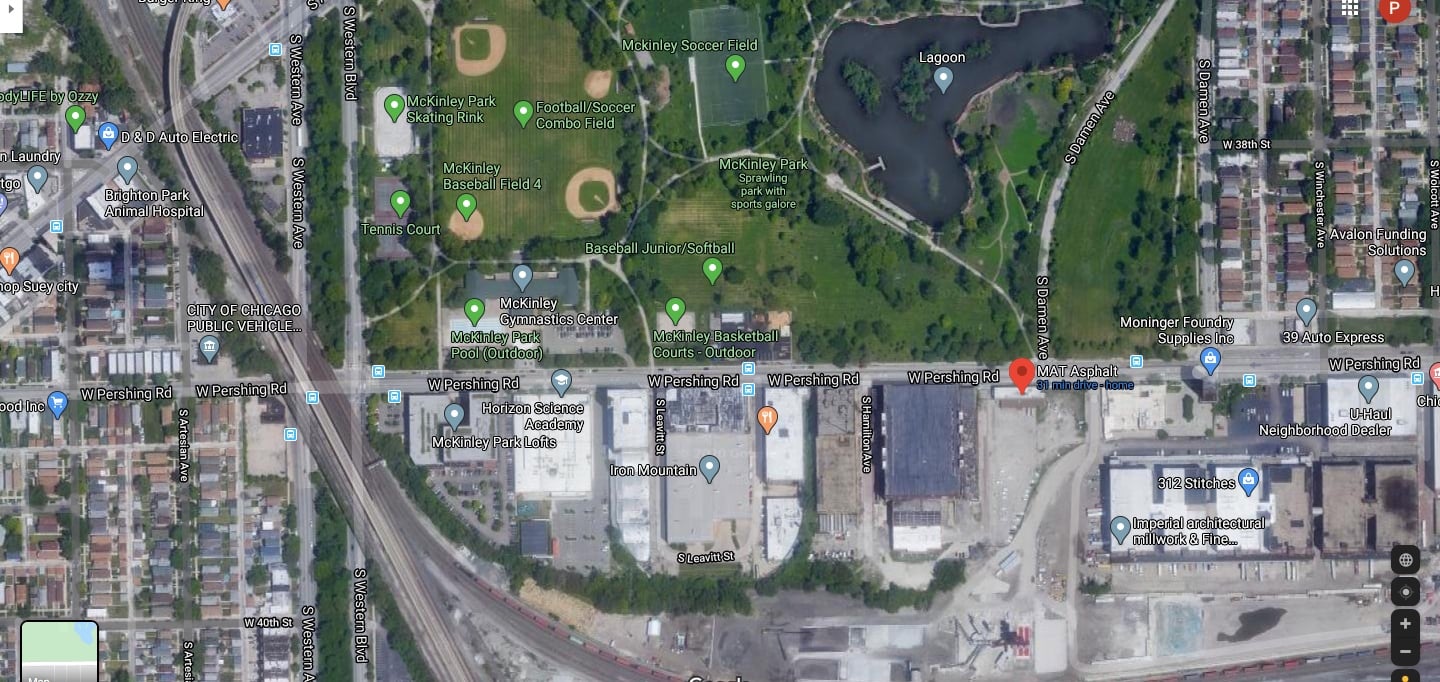 A satellite image of the asphalt plant, and its proximity to parks, schools and homes. (Google Satellite)
Responding in a statement, MAT co-owner Michael Tadin said: "MAT Asphalt hears the community loud and clear and we share the community's concerns. That is why we have invested in the most sophisticated pollution-control systems available. It's important to understand the difference between a newly constructed facility, such as MAT Asphalt, and facilities from a generation or two ago.
"Thanks to modern environmental control systems, the MAT Asphalt plant is one of the most environmentally friendly facilities in the nation. Our emissions are less than one-fourth the allowable level, according to the IEPA draft permit issued in late 2019. The air quality is well within legal limits across the board: less than one-fifth the allowable level for carbon monoxide, less than one-sixth for particulate matter, and less than one-fifth for volatile organic matter (VOM)." [N4EJ disputes these figures, arguing that MAT was not operating at capacity when emissions were measured.]
"Any odors from asphalt plants, while sometimes noticeable in truck loading, pose no danger to facility employees or the community," Tadin continued. "We remain committed to being a good neighbor, and look forward to presenting the facts about MAT Asphalt's responsible and environmentally sound operations at the Illinois EPA permit hearing."
Attorney Keith Harley, director of the Chicago Environmental Law Clinic, has been assisting N4EJ in its battle against MAT. Having attended Illinois EPA hearings for 30 years, Harley said it's "extremely rare" for the agency to deny a permit. But the hearing is an opportunity for community members to raise issues about the draft permit, and that could result in changes affecting the conditions under which MAT can operate. 
"The community needs to say, 'Not enough,'" when it comes to guidelines and restrictions laid out in the permit, Harley said.
Comments can be made in person at the March 23 meeting, set for 6:30 p.m. at Horizon Science Academy (2245 W. Pershing Road) or they can be submitted in writing until April 22.
Beedle urged neighbors to make a show of force.
"We need everyone in the community to come together. Turn out," he said. "We have to really fight to get to something better than what we have now. This is our chance, and it's not going to come again for quite a while."
Contact Patty Wetli: @pattywetli | (773) 509-5623 |  [email protected] 
---