In 1963, Steve Schapiro played Monopoly with a young Muhammad Ali then known as Cassius Clay. He lost. He shot David Bowie for album covers, and he took photographs on movie sets of legendary Hollywood films. 
But before all that, Schapiro was a journalist embedded in the civil rights movement. He took memorable pictures of Martin Luther King Jr. and traveled with writer James Baldwin. 
He told us about what he witnessed in the United States back then — and what he is seeing today.
TRANSCRIPT
Marc Vitali: Steve Schapiro was introduced to the civil rights movement by a literary figure he was photographing.
Steve Schapiro: James Baldwin was really my introduction into civil rights. It's the first time I met civil rights leaders.
I'd started freelancing for Life magazine, and in 1962 I read this essay that James Baldwin wrote for the New Yorker which eventually became the book "The Fire Next Time," and I was so taken by it that I asked Life if I could do an essay on him. They agreed and he agreed and so, starting in January 1963 I traveled with him, starting in Harlem and then going into the South, into North Carolina, into Mississippi, into New Orleans.
Vitali: It was a new world to this native New Yorker.
Schapiro: We spent a month traveling and it just was something I had never expected and after that I started spending a lot of time in the South and in cities and in covering various events … I was in Clarksdale with John Lewis. I followed of course the Selma march and things like that.
Vitali: The photos he took of James Baldwin and the civil rights movement illustrate a recent trade edition of Baldwin's book "The Fire Next Time." Renewed interest has brought this edition back to the bestseller charts.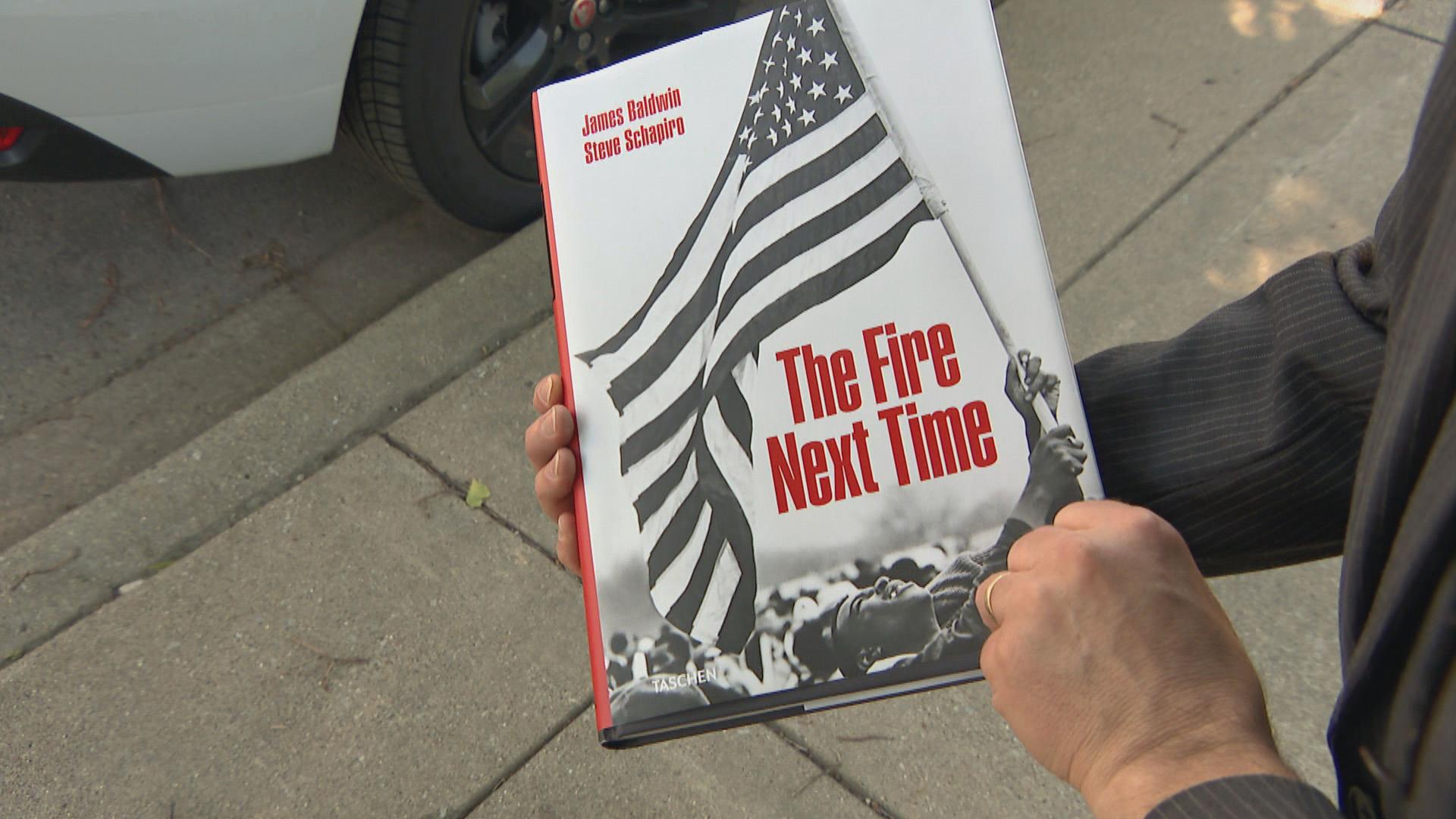 Schapiro reflected on his acquaintance with Baldwin.
Schapiro: Baldwin was one of those people who are always on the brink of crisis, so everything seems to be a crisis and in a way it helps I think feed him … He just was so quick and so smart, but basically we never made an airplane by more than a minute … But everywhere we went everyone realized what an intellect they were talking to.
We actually went to Medgar Evers' house and as a joke, Medgar Evers put a towel over the license plate of our car, and it was really a joke because we knew we were under surveillance. And several months later he was shot and killed in the driveway of his house. So things were like that. It was something I had read about but you don't learn things only about reading. When you see them in actuality it really changes everything.
There was a notorious ice cream parlor in Durham, North Carolina, which was really very, very racist, and they had a sign on one window which said Colored Entrance Only, so we did a picture right in front of that [with James Baldwin].
We walked down the street to a storefront that was an Islam meeting ground and we did a picture in front of that as well.
My favorite picture in 1965 is this middle-aged Black woman with this sign "Stop Police Killings." And it's so relevant today.
Vitali: In recent years he's photographed Black Lives Matter rallies. 
Last year a WTTW photographer captured Steve Schapiro covering a climate change march in Grant Park. Now 85 years old, he sat out the most recent protests — but he recognizes something in them.
Schapiro: We are on the cusp of something which can be an enormous movement and can change this country in a very, very positive way, but it's still a big question as to whether that will happen or whether it will just pass by again.
But the idea that suddenly in 30, 40, 50 cities in America, thousands of people are marching and the entire country is like that, that's an amazing thing in our time period, amazing. And it's a question of a big hope as to whether that will continue and whether that can really change what we have here because this country needs a big change at this moment.
---
More on this story
Watch another story we did on Steve Schapiro below. This one includes his photos of David Bowie, Andy Warhol and many others.
Follow Marc Vitali on Twitter: @MarcVitaliArts
Note: This story was first published on June 18, 2020. It has been updated.