A young black woman named Arionna plans to enroll in Western Illinois University's law enforcement program now that she's completed her senior year at Gaby High School, with the hopes of becoming a police officer.
Darryl, whose passion for music flourished during his time at Chicago Tech Academy, wants to teach music.
Quamasia, of Richards Career Academy, wants to continue "to make change in her community" by becoming an English teacher.
Harlan Community Academy's Marshai wants "to be your guys' next president."
On Sunday, some of Chicago Public Schools more than 35,000 high school graduates shared their dreams for the future – of becoming a computer scientist, journalist, neonatal nurse, an urban planner – during an hourlong virtual graduation, the capstone to a senior year amputated by the coronavirus pandemic.
"The halls have vivid memories for many of us, and I'm proud of my peers for accepting the hurtful reality that we may never walk through them again," said Janice, the valedictorian for North-Grand High School.
More: 'I Want It To End On a High Note': CPS Valedictorian Reflects on 'Weird' Year
The class of 2020 also saw the virtual studies of its senior year eclipsed by real-life lessons about racism and police brutality that galvanized a movement — one that could prove to be a watershed moment in not only their young lives, but for the nation.
Whether the students took part in protests or not, commencement keynote speaker Oprah Winfrey told the graduates they are being called to "reckon with our country's past and determine a more equitable future for black and brown people" and "to insist that our nation lives up to its ideals and comes to terms with all the ways racism has been written into our laws, embedded in our institutions, imprinted on our culture."
"Y'all are never going to forget this year. The year you graduated, and we were locked in our homes for months, distancing ourselves from one another to save lives. It's also the year, the world bore witness to life being taken: George Floyd's life, taken in plain view. We bore witness thanks to a video that echoed around the globe, recorded by 17-year-old who dared to keep filming," Winfrey said. "This is the calling for you, class of 2020, the call to courage and tenacity. The lesson is right there in front of you. Don't give up on the truth; it's worth fighting for. I understand the inclination to despair, the awful sense of intractability of oppression because we know that the knee on George Floyd's neck is no different from the noose weaponized to terrorize black communities for decades, and no different from the chains used to enslave black Americans for centuries."
Winfrey told graduates to pick a problem ("the list is long," she said) and use their education and talents to help to solve it. "Find your cause and fight for it," she said.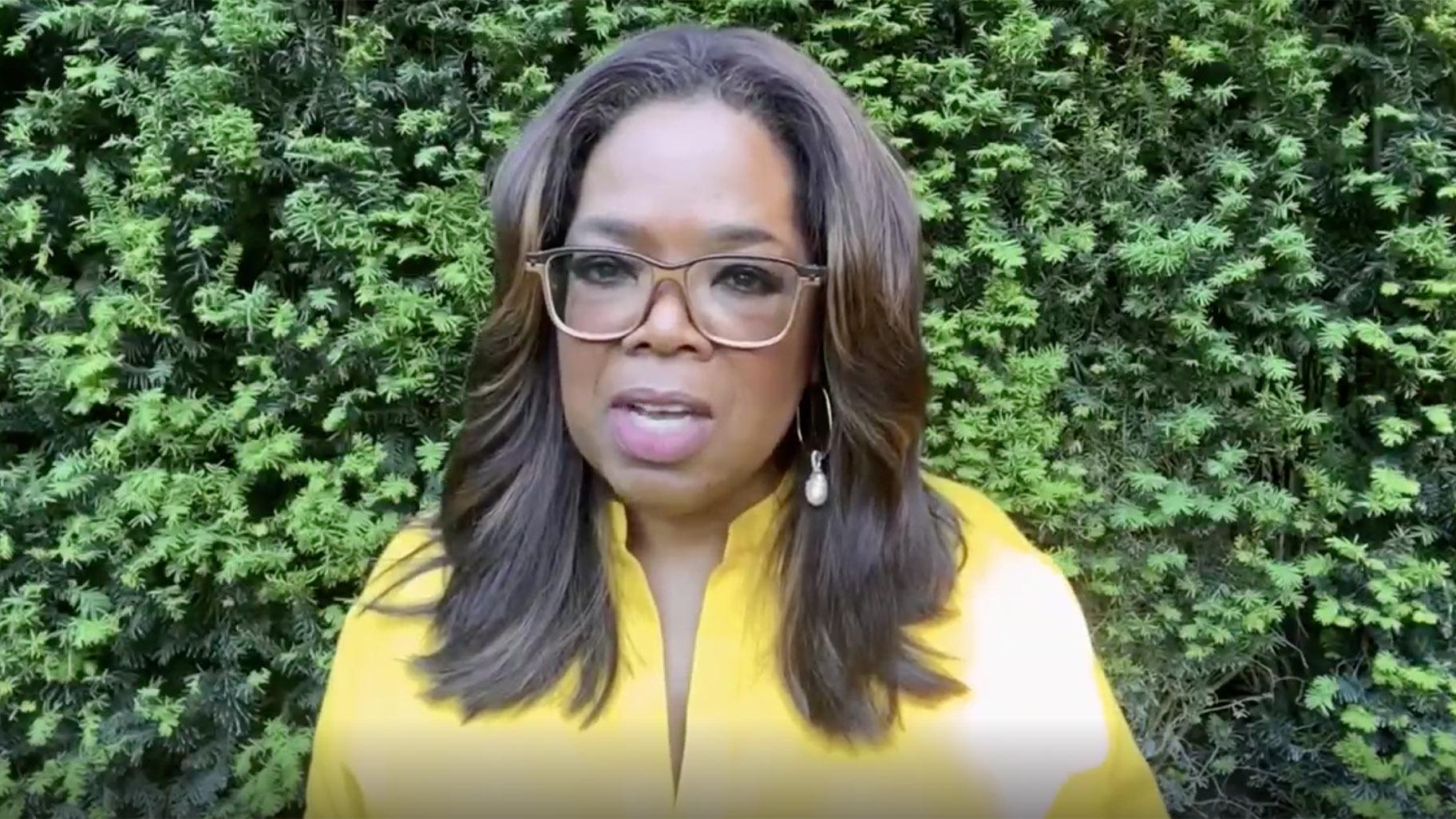 Oprah Winfrey delivers the keynote address to Chicago high school graduates during a virtual celebration Sunday, June 14, 2020. (Chicago Mayor's Office / Facebook)
"I'm hopeful because you — your generation — saw that knee on the neck and not only knew how wrong and vile it was, you took to the streets to stand up and proclaim it so," Winfrey said. "At the same time that you're graduating from high school, you're also stepping into adulthood, a passage that I'm sure many of you have anticipated with joy, with excitement, with uncertainty, maybe even a tiny bit of fear. What does it mean to be an adult? It means to take responsibility for who you are and how you choose to show up with your talents. Will you use them in service to your highest good? What will your essential service be? The next few years about figuring that out, and each of you in your own time will come to answer those questions."
Other celebrities made appearances too.
"Hamilton" star Miguel Cervantes served as emcee of the event, called "Graduation 2020: For Chicago. By Chicago."
Sports celebs had their turn at bat: Bulls forward Daniel Gafford told the grads to "keep grinding," Chicago native and Chicago Fire defender told them to never let anyone "slow you down," White Sox Tim Anderson's family joined him to give well wishes, and the Chicago Sky's Diamond DeShields told them they were "incredible."
Stars from the iconic improv theater The Second City cracked jokes in an original song with the refrain "it ain't all bad" (a virtual ceremony "ain't all bad" because there's no smelling the body odor from 1,000 teenagers crammed together under one roof), but the tune mostly rang poignant. "It ain't all bad," the comedians sang. "In the dark you can see the light" and "you're the class who's going to save us all."
Other musical numbers featured the Dunbar Drumline, and a socially distanced, on-stage number by members of the Kelly High School jazz band. Both would have looked like any other videotaped performance of high school musicians were it not for the drummers wearing masks (the trombone and sax players went without face coverings, for obvious reasons).
Graduates may have moved the tassels on their caps, but they got one more homework assignment from Chicago Mayor Lori Lightfoot, who said she wanted her speech to focus not on 2020 but on the lessons learned this year that the students can apply to the next decade of their lives.
"Not only has your world been turned upside down by a global pandemic, but we've recently experienced the pain and trauma of the murder of George Floyd, which has forced us to reckon with the inequality and injustice that very much is a part of our past and lingers in our present. The question is how do we stop it from being part of the future? Our future. Your future," Lightfood said. "So as you look ahead to the months and years that lay before you, I hope that you will ask yourself: How can I do my part to contribute to a better tomorrow for myself, my family and my community?"
Lightfoot challenged them to take a "2020 pledge" and write her – at [email protected] – "about what you want 2030 to look like, and what you are personally committed to doing to turn your aspirations into reality."
Follow Amanda Vinicky on Twitter: @AmandaVinicky
Note: This story was originally published Sunday, June 14, 2020. It has been updated with video.
---