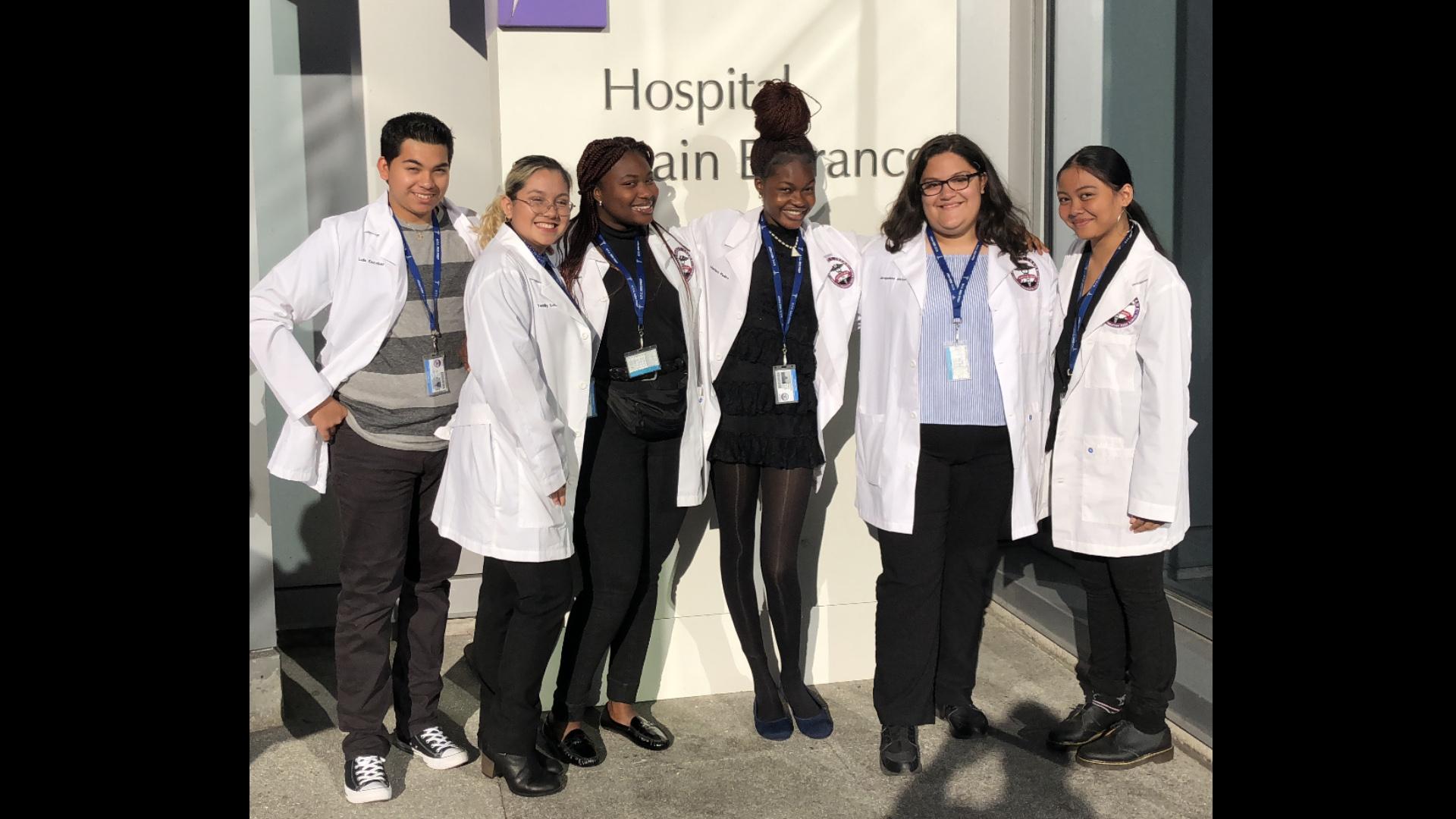 Chasity Kasir, far right, and her Health Occupations Students of America teammates had the opportunity to see a live open heart surgery. (Photo courtesy Chasity Kasir)
In April, during National Student Leader Week, high school senior Chasity Kasir recorded a video for her classmates, reciting a quote she said has always inspired her: "Great leaders don't set out to be a leader … they set out to make a difference. It's never about the role – always about the goal."
Academics have always come first for Kasir, a Chicago native who will graduate from Richard T. Crane Medical Preparatory High School this year as its valedictorian. But she said finishing at the top of her class was never actually her goal.
"It wasn't about the title, it wasn't about being No. 1," she said. "If I'm OK with how hard I work, that's what matters to me. And it shows through my years how hard I worked. And being valedictorian in addition to my hard work, it's just like an homage, a recognition. But that wasn't a goal. My goal was to be the best I can be as an academic student and push myself even more."
The daughter of Indonesian immigrants, Kasir said the traits of hard work and respect were instilled in her from a young age. She carried those with her during her four years at Crane – a magnet school on Chicago's Near West Side that helps prep students to enter the medical field through specialized classwork and internships.
Kasir spent the bulk of her high school career studying in labs, learning from doctors and nurses at Rush University Medical Center, and participating in various clubs like the National Honors Society and the Health Occupations Students of America.
But like students across the city, state and country, the COVID-19 pandemic forced Kasir into the new reality of remote learning. No more labs. No more in-person classes or club meetings. And no graduation – at least in the traditional sense.
Chicago Public Schools on Sunday will hold a virtual citywide graduation ceremony featuring Oprah Winfrey and "Hamilton" star Miguel Cervantes. And Crane will hold a graduation parade this weekend for seniors to celebrate "together" — in the new, socially distanced sense of the word.
Kasir admits this isn't the way she imagined her senior year would end.
"I just had this vision or this picture in my head that I'd have prom, I'd be celebrating with my friends and my friends and I would be graduating with our caps and gowns in a beautiful auditorium," she said.
But she does understand her class is part of something unique that goes well beyond Crane.
"I just recognize that I'm not going through this alone," she said, "my school is not going through this alone, it's more than a citywide thing. Everybody who's a senior at this time is going through the same thing."
Kasir hadn't initially planned to go to Crane. Her older brother enrolled at the school, but a profession in medicine wasn't yet top of mind for her. She applied to multiple schools, but ultimately did end up at Crane, where she quickly developed a passion for the school's medical focus.
During her freshman year, she interned at Rush, an experience she said opened her eyes to what it takes to be a doctor. By her junior year she was shadowing doctors and nurses and talking directly with patients, all while serving as president of Crane's chapter of the National Honors Society and organizing a student blood drive through the American Red Cross.
But senior year presented a different challenge: staying motivated while finishing up her high school days working from home.
"It's been a very weird time," Kasir admitted. "At first, remote learning, I did not like it at all. But through this experience I learned how to time manage. I have a whole day to myself and I have to stick to being motivated and pick myself up in the morning to actually start doing work."
Kasir tries to keep her learn-from-home days the same as any other normal school day: get up, get her work done and relax later.
"It's my senior year, I want it to end on a high note," she said. "And no, this is not what I wished for or what I hoped for or what I imagined in a graduation or to graduate as a senior, but just to do what I'm supposed to do … like I would do this when I'm in school, so bring that motivation at home to online learning."
After graduation, Kasir will go to the University of Chicago, which she'll attend on a full scholarship. She hasn't yet decided on a major, but plans to begin by studying biology in the pre-med track.
While she's happy to stay close to her family, Kasir said the main reason she chose UChicago was because of the enthusiasm she heard from current students there as they spoke about their studies.
"I want to have that same ignition," she said, "that same fuel to that fire to be able to talk about my passion for hours and hours and hours."
Contact Matt Masterson: @ByMattMasterson | [email protected] | (773) 509-5431
---