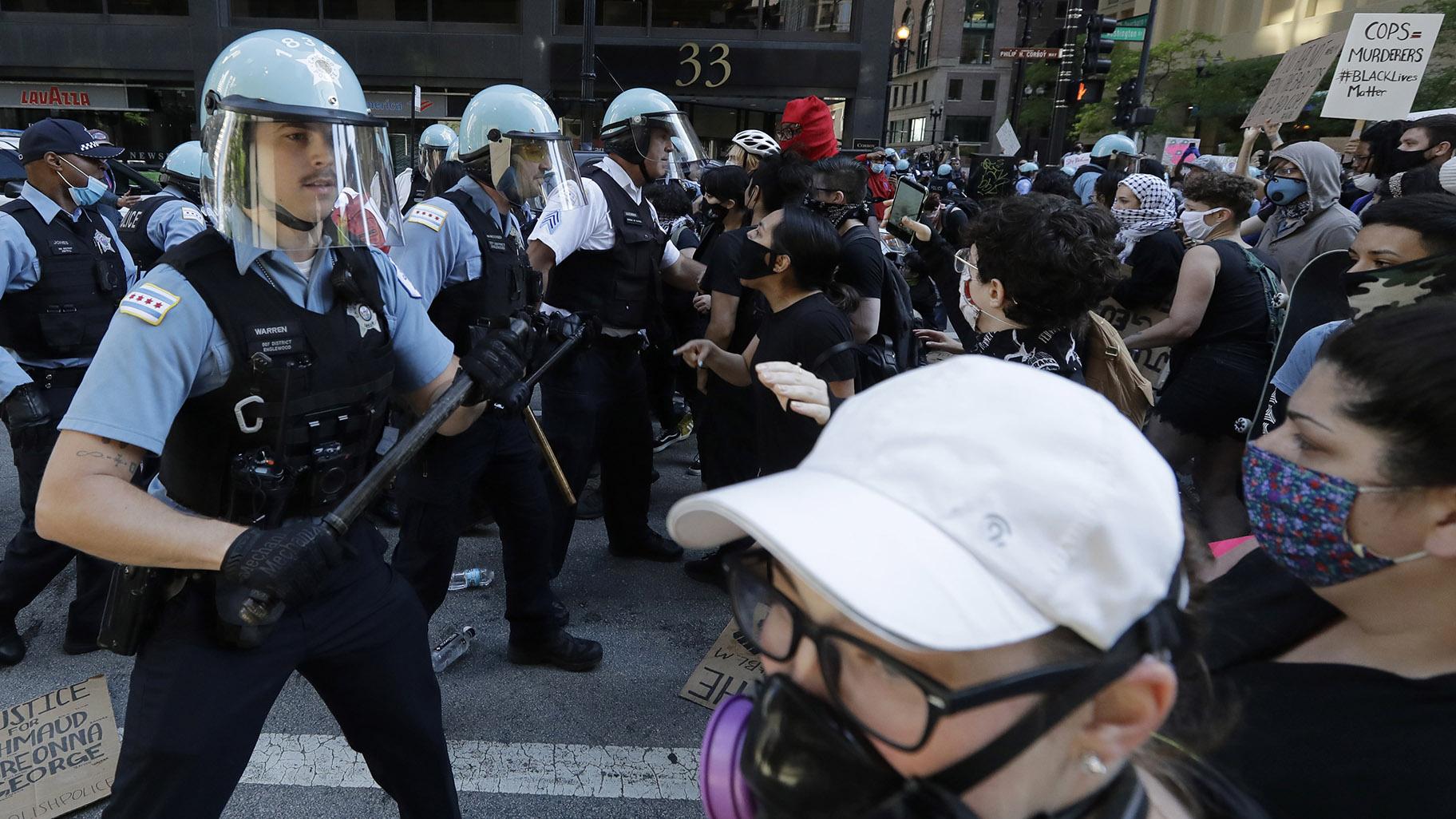 Chicago Police officers and protesters clash during a protest over the death of George Floyd in Chicago, Saturday, May 30, 2020. Floyd died after being taken into custody and restrained by Minneapolis police on Memorial Day in Minnesota. (AP Photo / Nam Y. Huh)
As peaceful protests entered their ninth day in the city, Chicago police announced Saturday they had arrested 1,258 people in three days during the unrest that swept Chicago after the death of George Floyd in the custody of Minneapolis police.
More than half of those arrests were related to criminal conduct tied to looting and destruction of property, officials said. Officers recovered 135 guns and made 62 arrests on gun-related offenses, officials said.
Read: 'What Are We Going To Have Left In Our Community?' Aldermen React with Panic, Sorrow to Unrest
In addition, 130 police officers were injured between 5 p.m. May 29 and midnight May 31, department officials said. The unrest began to quiet on June 2, officials said. 
Several officers required stitches, while one officer suffered a broken arm and another had a heart attack, according to the department.
During the final weekend of May, 85 people were shot in Chicago, including 24 people who died, according to police.
Despite the unrest and the continuing coronavirus pandemic, overall crime in Chicago fell by 20% in May 2020 compared to data from May 2019, according to statistics released by Chicago police.
However, that overall drop comes as the number of shootings rose 71% in May, as compared with a year ago. Homicides were also up by about 60%, with 85 people killed.
During the three-day Memorial Day weekend, 49 people were shot, and 10 killed, marking the city's bloodiest Memorial Day weekend since 2015.
Since the beginning of the year, shootings have risen nearly 30%, according to police data. Homicides are up 25% in 2020, according to the police department.
Since Gov. J.B. Pritzker issued a stay-at-home order on March 21 in an effort to stop the spread of the coronavirus, officers dispersed more than 11,400 groups through May 30. Officers issued 45 citations to those who refused to comply with the order, and 27 people were arrested, officials said.
Approximately 4% of the department's 13,400 officers tested positive for the coronavirus through May 30. More than half of the 562 officers who were diagnosed with COVID-19 recovered and are back at work, according to the department.
Contact Heather Cherone: @HeatherCherone | (773) 569-1863 | [email protected]
---