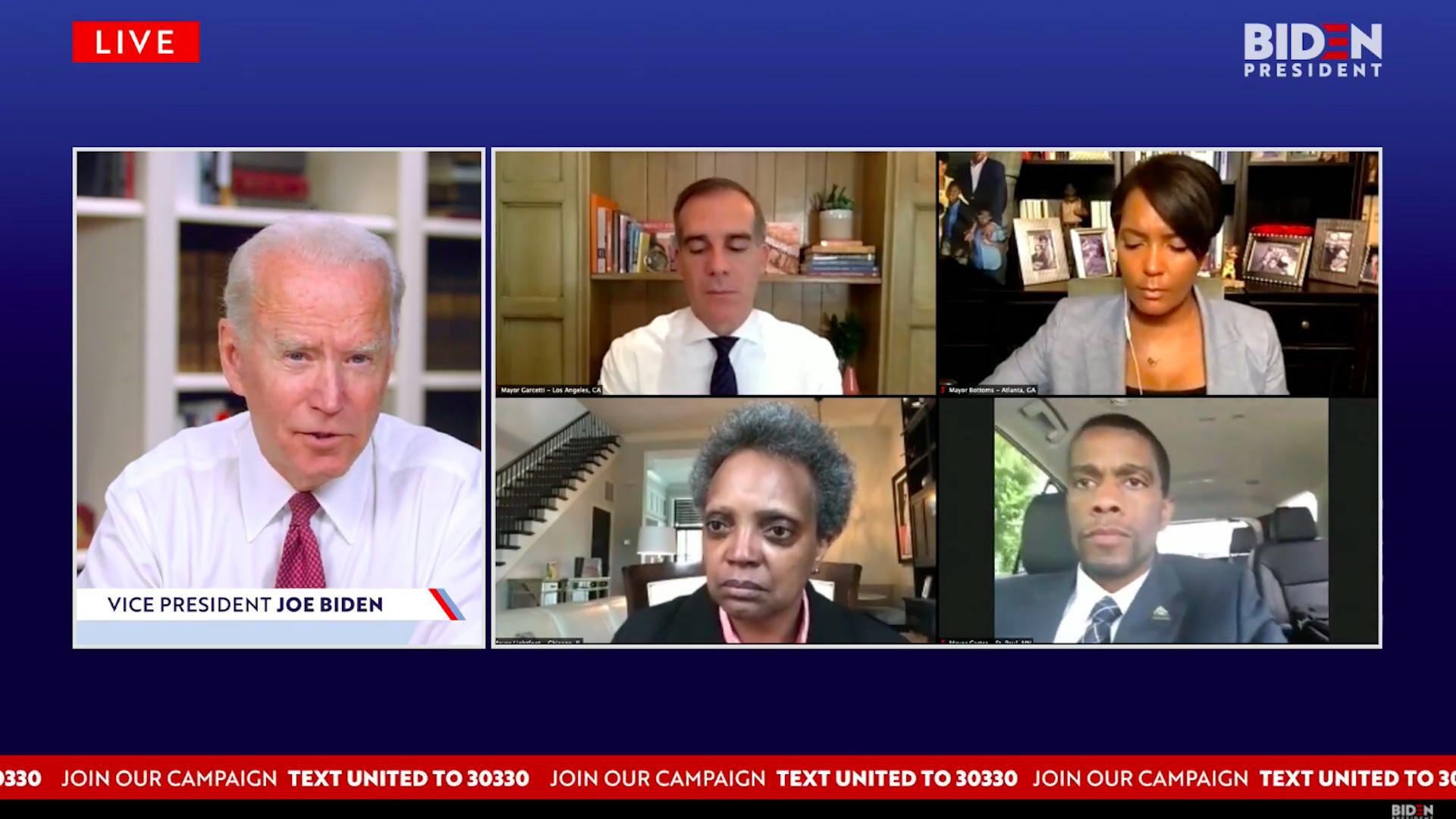 Chicago Mayor Lori Lightfoot joins Democratic presidential candidate Joe Biden and other mayors Monday, June 1, 2020 to discuss protests in the wake of the police killing of George Floyd in Minneapolis. (Joe Biden / YouTube)
Referencing Chicago's own "dark days" with police violence, Mayor Lori Lightfoot said additional training and improved relationships between officers and the community are needed following a weekend in which hundreds were arrested for rioting and looting while protesting the police killing of George Floyd.
Lightfoot and other mayors joined a virtual roundtable Monday with Democratic presidential candidate Joe Biden as protests continued around the country in the days since Minneapolis police Officer Derek Chauvin was arrested and charged in Floyd's death.
"I'm angry," Biden said, "and the fact is we need that anger to compel us to move forward, it helps us to push through this pain to the other side to hopefully greater progress, equality and inclusion."
The hourlong event, which was livestreamed on Biden's YouTube channel, also included Atlanta Mayor Keisha Lance Bottoms, Los Angeles Mayor Eric Garcetti and St. Paul Mayor Melvin Carter.
Lightfoot believes the "vast majority" of protesters are simply trying to express their free speech rights, but she said they must be separated from others resorting to violence and looting.
"Look, we've had our fair share of dark days in Chicago around police violence and shooting," she said. "But I do think it's important for us to not allow forces of darkness to conflate people's righteous anger and need to express themselves in their protected First Amendment rights."
Responding to a question about what reforms are needed to prevent situations like this from happening again, Lightfoot stressed not only additional police training, but also involving the community in that training to help officers understand that the "most precious and valuable tool is constitutional engagement with members of the community."
She also recognized that the widespread criticism of the Minneapolis police officers involved in Floyd's death, both from the public and police leaders, should be recognized as a significant step.
"It wouldn't have been that long ago that something like this happened anywhere that we would not have heard from the police – universal condemnation from police officers, police chiefs, police unions – as well as the community," she said. "That to me is momentous and I don't want to lose sight of that in the context of the pain that we're all feeling."
Chicago police said they arrested nearly 700 people on Sunday as protests continued into the night across the city. Lightfoot implemented a curfew, restricted access to downtown and on Sunday evening shut down CTA bus and train services until Monday morning. Chicago Public Schools suspended its food distribution sites Monday out of concern for the safety of students, their families and workers.
Similar protests played out in cities throughout the U.S. over the weekend.
President Donald Trump on Monday criticized state governors on a video call, calling their response to the protests "weak" and telling them to "get much tougher." Illinois Gov. J.B. Pritzker responded to Trump, saying the "rhetoric that's coming out of the White House" is making the situation "worse."
Trump responded to Pritzker saying, "I don't like your rhetoric much either."
On his own video call, Biden asked the mayors what assistance they would like to see from the federal government should he be elected president in November.
Lightfoot called for additional funding for small businesses who don't have the cash flow or lines of credit to stay afloat amid the COVID-19 pandemic and the continuing protests.
"They're the ones who have been devastated," she said, "and are devastated even more now."
Contact Matt Masterson: @ByMattMasterson | [email protected] | (773) 509-5431
---