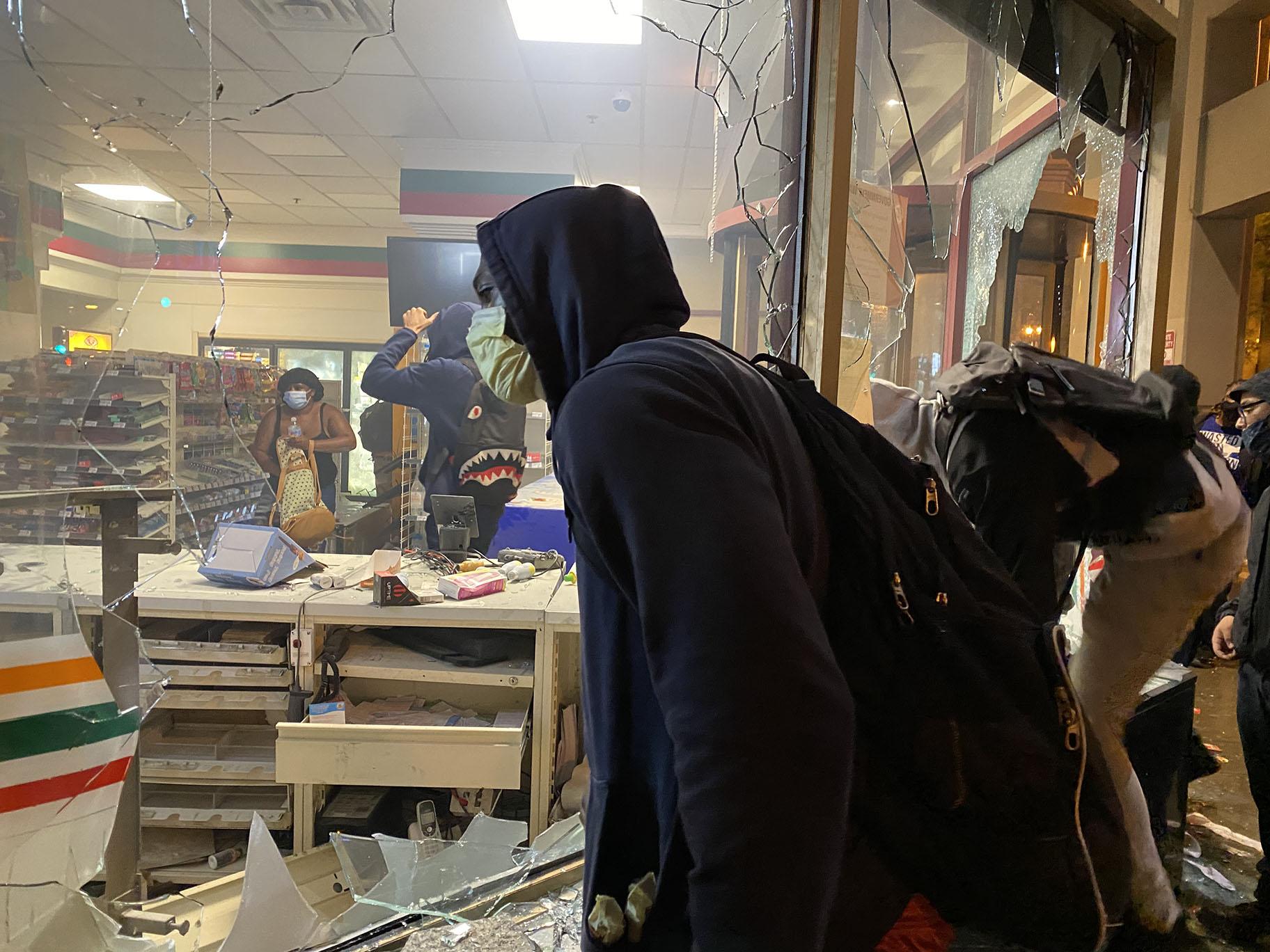 Protests on Saturday turned violent as some looters smashed store windows and stole merchandise. (Hugo Balta / WTTW News)
Looters pillaged businesses throughout Chicago over the weekend, setting fire to stores, breaking windows and taking off with shoes, clothing, cellphones and liquor.
City leaders said looters should not be allowed to commandeer the message of injustice taken to the streets by protesters who have been expressing outrage against the killing of a black man, George Floyd, by a Minnesota police officer.
"If we continue to talk about the fringe element who's tried to hijack this and not about the men and women who died in systems that have allowed for their deaths to go unpunished, we have learned nothing from this," Cook County State's Attorney Kim Foxx said Sunday afternoon. "These people who come in to try to disrupt (our home, Chicago), the organized elements who care not about systemic issues, but shoes for profit. That's not what this is about."
Foxx, whose Republican opponent Patrick O'Brien has accused her of being too lenient on criminals, said her office will "hold accountable those who are seeking to exploit this moment."
Photos: Protesters March for Third Day in Chicago, Clash with Police
Like Foxx, Chicago Mayor Lori Lightfoot cast looters as opportunists who were part of a coordinated enterprise, though neither would give specifics as that's still under investigation.
"You don't bring a call hammer or shovel, or bottles of urine or accelerants — Molotov cocktail —  unless you're up to something other than peaceful protest. And so, dealing with that element certainly became a challenge, and on the heels of tamping that down, we saw literally people coming in carloads and with U-Haul vans, to loot and destroy and damage our businesses," Lightfoot said Sunday. "What I can tell you at this point is we are in partnership with the FBI, the U.S. attorney's office, the ATF — particularly their bomb and arson unit. There's no question that both the people who were fighting and bought the weapons, that was absolutely organized and choreographed. It seems also clear that the fires that were set both to the vehicles and buildings, that that was organized."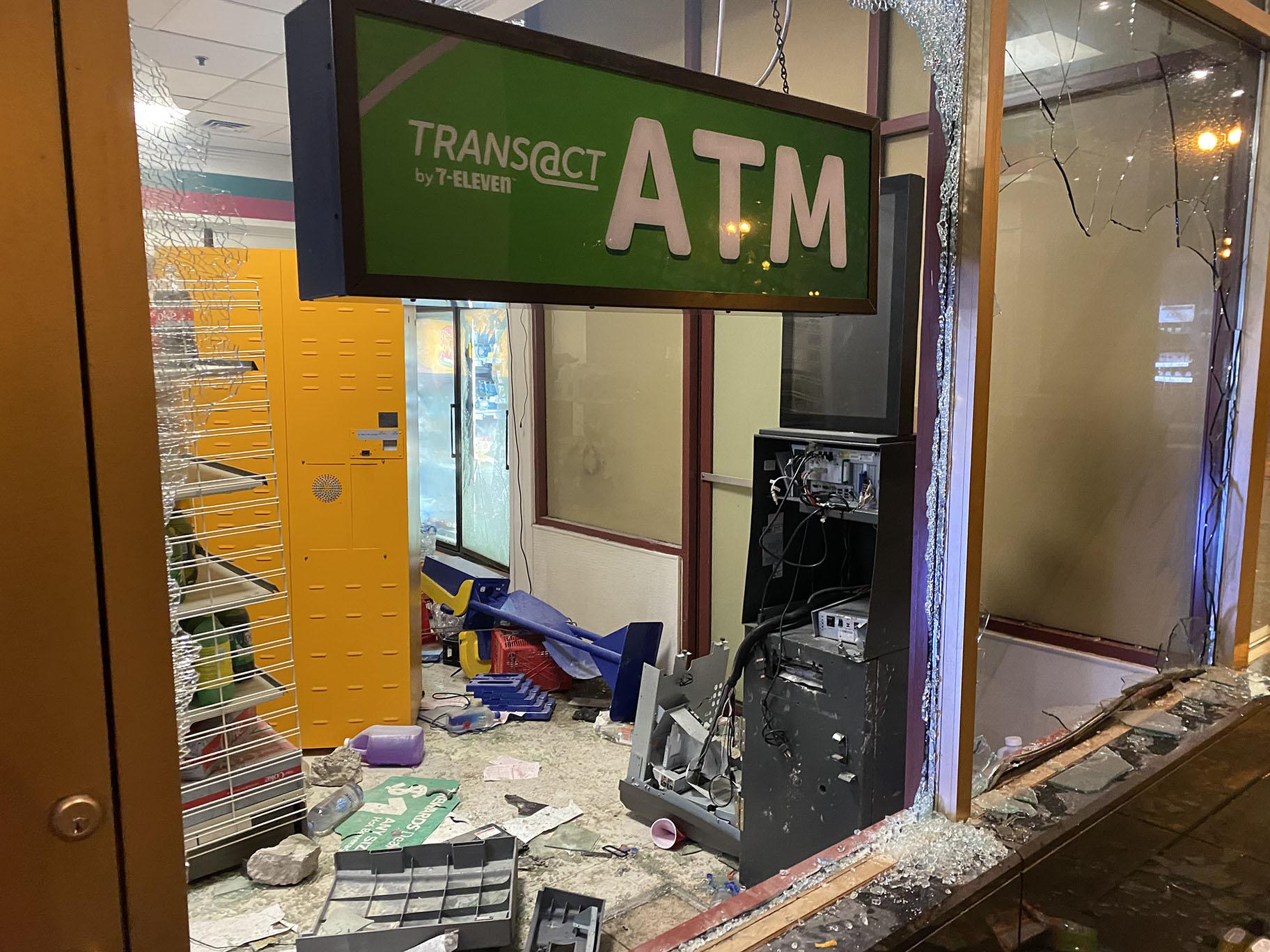 An ATM in the Loop is destroyed and windows are smashed on Saturday, May 30, 2020. (Hugo Balta / WTTW News)
Lightfoot said there were instances of people driving to stores with U-Hauls or caravans of cars to fill with stolen merchandise, assembly line style.
Black women yield considerable political power in Chicago. Lightfoot, the city's first black woman to be elected mayor, has been in that office for just more than a year, while Foxx is expected to win a second term as state's attorney in November. Her mentor, Cook County President Toni Preckwinkle, is also the first woman and the first African American to chair the Cook County Democratic Party. Lieutenant Gov. Juliana Stratton is also a Chicago resident.
On Sunday, each gave impassioned remarks about systemic racism that precipitated Floyd's death and helped to fuel the angry response to it.
"I stand with those who have taken to the streets to peacefully protest and raise their voices against police brutality, white supremacy and anti-blackness," Stratton said. "To those of us who live it, we know the anger is deeper than the almost nine minutes of Officer Derek Chauvin squeezing the life out of George Floyd. Those nine minutes symbolized centuries of oppression. A history of disenfranchisement, lynchings and murders. It symbolized decades of disinvestment, and an unwillingness to hear our cries for justice, equity and opportunity."
Despite their unified front – Lightfoot, Foxx and Stratton appeared together along with Gov. J.B. Pritzker at a press conference Sunday afternoon to announce the mobilization of the Illinois National Guard to help to serve as backup to police – there's a burgeoning rift among Chicago Democrats about what's happened, and what to do about it.
Aldermen, including Anthony Beale of the 9th Ward, say that Lightfoot erred by not having a plan in place to ensure safety in the city's neighborhoods, where he said looters went after they'd wiped clean the Loop and central business district.
Beale told WGN-TV that looters ransacking stores are "thugs" who need to be arrested, and called on Pritkzer to bring in 3,000 guard soldiers, saying that the 375 who came to the city on Sunday were not enough.
Beale also said Lightfoot should move up Chicago's curfew to 8 p.m., as 9 p.m. is too late.
But 33rd Ward Ald. Rossana Rodriguez-Sanchez questioned the cost of deploying the National Guard.
"Chicago doesn't need the National Guard. We need to meet the urgent needs of the people. We need good paying jobs, housing, social services, Medicare for all and a real safety net. We also need to dismantle white supremacy. Militarization is not the answer," she wrote on Twitter.
She also questioned the narrative of "coordinated action to destroy and loot Chicago."
"Coordinated by who? Is it a national coordination? I think people are angry as hell and lack access to basic resources and we need to pass legislation that will better peoples lives," she wrote.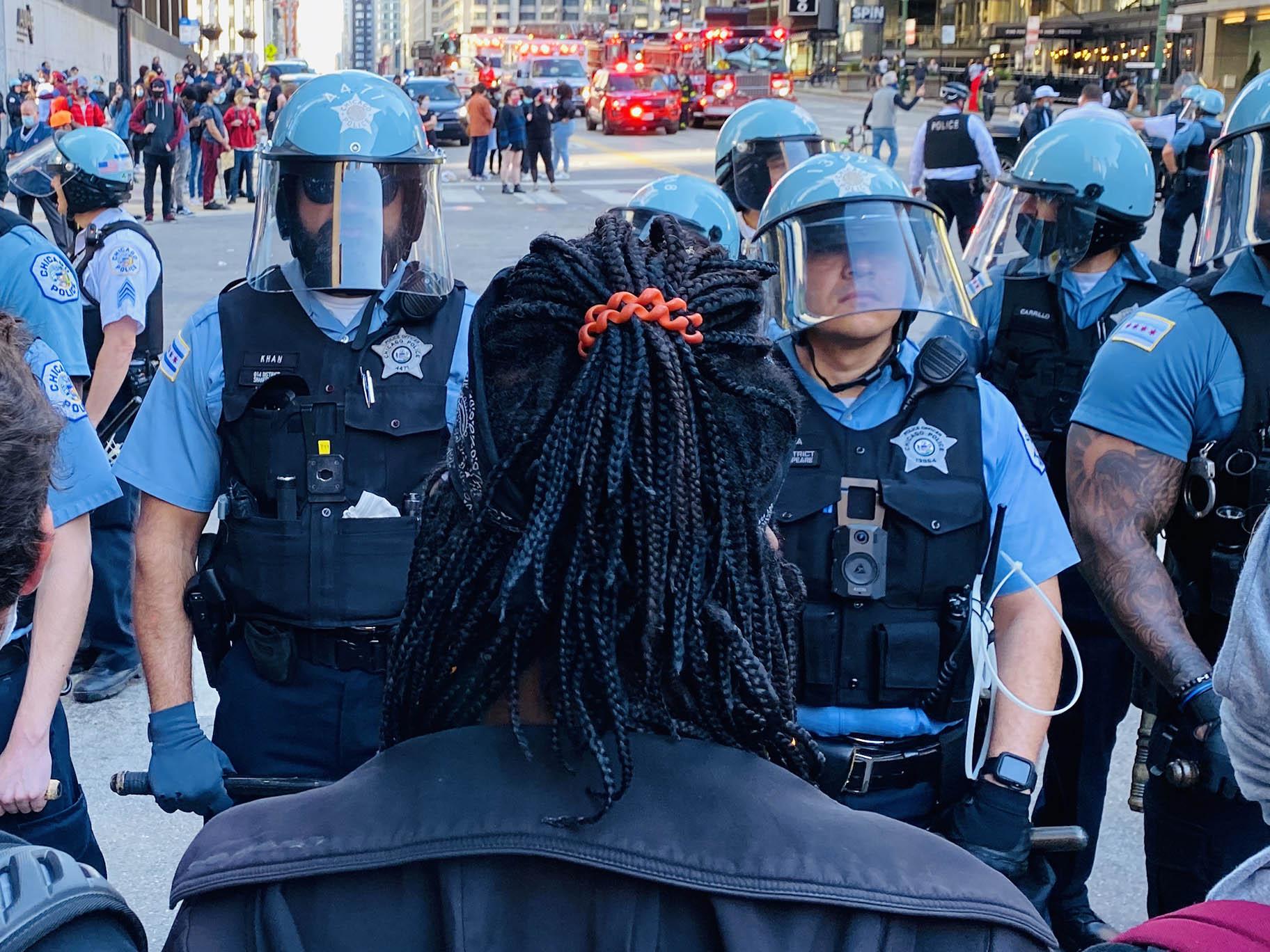 Protests were largely peaceful Friday night and early on Saturday. (Hugo Balta / WTTW News)
Activist Ja'Mal Green, who has been part of the Black Lives Matter movement and ran for Chicago mayor last year before dropping out of the race, called on Lightfoot to rescind the curfew order, lift suspensions of Chicago Transit Authority train and bus service and allow black police officers to take time off if needed to "process trauma" or to join picket lines.
"Folks are angry at this racist system. Also, angry from being contained in neighborhoods with no opportunities, no jobs, lack of transportation and lack of health care," Green said at a Sunday press conference outside police headquarters. "Police departments have brutalized them with no accountability so the anger is understood."
Green said the presence of an "aggressive" National Guard will "only create more bloodshed" in Chicago.
"We cannot fight fire with fire," he said.
Green held a press conference on Sunday outside Chicago police headquarters.
He also criticized the mayor's approach of cordoning off the Loop and nearby areas, saying it sent the message that "she was going to protect downtown at all costs, shut everything down around it. Basically saying she was gonna protect the business district and leave all the other businesses throughout Chicago to fend for themselves. And that was not the correct message."
Green said downtown will be quickly rebuilt so it will be "thriving for tourists" but he pleaded for ravagers to not mess with neighborhoods where African Americans live that have long suffered from a lack of investment and jobs. 
"They will never reinvest back into the South and West sides, we don't have the power. We don't have anything," he said. 
Photos: Tensions Flare in Chicago for Day 2 of Protests Over George Floyd Killing
Critics of the Chicago Police Department accuse officers of entrapping protesters so that it would be impossible for them to comply with curfew orders, and some have complained on social media that officers used batons on organizers despite the lack of any threat.
There's an effort to encourage donations to the Chicago Community Bond Fund, which is working to provide legal support to individuals arrested by police.
"Hundreds of people throughout Chicago have had extremely negative interactions with police throughout the duration of the protests over the past few days. There were rampant examples of violence by Chicago Police, including striking protesters in the head with batons, use of pepper spray, and driving police vehicles into crowds. Many of the arrests appeared to be completely random," the bond fund said in a statement on its website.
Some protesters tried to ensure Lightfoot heard their frustration, rallying near her Logan Square home on Sunday morning and again on Sunday night.
"Wake up, Lori, wake up," they chanted at the early gathering.
"There is a lot of righteous anger and grief," Lightfoot said. "And that isn't just about George Floyd, although that was a catalyst."
Lightfoot and her new, handpicked Police Superintendent David Brown said they had properly prepared for the weekend protests but said it became a challenge once certain elements broke away and engaged in criminal behavior.
Lighfoot and Brown as well as Chicago Police Board Chair Ghian Foreman commended officers for exercising restraint.
The local Fraternal Order of Police union, however, posted a message on its Facebook page late Saturday night:
"Keep our officers here and throughout the country in your prayers! The plan today was totally unacceptable and cannot be repeated!"
Follow Amanda Vinicky on Twitter: @AmandaVinicky
---