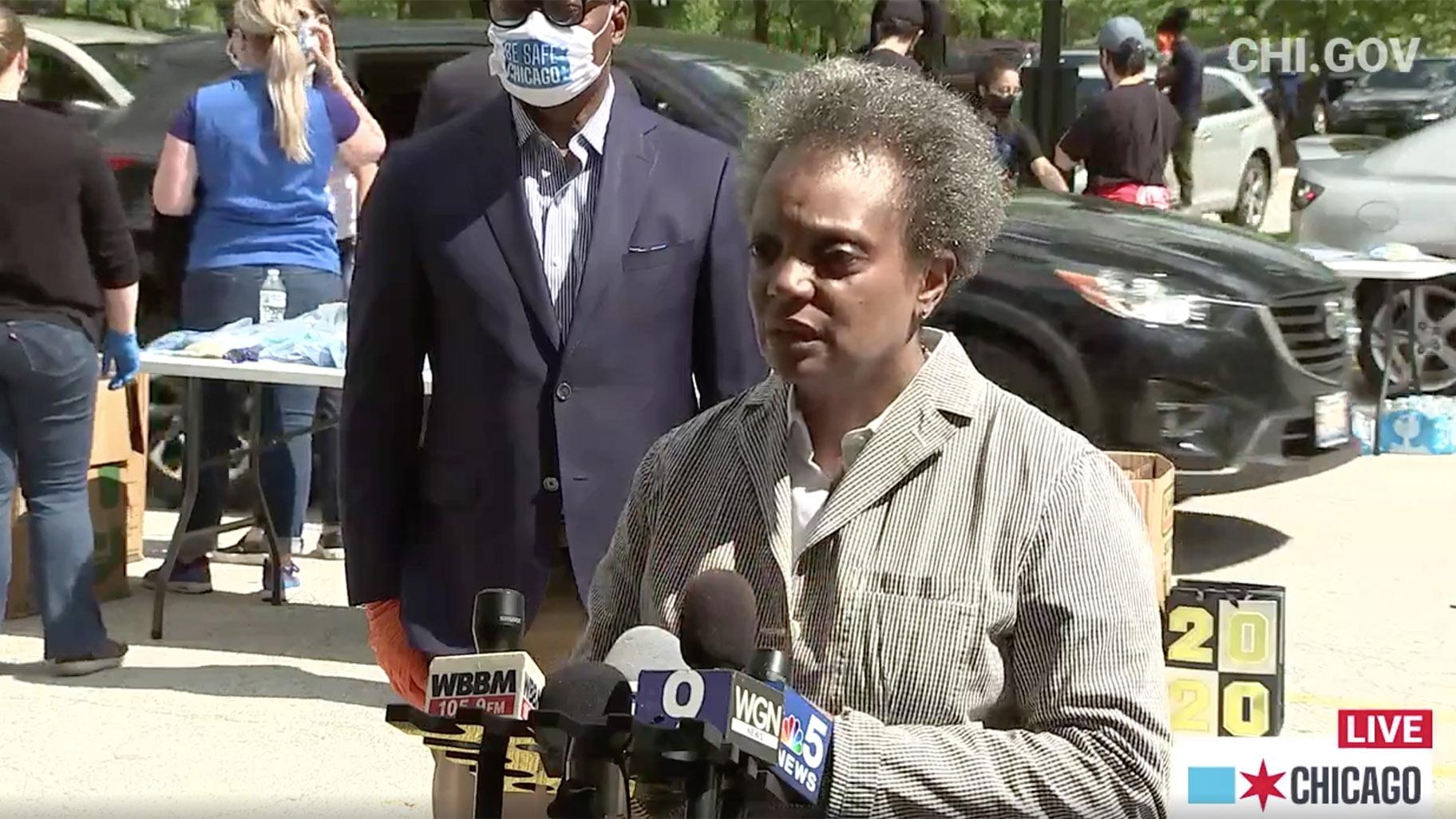 Chicago Mayor Lori Lightfoot speaks to the media Saturday, May 30, 2020, the morning after protests over the death of George Floyd took place downtown. (Chicago Mayor's Office / Facebook)
Chicago police arrested more than 100 people Friday night who took to downtown streets to protest the death of George Floyd while in the custody of Minneapolis police.
Police Superintendent David Brown said those protests were initially peaceful, but ended "a little bit more aggressive and intense, where some in the crowd began confronting the police. So we had to take swift action."
According to Brown, who spoke at an unrelated event Saturday morning, about a dozen police officers were injured, including one whose wrist was broken. About a dozen police cars were damaged across the city, he said.
"We think we hit the right tone as it relates to allowing those who want to express their First Amendment right and crossing the line to property damage and violence," Brown said. "We took swift action. … Lawlessness has no place in the country."
There was "some record" of damage to stores downtown, Brown said, but those reports are being investigated.
Additional protests are expected in the Loop on Saturday afternoon, and there are calls for a noisemaking event Saturday night across the city.
Mayor Lori Lightfoot joined Brown in calling for peaceful demonstrations.
"I am urging, on behalf of every resident in every neighborhood, that that expression be done peacefully," said Lightfoot, who appeared with Brown at an event held by My Block, My Hood, My City. "We have a long history of bold, peaceful protest in Chicago."
Video of Floyd's death, which has sparked protests in dozens of cities across the U.S., shows a white police officer kneeling on Floyd's neck for nearly nine minutes as Floyd is on the ground in handcuffs. All four officers at the scene were fired, and the officer who is shown kneeling on Floyd was charged with murder on Friday.
Lightfoot called the video "one of the most difficult things" she's ever seen. "What you see in that video is the life leave him. He died on that street," she said.
Brown also expressed his "anger and frustration" at the actions of the Minneapolis police officers at the scene. "They are not representative of officers across this country," Brown said.
Similarly, those who took part in violence and property damage Friday were, Brown said, not representative of "the vast majority of people that protested in a peaceful way."
That peaceful behavior by demostrators is "our expectation for today, tomorrow and whenever this continues," Lightfoot said.
"We're going to give people space to express themselves. That's what we do in Chicago. But we won't tolerate lawlessness," she said.
Lightfoot on Saturday again pointed a finger at President Donald Trump, who she blasted Friday for tweeting "when the looting starts, the shooting starts," saying it was a clear threat against those protesting Floyd's death.
"This is hard and it's not easier when we have a president who is inciting, I think, violence. Let's be better than him," she said.
---