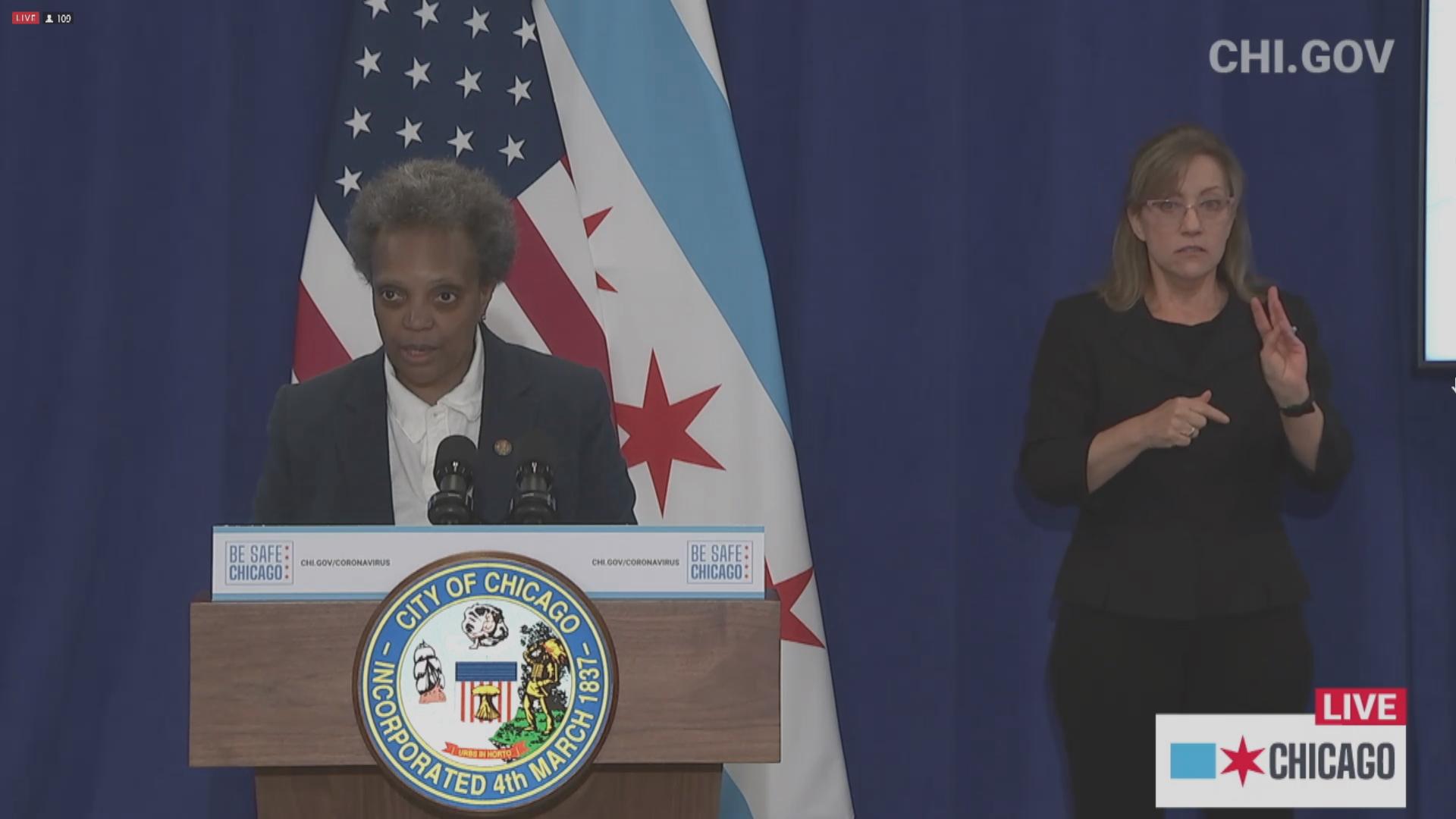 A screenshot from a May 29, 2020 livestream with Mayor Lori Lightfoot. (Chicago Mayor's Office)
Mayor Lori Lightfoot blasted President Donald Trump Friday for tweeting "when the looting starts, the shooting starts," saying it was a clear threat against those protesting the death of George Floyd while in the custody of Minneapolis Police.
"I will code what I want to say [to Trump] and it starts with F and ends with U," Lightfoot said, later calling on the president to apologize.
"The president is fomenting violence. There is no other way to read that tweet."
Lightfoot called the president's statements "profoundly dangerous" and were part of an effort to stoke racial tensions for his own political benefit by throwing "red meat" to his base with the "biggest dog whistle" possible.
"We see the game he's playing because it's so transparent and he's not very good at it," Lightfoot said. "He wants to show failures on the part of Democratic local leaders … his goal is to polarize, to destabilize local government and to inflame racist urges. And we can absolutely not let him prevail."
Twitter placed a warning on the tweet, which was initially posted on his personal account and then reposted on the official White House account, saying it violated the social media company's prohibition on messages that "glorify" violence. However, the messages were not removed, with company officials saying "it was in the public's interest that the message remain accessible."
"I feel angry, I feel sickened and a range of other emotions all at once," Lightfoot said. "Being black in America should not be a death sentence. We should not fear for the lives of our young ones, and mothers shouldn't fear when their young men and women go out into the world that they're gonna get that fateful call."
Contact Heather Cherone: @HeatherCherone | (773) 569-1863 | [email protected]
---