Many Chicagoans are eager to get back to the lakefront and the adjacent parks the city closed in March due to the coronavirus. People have been regularly visiting Lincoln Park, even though it's supposed to be shut down.
Despite the lakefront restrictions, most of Chicago's parks are supposed to be open – and as social distancing remains the norm for the foreseeable future, some residents and park advocates are concerned about equitable park access.
Ebony Lucas, of Oakland/North Kenwood, likes to start her day with an early morning run, and she usually heads to the track at Mandrake Park on the border of the Bronzeville and Oakland communities on the South Side.
"Our sidewalks are very broken up and they're dangerous, honestly, to walk or run on," Lucas said, "which is also why a lot of the seniors run on the track, because the track is nice and smooth. You can run and not worry about tripping."
But these days, Lucas says she and her neighbors can't use the track because there's a squad car blocking it. One day, she approached the officers to ask why.
"They told us those were the orders they were given and that we could get a $500 fine if we were on the track," Lucas said.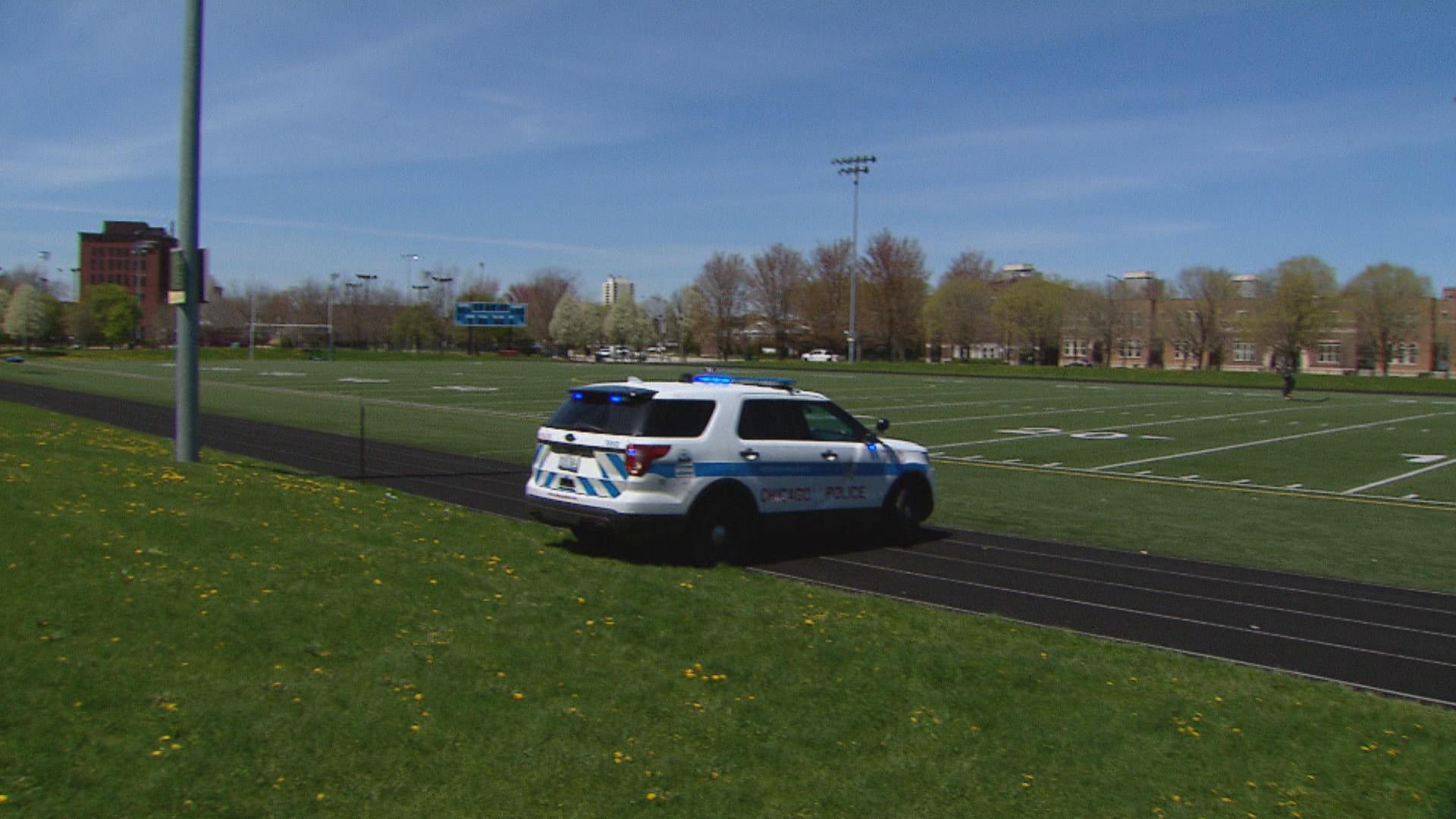 A Chicago police vehicle blocks the track at Mandrake Park on the city's South Side. (WTTW News)
But Mandrake isn't supposed to be shut down – just the lakefront and adjacent parks and playgrounds around the city. The Chicago Park District's website says Mandrake is open and makes no mention of the track.
"There's not a reason for it, because especially in the mornings when I've been out there, it's always been socially distanced. People wear masks," Lucas said.
Lucas isn't alone. One resident told WTTW News that while walking through Humboldt Park last month, officers were driving around telling everyone to go home because the park was closed. It isn't. A small neighborhood green space in West Humboldt Park was closed off until the caution tape was torn down. 
One of the access points to Ping Tom Park in Chinatown has also been periodically closed.
"That has happened (in) a wide swath of parks and it has had different manifestations in a lot of different places," said Juanita Irizarry of Friends of the Parks.
Irirzarry says it's not always clear who's making decisions, or why. Is it the park district? The police? Other city officials? She wants to see clear oversight and communication (and cites the Cook County Forest Preserves as a model). She's also concerned by reporting from Block Club Chicago that social distancing arrests have focused on the South and West sides of the city.
"Chicagoans ought to be able to use their parks both for physical health and mental health," Irizarry said. "It's really not helpful for one's mental health to head out to your park, which as far as you know is open, and you get there and there are barricades up or the police are turning you away, or you're in the middle of your walk and all of a sudden a police car rolls up to you and (says) you have to go home because the park is closed, when there has been no such order."
As spring turns to summer, stir-crazy Chicagoans are likely to turn to their local parks for fresh air and a change of scenery, especially in a time with limited recreation options. 
When it comes to promoting public health and physical distancing, park advocates want to see education, equity and clear communication.
Garfield Park Advisory Council President Keith Kelley says he was surprised one day to learn that the access roads through that park had been closed by police because of social distancing concerns.
"I understood why they did it in the short-term, but depending on how long it goes that might shift," Kelley said.
Closed roads might make people think an entire park is closed, even though it's not. Kelley says the park district was responsive when he brought that to their attention, and put up signs around the park. But he says public space and the residents who use it should be treated the same way across the city.
"Why is it people can tear down barriers in Lincoln Park, but people are getting supposedly chased out of parks on the West Side of Chicago?" Kelley asked. "Why is it that these physical spaces aren't being seen as an opportunity to expand the community's understanding of how you can coexist in space in a safe distance from each other?"
Neither the Chicago Police Department nor the Chicago Park District immediately responded to a request for comment.
---