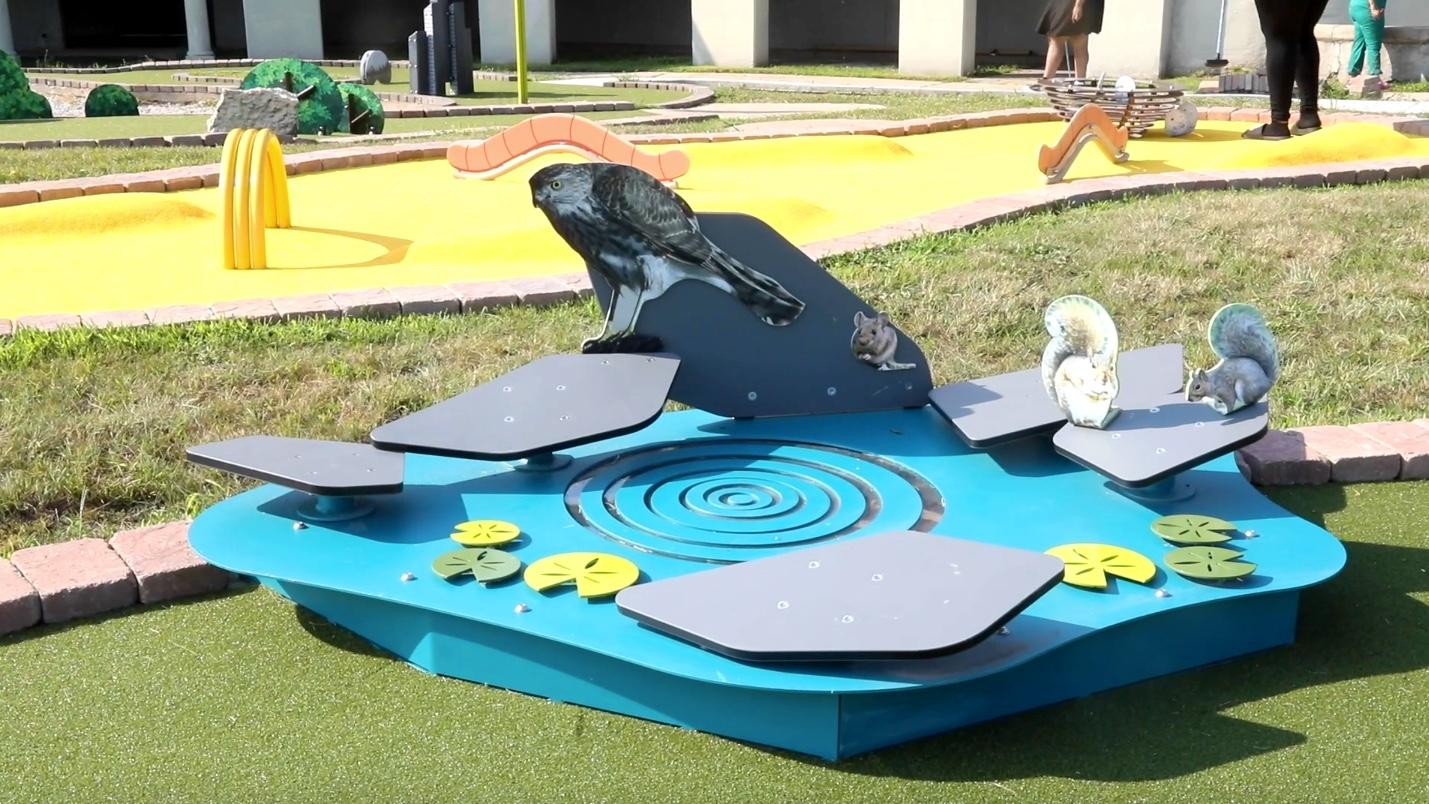 Each hole on the new Douglass 18 minigolf course represents a specific bird. (Courtesy of Douglass 18 Partners / Lincoln Park Zoo)
The term "putting for birdie" will take on new meaning at an avian-themed miniature golf course set to open in Douglass Park.
The Douglass 18 has been a three-year labor of love for a group of West Side teens and their adult mentors and community partners, replacing an existing course long in need of a glow-up.
The public will get its first look at the youth-designed course on Saturday, when the normally $5-per-round admission will be free from 11 a.m. to 7 p.m.  Advanced registration online is strongly recommended.
The concept for the course is based on birds that commonly pass through Douglass Park, from robins and cardinals to the lesser-known dickcissel, and each round promises to be as educational as it is entertaining.
Each hole features design elements and obstacles that represent a particular bird — be it what they eat, where they live or the threats they face — with fun facts about the species provided on signage at the tee. Credit is also given to the student who researched and designed the hole.
"It's inspiring and exciting to see our vision, imagination and design finally come to life," Tiffany Tam, a Douglass 18 youth participant and artist, said in a statement. "The transformation of the golf course is incredible. I'm proud to have been a part of Douglass 18 and can't wait for the community to come together and enjoy a round or two of miniature golf."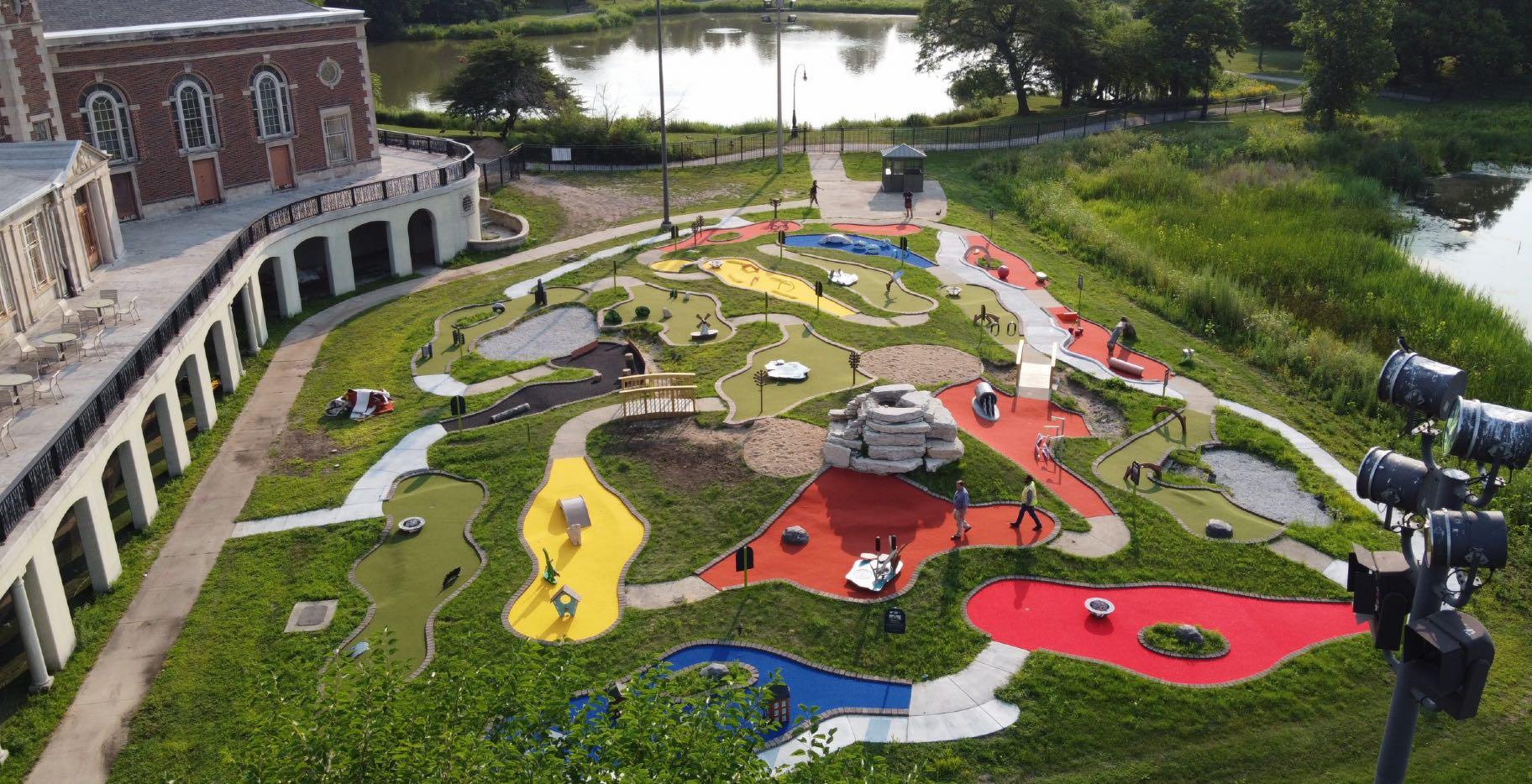 A bird's-eye view of the new Douglass 18 course. (Courtesy of Douglass 18 Partners / Lincoln Park Zoo)
The idea for the project was sparked in 2018 by Lawndale artist Haman Cross, who stumbled onto the rundown, former course while scouting locations for a potential art installation. 
On a mission to revitalize the course, and Douglass Park along with it, Cross built a team that came to include, in addition to the 40 teens: Eric Hotchkiss, a lecturer at the School of the Art Institute of Chicago; the Chicago Park District; David Brown, a professor from the UIC School of Architecture; and Lincoln Park Zoo, whose staff helped the students gain an understanding of birds and their habitats.
The designs went through a number of versions and tests before being finalized. The result is a new park amenity that will benefit both its human and feathered visitors.
"The unique design of the course will aid in conservation by raising awareness of the 205 species of birds that migrate to Douglass Park," said Sheila McNary, executive member of the North Lawndale Community Coordinating Council, in a statement.
"Douglass 18 will not only improve the quality of life for North Lawndale residents," she added, "but also help us build a sense of community where all residents of Chicago can come together to reclaim and share this public space."
Following Saturday's grand opening, regular hours for the Douglass 18 Miniature Golf Course will be as follows, from May 1 to Oct. 30: 8 a.m.-8 p.m. Monday through Friday; 9 a.m. to 5 p.m. Saturdays; closed Sundays. 
The cost is $5 per round per player, with discounted two-for-one pricing on Tuesdays from 8 a.m. to noon. 
Contact Patty Wetli: @pattywetli | (773) 509-5623 | [email protected]
---