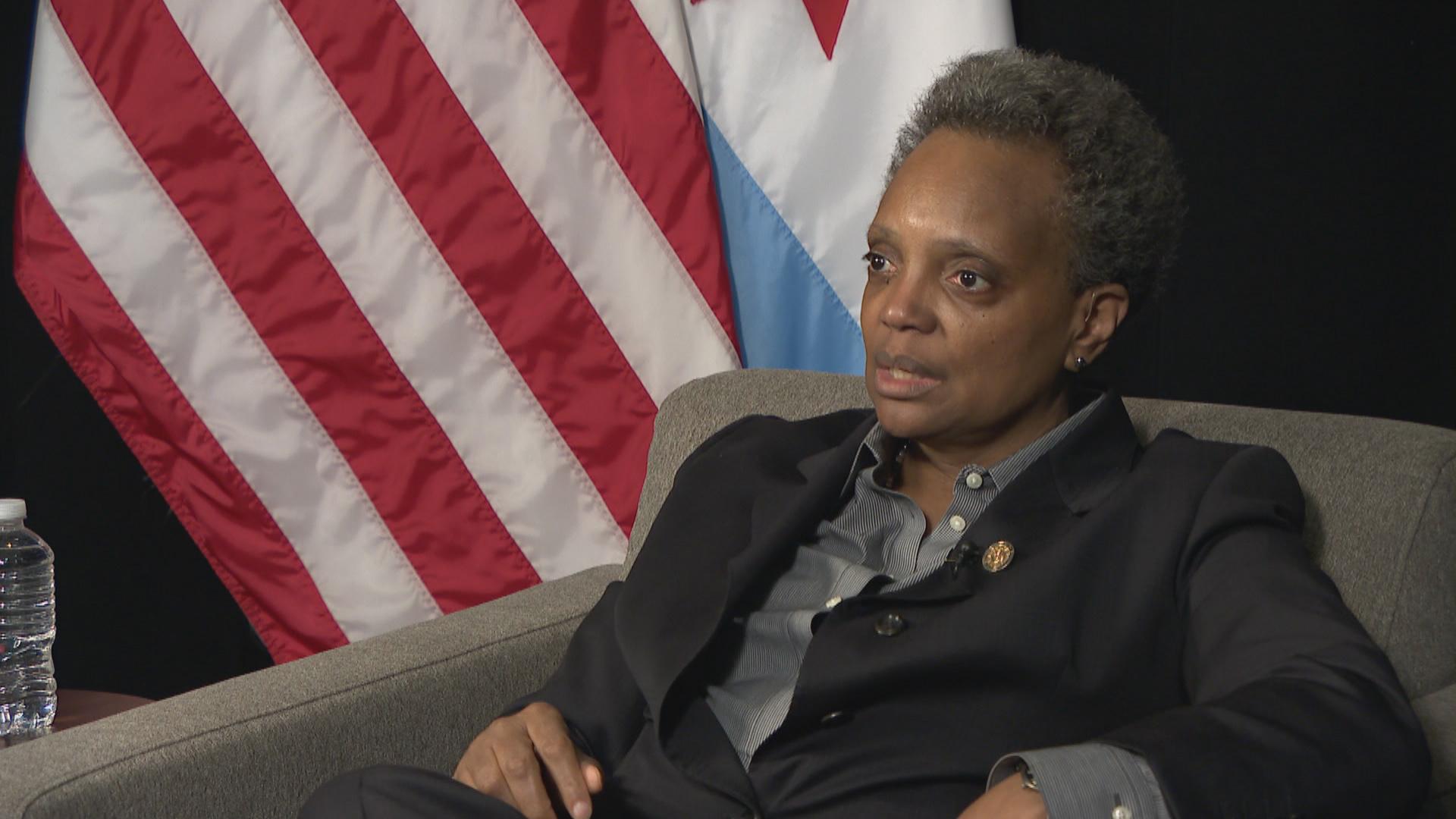 Mayor Lori Lightfoot speaks with WTTW News on Thursday, Feb. 20, 2020 after lobbying lawmakers in Springfield to approve a bill that would ease some of the taxes and fees for a Chicago casino.
For Mayor Lori Lightfoot, the third time was the charm.
Before this week's whirlwind four-day emergency session of the General Assembly held in the shadow of the coronavirus pandemic, Lightfoot rolled snake eyes twice in her bid to shape the rules for a Chicago casino.
A year ago, the freshly inaugurated mayor's warnings that the Illinois' gaming expansion law would never allow a Chicago casino to get off the ground fell on deaf ears, forcing the mayor to wait three months for a feasibility study that blasted the structure created by lawmakers as unworkable.
Armed with that study, which determined that a Chicago casino would pay an effective tax rate of 72%, Lightfoot doubled down during last fall's veto session, again demanding changes to the complicated law. But her pitch was derailed by a swirling corruption scandal, even as supporters warned the lack of a Chicago casino could bust the state's plan to fund a massive $45 billion construction plan with new gaming revenue.
The losses prompted questions about whether Lightfoot could navigate the fractious world of Springfield politics and deliver for Chicago residents. Lightfoot had never held elected office before becoming Chicago's 56th mayor and frequently declares that she is not a politician,
"This moment is decades in the making, and represents a critical step toward shoring up our city's pension obligations, as well as driving huge levels of infrastructure funding and fueling thousands of new jobs for all of Illinois," Lightfoot said in a statement late Saturday.
Lightfoot's first statewide legislative victory promises relief for Chicago's police and fire pensions, since the city's share of revenue from a casino is earmarked for those red-ink drenched funds.
Lightfoot has said she supports a casino because it offers "a structural solution to address long-term problems, not a one-time fix."
The city's annual payment to its police and fire pension funds are based on an actuarially calculated contribution designed to bring the two funds to a 90% funded ratio by 2055. 
In 2020, that required the city to pay an additional $281.2 million into those funds, for a total of $1.1 billion that came primarily from property taxes paid by city residents.
The city's pension bills for 2021 are expected to be detailed by city officials before Labor Day.
The gaming expansion bill approved in May 2019 gave Chicago one of six new casino licenses — with permission to build a "mega-casino" with up to 4,000 gaming positions, which is double the amount of the newly increased limit on gaming positions in the state's other casinos.
Lawmakers expected a Chicago casino to send $850 million a year back to the state to spend on non-road infrastructure projects statewide.
The amended law, set to be signed into law by Gov. J.B. Pritzker, reduces the state's take to $500 million a year.
But where will it be located?
With the tax framework for a Chicago casino in place, the focus will shift to where it should be located.
The feasibility study recommended that Chicago build a casino "in a tourist-centric location that also enjoys, if possible, decent access to the local population."
A site that meets those criteria could generate $350 million more in adjusted gross receipts than other sites, according to the study.
Lightfoot will face pressure from South and West side aldermen who would welcome a casino to their wards which have been long neglected by both private firms and public agencies and desperate for private investment and jobs.
In August, Lightfoot said she would "work to put a casino in a place where we can spur economic growth as part of a larger economic development initiative."
The feasibility study explored plans for a casino Harborside Golf Course near 111th Street and the Bishop Ford Freeway; a casino near the White Sox' stadium at Pershing Road and State Street; a casino near Roosevelt Road and Kostner Avenue on the West Side; a casino near the former U.S. Steel South Works foundry, between 79th and 91st streets along South Lake Shore Drive; and a casino on the former Michael Reese Hospital site at 31st Street and Cottage Grove Avenue.
Earlier this month, city officials unveiled a $6 billion proposal to transform the former Michael Reese site into a new neighborhood anchored by a medical facility. Ald. Sophia King (4th Ward) has said she would block any plans for a casino on the site, and Ald. Pat Dowell (3rd Ward) has said she opposes plans for a casino near Guaranteed Rate Field.
Pritzker has said he'd rather not place a Chicago casino anywhere near McCormick Place or the city's central business district, telling newspaper editorial boards in September that he'd like to see the casino developed in an area of Chicago that has not benefited from the recent development boom downtown.
Contact Heather Cherone: @HeatherCherone | (773) 569-1863 | [email protected]
---