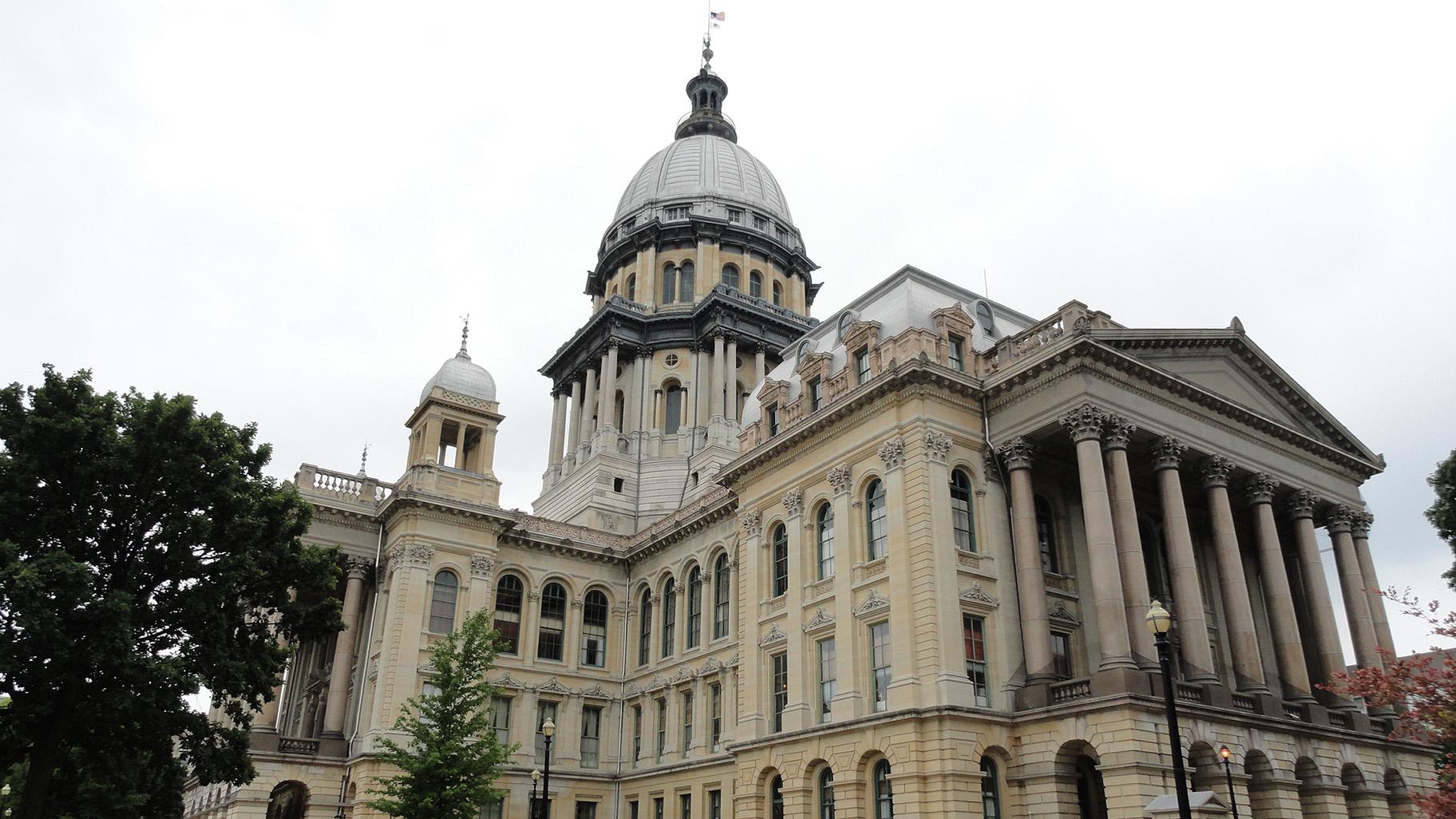 (Meagan Davis / Wikimedia Commons)
A casino in Chicago. A balanced budget. Long-sought incentives for business, and money to fix dilapidated bridges.
None would have seemed a safe bet, considering that fissures in the legislature prevented Illinois lawmakers Friday from adjourning by their annual end-of-May deadline.
But wagering on a bipartisan deal – and not just any deal, but one that hinges on a gambling expansion package that had eluded state politicians for at least a decade -- would have been a smart one.
By Saturday night, Republican representatives joined with Democrats who control the General Assembly to agree to a massive package of bills comprising a $40 billion budget, plus that and more in infrastructure, funded by a massive expansion of gambling, plus increases in certain taxes and fees, like a higher gas tax.
The deal may be brokered, but it isn't fully complete.
Most of the measures still have to go before the Senate, though the odds are good senators will approve them during a session scheduled for Sunday. Should that happen, Gov. J.B. Pritkzer would then have to sign them into law.
Still, Illinois' longest-serving and arguably most powerful lawmaker wrapped up the spring session on Saturday night as if all was said and done.
"This has been extraordinarily productive session of the General Assembly. Simply historic," said Illinois House Speaker Michael Madigan. "Think about the difficulty we had for many years on certain of these items. Certain of these items were debated and considered by the General Assembly for years but this year it got done."
That includes a Chicago casino long sought by city leaders, including just-inaugurated Mayor Lori Lightfoot.
Chicago's mega-casino of up to 4,000 gambling positions will be owned and operated by a private firm and not the city, though Chicago and the state will each reap a third of the revenue from it.
Slots would also be permitted at O'Hare and Midway airports, as well.
Illinois' 10 current casinos would be able to expand and add more gambling positions. Illinois horse racetracks like Arlington, which has long wanted to have slot machines, would finally be able to become combination "racinos," while the Chicago area would get a new standard-bred track. Establishments that offer video gaming could add machines; those who use them could place higher bids.
New casinos are also slated for the northern suburb of Waukegan, an as-yet undetermined municipality in the south suburbs, Rockford, Danville in east-central Illinois and the Walker's Bluff development in deep southern Illinois.
The state will also open its doors to legalized sports betting, taking relatively early advantage of a choice made possible thanks to a decision from the U.S. Supreme Court last May that opened up the doors to state-based sports betting.
Daily fantasy sports operations like DraftKings and FanDuel will be able to get in on the action, but only if they partner with existing, brick-and-mortar casinos, tracks or sports books. That's a win for Des Plaines casino River's owner Neil Bluhm, whose affiliated Rush Street online gaming operation is trying to make up for lost ground. Bluhm's lobbying team argues the fantasy sports operations got an illegal head start. But the pseudo penalty box is a hit to the web applications popular with young sports fans, and the companies may sue.
Gamblers, and the companies that would need to pay the state hefty fees to win licenses to open the gambling operations, won't be the only population Illinois is counting on for revenue.
To pay for upgrades to roads, bridges and mass transit, drivers will pay 38 cents (doubled, up from 19 cents) per gallon of gasoline. Drivers will also pay a $50 higher vehicle registration fee, making it $148 for most cars; it increases to $250 for those who own electric vehicles (the justification for the higher fee being that EV owners won't, of course, contribute to road funding through the gas tax).
Smokers will also be taxed an extra dollar per pack; vapers will no longer escape a sin tax as e-cigarettes will be subject to a 15% tax.
The budget itself – which includes paying the state's full payment into its beleaguered pension funds – relies in part on a new tax on Managed Care Organizations. MCOs serve as the medical coordinators for recipients of Medicaid, government-supported health care for low-income residents.
Illinois will, in the 2020 fiscal year that begins in July, send extra money to schools, from preschools through universities.
While Pritzker had proposed eliminating a tax credit given to donors to a state fund that helps send students to private elementary and high schools, the "Invest in Kids" scholarship program will continue.
It's one of the changes the GOP had insisted on.
"There've been times we have felt that our voice has not been heard, but I can tell you right now that is not the case," House Republican Leader Jim Durkin said as the House began, in quick succession, to take up the various components of the collective package.
Durkin's House Republicans had – just a day prior – derided Democrats from trying to rush through a budget without time for public input, and which largely disregarded their input. 
Though the initial announcement in the House blamed it on the "volume of workload," House Republicans' frustration with that version of budget contributed to Democratic-controlled General Assembly putting off the regularly scheduled, May 31 adjournment. 
A rapid succession of meetings on Friday and Saturday between Madigan, Durkin, the Senate's leaders and Pritzker followed.
"Just within the last, 24 hours, things have changed dramatically and I'm pleased about that progress that we have made to wrap this up," Durkin said before the votes. "We've listed certain conditions that were necessary for us to consider putting votes on capital … We feel that the reforms we've asked for are very strong for the business community. It's something that we've been asking for as the minority party for many years."
Pro-business measures favored by Durkins' Republicans, and the business groups with which they've long been allied, were included.
"This package will encourage industrial investment by reinstating the Manufacturers Purchase Credit, phasing out the Corporate Franchise Tax, and stopping onerous and costly regulations that would have dictated hiring and pay for energy and chemical companies," Illinois Manufacturers Association leader Mark Denzler said. "These measures, combined with previous legislation extending the Research and Development Credit and creating a new apprenticeship credit, will help manufacturers grow in Illinois."
Not all Republicans were on board; some complained that signing onto it all was akin to signing on to Democrats' free-spending ways.
Despite the weekend extension, the cooperation and timely passage of a budget was a marked departure from the partisan battles that prevented a budget agreement for years under prior Republican Gov. Bruce Rauner.
"So Mr. Governor, do you see what a difference it makes to have somebody new in the governor's office? I understand the difference," Speaker Madigan said, as Pritzker – who came to the House chambers after the voting was wrapped up – sat nearby. "Truly an historic session… it got done because of what Rep. Durkin said. In the end people came together. Recognized that there are differences, but there are differences that can be reconciled. It's not easy. Sometimes it's pretty difficult, sometimes it's painful. But if everybody comes to work with the goal of being reasonable and showing accomplishments we have shown this session it can be done."
Follow Amanda Vinicky on Twitter: @AmandaVinicky
---
Related stories:
The Week in Review: Legal Pot Advances, Ald. Burke Indicted
Illinois Welcomes Weed, Waits on a Budget with Another Extended Session
With a Full Slate, Time is Running Out for Illinois Lawmakers
Illinois House Passes Expansive Abortion Rights Bill
---