Illinois Speaker of the House Michael Madigan, D-Chicago, listens to debate of SB 671, a bill extending emergency rules on telehealth provisions related to the COVID-19 pandemic, during an extended session of the Illinois House of Representatives at the Bank of Springfield Center, May 23, 2020, in Springfield (POOL PHOTO / Justin L. Fowler / The State Journal-Register)
Legislators' typical five month spring session was compressed into less than half that amount due to the coronavirus, with the General Assembly's work culminating in the wee hours of Sunday after a condensed special session that began on Wednesday centered on passing a budget and responding to the pandemic.
Democrats and Republicans have different interpretations of how ably those goals were achieved.
Mask-donning legislators, who had not met since the beginning of March, approved a flat-funding $40 billion spending plan dependent on borrowing and assistance from the federal government. But Democrats approved the budget package without any Republican support.
"During this special session we have stood up for all of those whose lives have been disrupted by this pandemic. Our state budget provides needed funds for testing, health care, rental assistance, unemployment benefits, resources for small business, and job training," House Speaker Michael Madigan said in his closing remarks from the downtown Springfield convention center where the chamber convened instead of in its typical capitol chambers in order to follow social distancing guidelines. "We worked together with business and labor groups to protect front-line workers who have been exposed to the virus. Provided immediately relief for property tax payers. We worked to help students and teachers succeed – whether instruction occurs in the classroom or online."
Lawmakers left Springfield without taking any vote on how Illinois' economy will reopen, despite Republican calls for legislative input and request for an up/down vote on Gov. J.B. Pritkzer's plan, dubbed Restore Illinois, which they've criticized as ill-defined and for failing to take regional differences into account.
"A global pandemic has taken too many lives, effected too many families and has put 1.2 million Illinoisans out of work, wondering what they will do next; 1.2 million people – our friends, neighbors, family members, fellow Illinoisans; 1.2 million people who are desperate now and will only get worse when the jobs that were here don't come back. I stand her today to tell those 1.2 million people and all fellow residents that all the General Assembly has done today is the same old song and dance, the same movie you've watched 20 times before and you know every line," House Republican Leader Jim Durkin said. "Here's a real beauty: Remember a couple months ago, we were talking about ethics — the way in which we conduct our business. Just a few months ago when names of Luis Arroyo and Martin Sandoval brought out so much anger and disdain from all of us for their corrupt practice, through extortion, through bribery."
Arroyo and Sandavol are former lawmakers who resigned this year, and who each have pleaded guilty to corruption charges – Arroyo for bribery of another legislator in a scheme actually orchestrated by the FBI, and Sandoval on bribery and tax fraud charges stemming from leveraging his role as transportation committee chairman to get personal payoffs.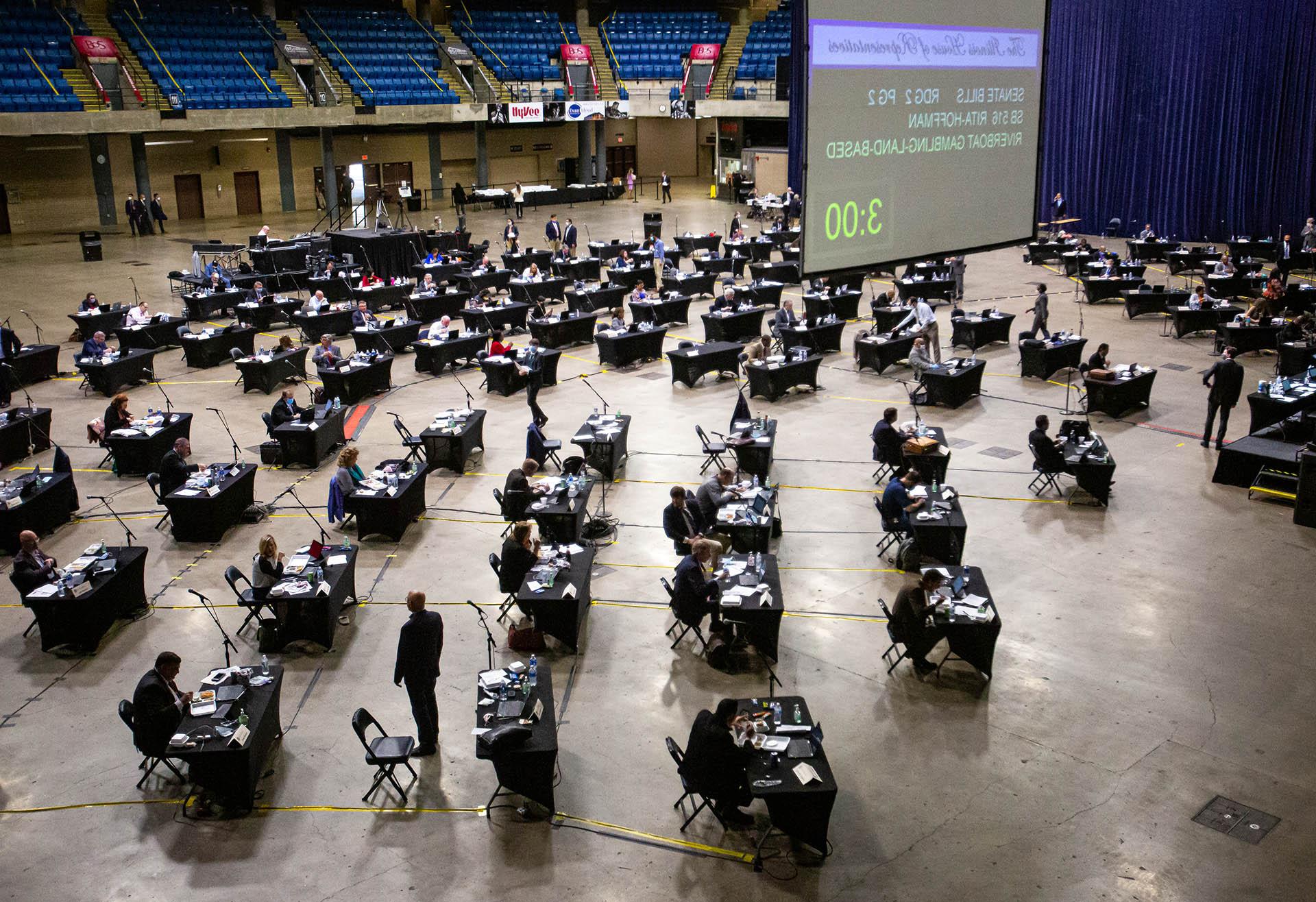 Lawmakers prepare an extended session of the Illinois House of Representatives to begin at the Bank of Springfield Center, May 23, 2020, in Springfield. (POOL PHOTO / Justin L. Fowler / The State Journal-Register)
While their arrests led to an outcry for ethics reform, the General Assembly did not pass any ethics legislation.
Nor, Durkin said, did legislators make progress on easing the property tax burden on homeowners.
"I presume there is no intent, never was any, on behalf of the Democratic majority to take up these reforms, never mind the campaign promises that have been made year in and year out on exactly every one of these issues. Nothing for our citizens, no glimmer of hope for us to do the right thing," he said.
In an attempt to give people some relief due to the disruption caused by COVID-19, a measure headed to Pritzker's desk (Senate Bill 685) will allow counties to automatically extend qualifying seniors' and veterans' homestead exemptions without an application, and enables counties to waive interest penalties on late property taxes, a measure already taken in Cook County.
The new budget also established a new $396 million fund to help tenants and homeowners unable to pay their rent or mortgage due to the pandemic.
Another measure (HB2455) in direct response to the pandemic provides that it will be assumed that front-line workers who contract COVID-19 got it while on the job for purposes of workers' compensation benefits, while at the same time giving businesses an opportunity for a rebuttal.
Workers' compensation does not generally cover illness, but lawmakers on both sides of the aisle said workers putting their lives at risk during the pandemic deserve extra protections.
The agreement on workers' comp, hammered out by labor and business leaders, followed an outcry from businesses after Gov. J.B. Pritzker had earlier moved to presume workers got COVID-19 even if they'd been working from home and their employers had been taking proper precautions to prevent transmission.
"Manufacturers are first and foremost concerned about the health and safety of their employees, customers, and communities. Today's agreement strikes a fair balance, allowing employers to defend themselves using an ordinary standard of evidence," said Mark Denzler, president and CEO of the Illinois Manufacturers' Association, in a statement. "Illinois businesses can rebut the presumption simply by showing 'some evidence' that they complied with guidance from the Centers for Disease Control or Illinois Department of Public Health. It makes clear that a person's residence is not considered a workplace and an employer's experience modification will not change due to COVID-19 cases."
The legislature did not, however, fulfill Pritzker's request to give his administration another tool to enforce his stay-at-home order.
After Pritkzer was forced on Wednesday to withdraw a proposed emergency rule that would have allowed law enforcement to issue misdemeanors to businesses that opened to on-site customers in defiance of his order, the governor urged the General Assembly to pass a bill creating a civil penalty.
Senate President Don Harmon said lawmakers could not reach an agreement and that they remain committed to working with Pritzker.
"We just didn't have the bandwidth to get that done," Harmon said.
Legislators were likely reticent to take that step heading into an election year, given widespread public backlash once word got out about Pritzker's first attempt.
When lawmakers' hesitation became apparent on Friday, the governor gave them a public lashing, saying: "They don't seem to want to help in any way dealing with the COVID-19 crisis by offering us the ability to use a small enforcement mechanism that we've asked for."
Another effort that stalled would have stretched the deadline for public bodies to respond to Freedom of Information Act requests during the pandemic, and that would have allowed the General Assembly to meet remotely in times of "pestilence" or emergency.
"For 202 years Illinoisans have traveled from all corners of the state. By car, by train, by horseback, by walking to get to the capitol. We've done it through civil war, we've done it through world wars, we've done it through the Spanish Flu. We've met in all these very difficult times to meet," Rep Tim Butler, R-Springfield said. "This is in my mind is a very dangerous precedent to set, when we start allowing remote voting, for us."
Rep. Ann Williams, D-Chicago, said the failure to set up protocols for virtual meetings of the General Assembly is a mistake.
"We all hope the unfathomable won't happen, but shouldn't we be prepared just in case? And, hasn't it already?" she wrote on Twitter. "I will continue to push for remote voting, though I hope we never need to use it. By failing to provide for a remote voting option, we are ill-prepared to serve our communities and govern in the event of an unprecedented emergency."
Other public bodies are permitted meet remotely – such as over Zoom or Google Hangouts —  and Senate Bill 2135 establishes requirements that those proceedings be recorded and made available by request to the public.
That bill also creates a legislative commission to oversee Pritzker's reopening of the economy, after nonessential businesses were made to close in mid-March in an effort to reduce the spread of COVID-19.
The Restore Illinois Collaborative Commission will "provide input on plans to revive various sectors of the State's economy" and write at monthly reports (with the first due July 1) "regarding the status of current and proposed revitalization efforts."
"I think it is an abdication of our duty as a legislature to leave this special session with only creating a collaborative commission, or what would essentially be a task force, for recommendations. I am not certain at this point that the governor's office would be receptive to any of those suggestions or points of input based on the experience of working together for the past two months has gone so far," Republican Rep. Ryan Spain of Peoria said.  "What a shame it would be to our constituents to leave here and tell our constituents that the only thing we did to provide input on the actions on the governor is to create a commission that will deliver a report at the beginning of July."
Other measures taken in direct response to the coronavirus pandemic include allowing licensed bars and restaurants to temporarily serve liquor curbside, the establishment of a vote-by-mail program intended to keep up voter turnout while preventing people from having to cast in-person ballots this November when a second wave of the coronavirus is possible, and support for telemedicine.
Certain federally qualified health centers (FQHCs) will temporarily be permitted to perform rape kit examinations under Senate Bill 557 after reports from Resilience, a Chicago nonprofit that supports survivors of sexual violence, reported that references from hospitals were down nearly 50% since the start of the pandemic.
Victims "have reported fearfulness of exposure to COVID-19 at emergency departments, while others have said they have been turned away," sponsoring Rep. Kelly Cassidy, D-Chicago, said. "This bill will allow a very simple option to be made available to survivors of sexual assault seeking treatment in this pandemic situation."
Follow Amanda Vinicky on Twitter: @AmandaVinicky
---