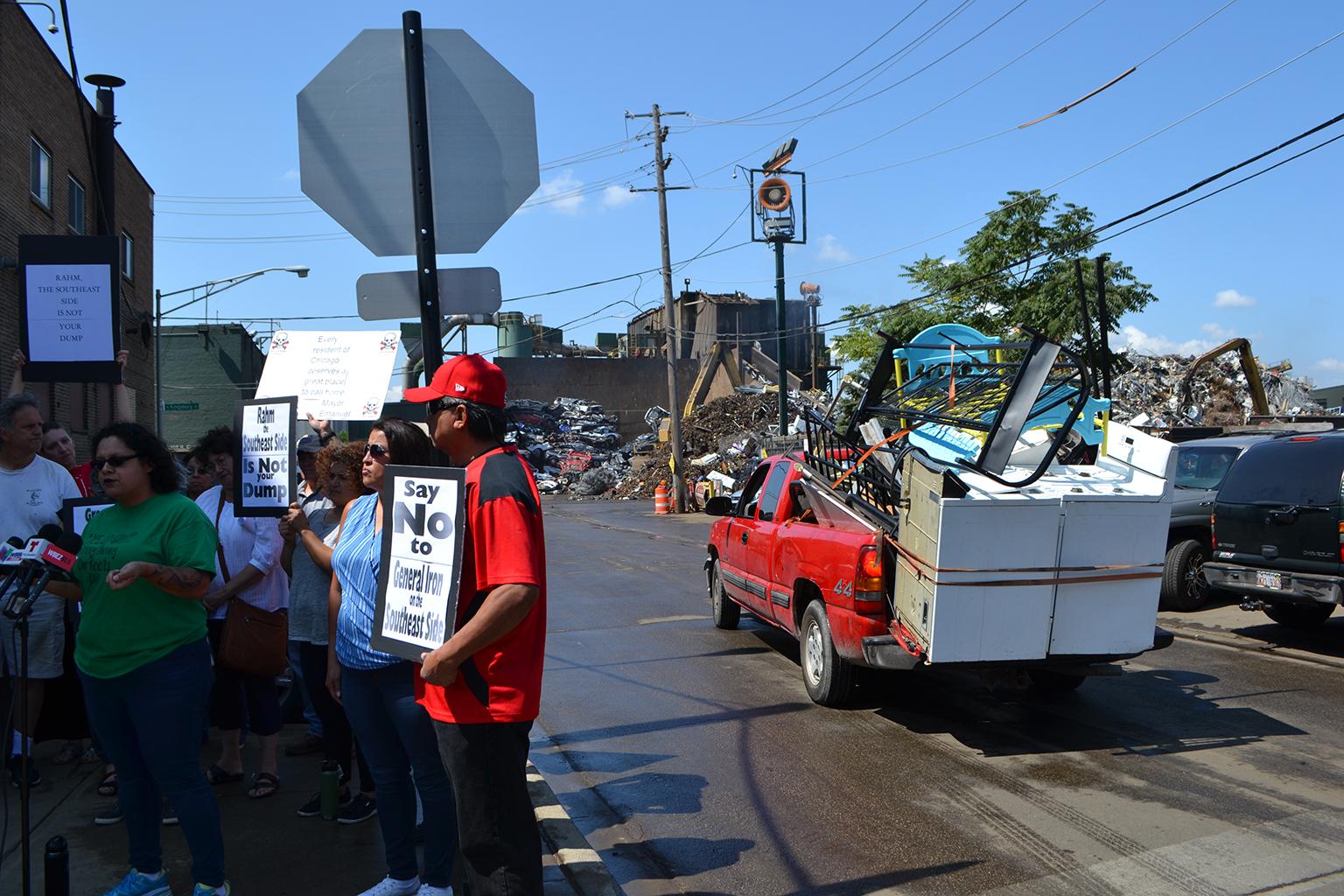 Southeast Side residents protested in 2018 in front of General Iron's scrap metal yard in Lincoln Park. (Alex Ruppenthal / WTTW News)
Multiple environmental justice battles came to a head on Thursday, as activists expressed frustration that city and state officials aren't prioritizing public health concerns even during the coronavirus pandemic.
In Little Village, neighbors were stunned to learn of an unannounced demolition at the site of a former coal power plant, just one month after a botched implosion on the same property covered homes in a plume of dust. Mayor Lori Lightfoot halted the demolition following protests from community organizations, including a demonstration in front of her Logan Square home.
Meanwhile, the Illinois Environmental Protection Agency continues to move forward with its review of General Iron's permit application to bring its Lincoln Park metal shredding operation to the Southeast Side.
During a pair of virtual hearings on Thursday, which the agency held to gather public input on the application before finalizing a draft permit, participants called the process rushed and questioned whether their feedback would hold any sway.
The audio only hearings took place via an online platform that many people were unable to access or download, in some instances because they lacked storage space for the application on their electronic devices, said Olga Bautista, a member of the Southeast Environmental Task Force.
"I'm very outraged right now that this hearing is allowed to continue given the glitches and lack of accessibility," Bautista said during the first of the two hearings. "This process is not acceptable."
Meleah Geertsma, an attorney with the Natural Resources Defense Council, which is working with community members to oppose General Iron's application, concurred, telling the IEPA hosts: "This hearing does not provide a meaningful opportunity to participate."
Bautista called for a moratorium on permitting during the COVID-19 pandemic, considering the amount of attention and energy people are having to devote to basics such as food, housing and health care.
"You all have the duty to protect the residents of this community," Bautista said.
The process only allowed for comment from people who signed up in advance, all of whom spoke in opposition to the permit, including residents who live near General Iron's current facility in Lincoln Park. 
Lara Compton, of Clean the North Branch, spoke of the "fluff" that coats streets and playground equipment near her Lincoln Park home, despite General Iron having been ordered by the U.S. EPA to put additional air pollution controls in place.
"General Iron cannot and will not adhere to rules," said Compton, who implored the IEPA to reject General Iron's application.  
Mark Velez, a lifelong resident of the East Side neighborhood, said he had collected 2,000 signatures against General Iron's move, many from Spanish-speaking neighbors completely left out of the comment process due to a lack of information provided in Spanish.
"This company is not safe for Lincoln Park, and it is not safe for the East Side," said Velez, pointing to the parks, baseball diamonds and schools all located near the proposed General Iron site. "We have no desire to negotiate."
Robb Layman, an attorney with the IEPA, said any past violations by General Iron could not be factored into the agency's decision. 
"Our purview is constrained to what's in the permit. We cannot review or consider violations at another facility," said Layman, citing case law that has previously directed the agency to limit its review to the application at hand.
The stance "defies common sense," public participants in the hearing said.
Andy Daglas of the Illinois Sierra Club chapter said ignoring past violations seems "contrary to public interest."
"I was not aware you can only consider what an applicant puts on the permit," said Daglas. "I'm not sure it would count, based on what I've heard, but the Sierra Club opposes the permit."
Viewed individually, General Iron's application also doesn't take into account the concentration of existing polluters on the Southeast Side, argued Gina Ramirez, a member of the Southeast Side Coalition to Ban Petcoke.
"I am sick and tired of industry ... destroying our health," said Ramirez. "I'm asking you to do your job and not give another polluter permission to poison us." 
The Illinois EPA will continue to accept written comments through June 13 regarding General Iron's application via mail or email.
A decision on General Iron's permit is expected by the end of June, officials said.
Contact Patty Wetli: @pattywetli | (773) 509-5623 |  [email protected]
---